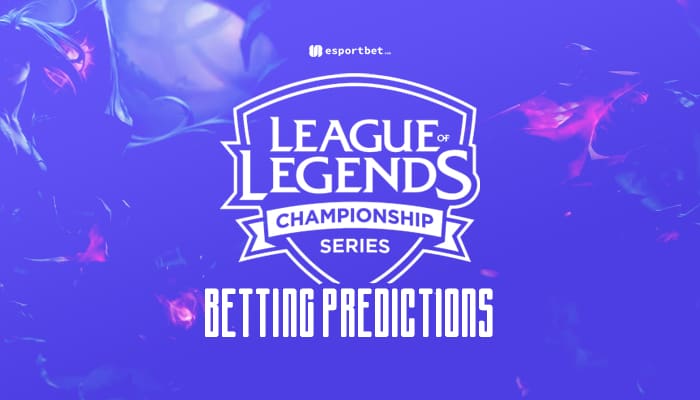 by in
League of Legends Championship Series (LCS) 2023 Summer enters the second half of the split on Wednesday with five pairs of games, some with big implications on the regular-season title race. Here are our top picks for 100 Thieves vs FlyQuest, Dignitas vs Evil Geniuses, and Immortals vs TSM on July 5.
---
100 THIEVES vs FLYQUEST LoL BETTING & MATCH DETAILS

Best Odds:
100T +150 at BetOnline | FQ -200 at BetOnline
When:
July 5, 2023 | 15:00 PDT
Watch Live:
Lolesports, Twitch
After a 0-6 start to LCS 2023 Summer, FlyQuest rose from the ashes and racked in three wins against Team Liquid, NRG Esports, and Immortals last week. It was a much-needed bounce back for the fallen giants and a huge morale boost, which might help FlyQuest get back on track.
100 Thieves secured two wins last week against Dignitas and TSM, continuing the trend of beating lesser teams but struggling against LCS's top squads. And even though they are 4-5, which puts 100 Thieves in an excellent spot to lock in a place in the playoffs, they've yet to show any serious quality.
100 Thieves are a mid-table team which will struggle to accomplish much against the top dogs, but they might have a chance to defeat the limping FlyQuest for the second time this split.
Both teams can be hit-or-miss, and since neither is very efficient in closing out games, a wager on a longer match and over 12.5 towers is a fine choice.
---
DIGNITAS vs EVIL GENIUSES LoL BETTING & MATCH DETAILS

Best Odds:
Dignitas -163.93 at BetOnline | EG +120 at BetOnline
When:
July 5, 2023 | 17:00 PDT
Watch Live:
Lolesports, Twitch
Evil Geniuses entered LCS 2023 Summer Week 3 with some of the best performance metrics in the league. The recent loss to Cloud9 means little given C9 are a cut above any other team in the league, and based on what EG have shown so far, they're also a class above any other team below them.
Dignitas are 5-4, but that figure doesn't accurately represent how good this team is. Three of those wins shouldn't have happened (against Evil Geniuses, Team Liquid, and FlyQuest), but Dignitas still came out on top, thanks to their opponents' misplays.
It's unsurprising to see LoL betting sites pricing Dignitas as the underdogs for this match, but the number is way off. Evil Geniuses are significantly better than Dingitas and should win with plenty to spare.
---
IMMORTALS vs TSM LoL BETTING & MATCH DETAILS

Best Odds:
Immortals +100 at BetOnline | TSM -138.89 at BetOnline
When:
July 5, 2023 | 18:00 PDT
Watch Live:
Lolesports, Twitch
Immortals are on a seven-game losing streak, and it's becoming clear that this might be the worst team in the league. That was already noticeable in their earlier games, but it hadn't caught up with the market until last week.
TSM haven't accomplished much so far this split and have managed to win just one more game (3-6) than Immortals, but this is not a bad team. Their early game is concerning, but as long as TSM face a team that can't punish that, they should be in a good spot.
This is important to note because Immortals are by far the worst early-game team in the LCS, with a -2946 gold difference at 15 minutes. Consider a big play on TSM to win this one.