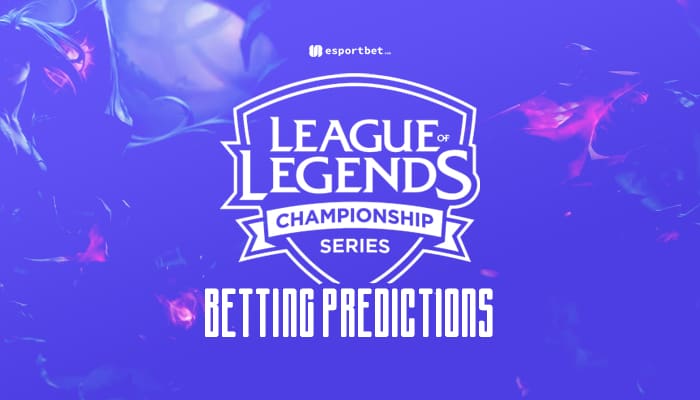 by in
League of Legends Championship Series (LCS) 2023 Summer Week 3 continues on Thursday, June 29. Here you can find the best bets for Dignitas vs TSM, Evil Geniuses vs Immortals, and Golden Guardians vs 100 Thieves, with LoL betting odds courtesy of BetOnline.
---
DIGNITAS vs TSM LoL BETTING & MATCH DETAILS

Best Odds:
Dignitas -125 at BetOnline | TSM -111.11 at BetOnline
When:
June 29, 2023 | 16:00 PDT
Watch Live:
Lolesports, Twitch
Dignitas are priced as favourites to defeat TSM, likely due to the overreaction to Dignitas' win against Team Liquid last Friday. On paper, it looks like a massive achievement, but Liquid threw that game, so it doesn't count for much.
Besides that, Dignitas also took advantage of FlyQuest's struggles on Saturday, and a week prior they caught Evil Geniuses off guard. Overall, Dignitas haven't shown much and are the same team from LCS 2023 Spring – they will win some games but won't compete for top spots.
TSM aren't much higher in the power rankings than Dignitas, but they have looked good this split. The players are stepping up, and it's clear that the new coaching staff are doing a good job, as seen in the team's approach to games and drafting.
We shouldn't overreact to a couple of strong showings from TSM, but they're a good team. On the other side, Dignitas are just OK and more reliant on their opponents messing up.
---
EVIL GENIUSES vs IMMORTALS LoL BETTING & MATCH DETAILS

Best Odds:
EG -250 at BetOnline | Immortals +175 at BetOnline
When:
June 29, 2023 | 17:00 PDT
Watch Live:
Lolesports, Twitch
Evil Geniuses are 5-1, but they are a bit overhyped heading into LCS 2023 Summer Week 3. On a more positive note, EG have an explosive early game which will be enough to roll over lesser teams.
Even though it's unwise to bet on a team whose record doesn't show their true power, betting against Immortals in the state they're in is the only right choice. Besides bad form, with losses against Liquid, TSM, Golden Guardians, and 100 Thieves, they're also fragile in the early game.
Evil Geniuses are the second-best early-game team with a +2180 gold difference at 15 minutes, while Immortals are by far the worst with -2231. This creates an interesting angle to bet on under total time, but we'll keep it simple and take Evil Geniuses to win with seven kills to spare.
---
GOLDEN GUARDIANS vs 100 THIEVES LoL BETTING & MATCH DETAILS

Best Odds:
GG -175.44 at BetOnline | 100T +125 at BetOnline
When:
June 29, 2023 | 18:00 PDT
Watch Live:
Lolesports, Twitch
According to the best LoL esports betting sites, Golden Guardians should easily beat 100 Thieves. GG are 4-2 and on a four-game winning streak, whereas 100 Thieves are 2-4 with just one win from their last five outings.
Besides their poor form, the primary issue with 100 Thieves is their lack of creativity. Two weeks in, their gameplan seems to have been figured out by other teams. This roster still has potential, but it's fair to doubt 100T when faced with other strong teams.
Golden Guardians are the far more efficient team in the mid-late game, so unless 100 Thieves show something new, GG winning is the most likely outcome. 100 Thieves have been very passive in their games (6.7 kills per game), and Golden Guardians aren't a team that'll run into the opponents, so under 23.5 kills looks like a fine choice.