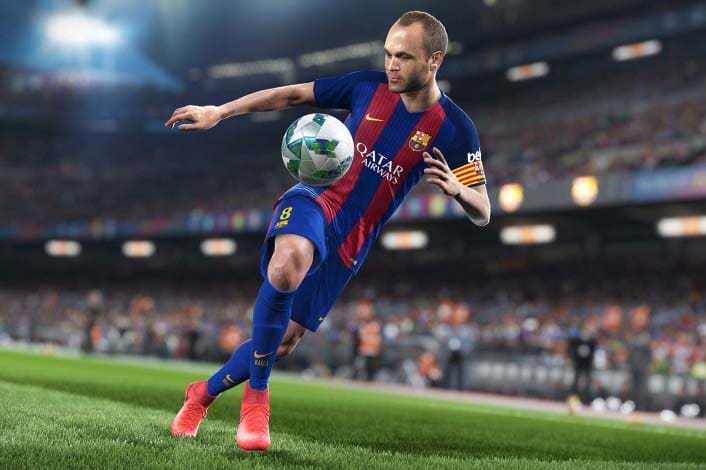 by in
FC Barcelona will compete in the inaugural eFootball.Pro PES2018 League, which sees them become the first Spanish football club to dip its toes into esports.
eFootball.Pro, which was founded by former international star Gerard Pique and boasts Javier Alonso as a director, is due to kick off in the next few weeks with the inclusion of Barca a huge boast for the competition which will feature other pro teams from around Europe.
Barca Vice President of Marketing and Communications Mane Arroyo said it was important for his club to remain innovative despite the club's undoubted success on the football pitch.
"Barça is attentive to what happens in this global and technological world, and in view of the important growth of eSports, it is opening the way to also being a leader in this field," he said.
"FC Barcelona, ​​in keeping with its innovative spirit, has decided to participate in a pioneering competition in the world of eSports, by the best partners, Konami and eFootball.Pro. We are confident that this competition will continue to make members and culers from all over the world, as well as followers of eSports, proud."
Pique said the opportunity to involve his former club in his passion for esports was a dream come true and expected them to be very competitive in the fledgling competition.
"As a player, I'm excited that my club has decided to enter eSports and joins this innovative project that we are preparing together with KONAMI," he said.
"Barça will be able to contribute their values ​​to the competition and I am sure they will be a great rival for the rest of the teams. For our part, from eFootball.Pro, we join the Club in this new adventure in the digital world and we will guide them so that they can make their fans feel as they do with the rest of their sports."
For Konami it represents another opportunity to connect with a different crowd, with Pro Evolution Soccer the chief rival to FIFA in the gaming world. Finding itself with a global powerhouse like Barcelona on its books excites its Brand and Business Manager Jonas Lygaard.
As part of the agreement Konami and PES will have exclusive access to things like name rights to Barcelona's home ground, Nou Camp, something that FIFA is not allowed to use. It is unclear how much Konami has paid for this right, although it is a significant sum.
"We are extremely excited to have one of the best clubs in the world, FC Barcelona, ​​joining the league and for the first time entering the eSports market with the Pro Evolution Soccer platform," he said.
"This agreement will allow us to be at another professional level and will give fans the opportunity to compete and officially represent FC Barcelona in one of the best global venues."
La Liga, the league Barcelona plays in, has also announced it will enter eSports with it coming about as part of the "It's not football, it's LaLiga" campaign with the primary focus being on football competitions.
The competition hopes it will help continue to grow sponsorships with existing partnerships and attract new money to the competition, with several major investors already indicating they have a keen interest in the esports industry and the ability it gives them to connect with primarily a younger audience.