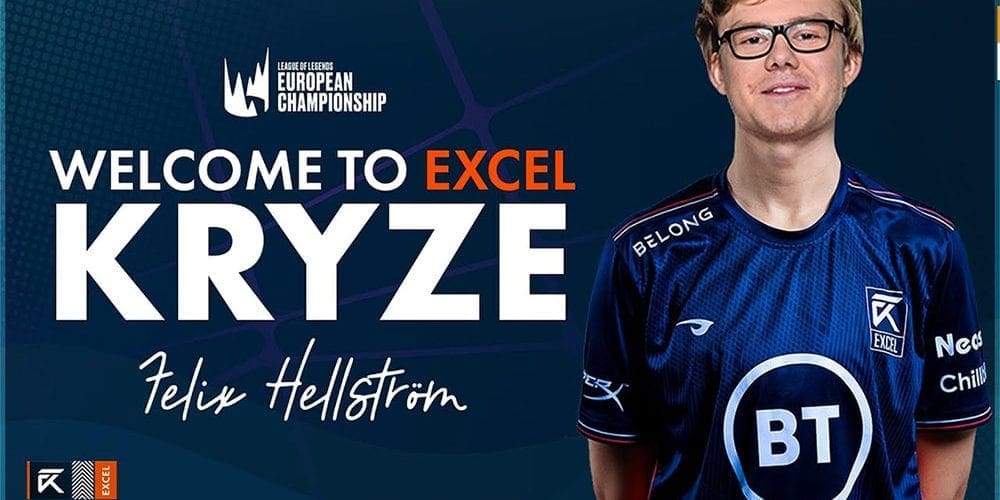 by in
Swedish top laner Felix "Kryze" Hellström has become the newest addition to the League of Legends roster at Excel Esports, the British organisation announced on Wednesday.
The news of Kryze's arrival comes only a couple of weeks after Excel parted ways with top laner Ki "Expect" Dae-han and mid laner Son "Mickey" Young-min. The Korean duo's exit was deemed a "necessary change" in order for the team to push for a place in the LoL European Championship (LEC) 2020 Summer Split playoffs.
Soon after Expect and Mickey departed, Excel promoted mid laner Joran "Special" Scheffer to the main roster after a four-month spell with the BT Excel academy team. Now the squad is complete with the signing of Kryze, who has spent the entirety of 2020 with Unicorns of Love Sexy Edition in the Prime League Pro Division.
Kryze begun his League of Legends career in November 2018 with Östersunds FK, where he competed in some smaller national leagues. They later rebranded at FALKN, with whom Kryze finished second at the Nordic Championship 2019 Summer Playoffs, but he decided to leave in September 2019 after they failed to make it through European Masters 2019 Summer Play-In.
Kryze later featured for Hybrid Esports and G2 Heretics before joining UOL Sexy Edition in December 2019. With the German esports organisation, Kryze finished third at Prime League Pro Division 2020 Spring and secured a fourth-place finish in the playoffs.
During his time with UOL Sexy Edition, Kryze has established himself as one of the best top laners of the Prime Pro Division by finishing the split with a 4.07 KDA, 61.3% KPAR, 31.4% KS and 24.7% GS. The Swede also proved to be extremely efficient on his Ryze pocket pick, boasting with a 100% win rate across four games.
Excel's head coach, Joey "YoungBuck" Steltenpool, praised Kryze for his diverse champion pool, great understanding of the laning phase, and sharp eye for macro play.
"He was recommended to us by multiple people with a lot of insight on ERL (European regional leagues) and especially new talent," said YoungBuck.
"The first thing we did was look up his statistics, they were phenomenal, above anything I would ever expect from a rookie. We were extremely excited to see that he was actually a fantastic laner that plays a very diverse champion pool that will bring a lot of flavour to our drafts and will offer us a lot of flexibility.
"We feel that is a really good basis to have as a top laner. I think that signing him is one of the most important steps we could take to make playoffs and qualify for Worlds this split."
The LEC 2020 Summer Split is set to begin on June 12, when Excel Esports are scheduled to meet with Rogue at 21:00 CEST.