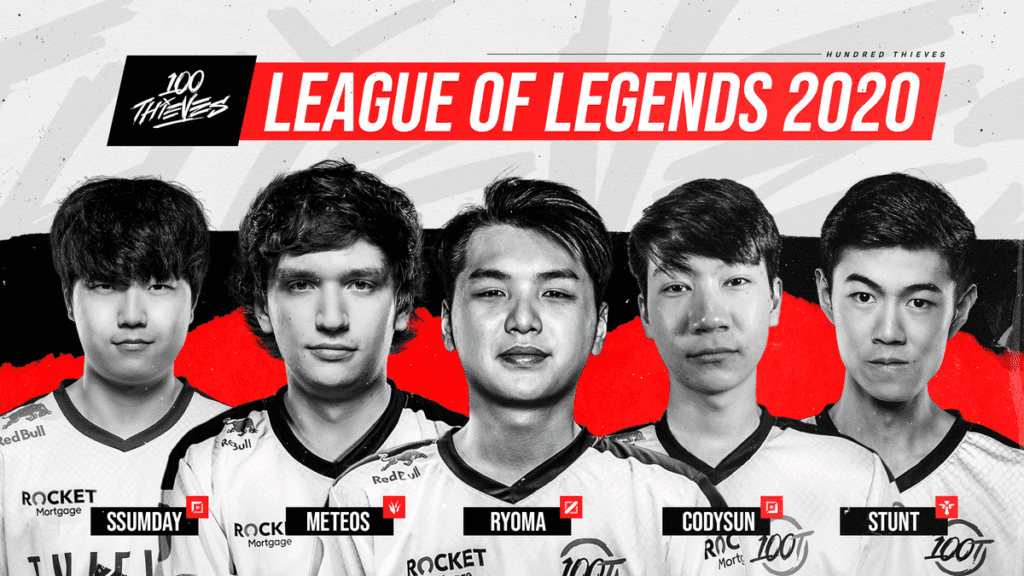 by in
EVIL GENIUSES VS 100 THIEVES LEAGUE OF LEGENDS BETTING & MATCH DETAILS
>When: January 27, 2020 at 17:30 PST
Watch Live: Lolesports, Twitch
EVIL GENIUSES VS 100 THIEVES LCS SPRING BETTING PREVIEW
The final day of the opening week of League Of Legends Championships Series (LCS) 2020 Spring Split will kick off with a clash between Evil Geniuses (EG) and 100 Thieves (100T) who will test their strength against each other on the Summoner's Rift.
Back in December, rumours surfaced suggesting Evil Geniuses were set to acquire Jeong "Chovy" Ji-hoon from Griffin, but ultimately those plans fell through. Evil Geniuses instead brought in Daniele "Jiizuke" di Mauro from Team Vitality, who is a downgrade compared to Chovy; yet still a very solid mid laner who should add a lot of quality to the team. Evil Geniuses also signed top laner Colin "Kumo" Zhao, jungler Dennis "Svenskeren" Johnsen, ADC Bae "Bang" Jun-sik and support Tristan "Zeyzal" Stidam.
Looking at this roster, Evil Geniuses are arguably an improved version of Echo Fox, with the biggest upgrade coming in form of a new jungler and 2019 LCS Summer MVP Svenskeren. The biggest question mark lies in the mid lane position where we will see Jiizuke. It's hard to tell which version of Jiizuke Evil Geniuses will get; but if he manages to enter the season with the same form as he showed in 2018, Evil Geniuses are without a doubt a playoffs contenders. Jiizuke will make or break Evil Geniuses success in 2020.
Kumo will have a lot to prove, having previously played only a handful of LCS matches. Throughout his Academy career, he has shown he is a very versatile top laner with a deep champion pool.
The two-time Worlds and LCK champion Bang has returned to LCS and we can expect him to play a crucial role in his team. While he is miles from his peak form, Bang is still one of the most consistent ADC mains in the league. Evil Geniuses will have some stability in the bottom lane, although we don't expect their bottom lane to carry the team, at least not in this meta.
100 Thieves will enter this bout following a hard-fought win against Golden Guardians on Saturday, where they looked like an average team with no exceptional qualities which would make us believe they are serious playoffs contenders.
Cody "Cody Sun" Sun played very well and we have no criticism for Tommy "Ryoma" Le who was the biggest enigma of all off-season arrivals. William "Meteos" Hartman left a lot to be desired and had little impact on the match. Meteos' performance could be problematic considering he will face off against Svenskeren, who is one of the best LCS junglers.
Evil Geniuses looked very shaky in their clash with Dignitas on Sunday, where they seemed lost and without any idea of how to approach the game. Evil Geniuses ended the match with only two kills, which indicates something isn't clicking in the team. While Dignitas are a very strong team, the reason behind Evil Geniuses's defeat might lay in lack of early team chemistry which can only benefit 100 Thieves and their ambitions to secure their second win of the season.
EVIL GENIUSES VS 100 THIEVES LCS BETTING PREDICTIONS
On paper, Evil Geniuses are the superior team, but we have serious doubts whether they will be able to translate that to the Rift. In their clash with Dignitas, Evil Geniuses played disturbingly poorly as none of the players managed to have any significant impact on the map. What exactly was the reason behind their performance is anyone's guess, but if they don't improve by Monday, Evil Geniuses will have severe difficulties defeating 100 Thieves despite the fact 100 Thieves were not phenomenal in their clash with Golden Guardians.
We would normally side with Evil Geniuses here but based on what they have shown on Sunday we believe 100 Thieves are capable of an upset. With esports betting sites offering very generous odds on 100 Thieves we will take our chances and back Kim "Ssumday" Chan-ho to deliver.
EVIL GENIUSES VS 100 THIEVES LCS BETTING TIPS