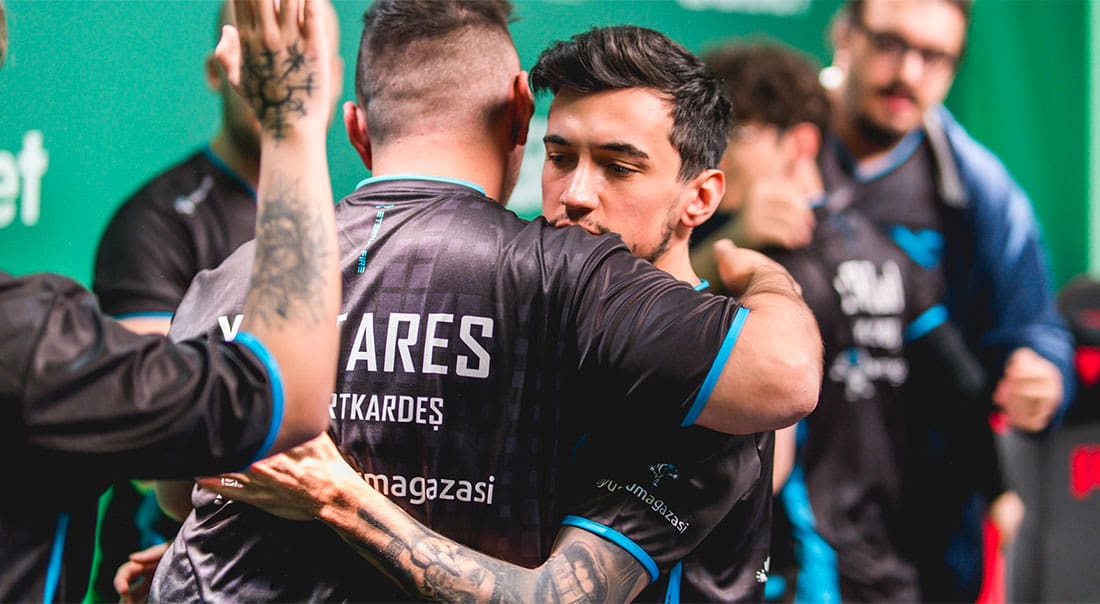 by in
Eternal Fire have made their way out of the TWR Eastern European Masters Fall 2022 and are headed to the BLAST Premier Fall Showdown, which is set to commence on October 19 and run through to October 23.
After finishing the group stage with a 2-1 record and advancing to the playoffs, Eternal Fire defeated both MOUZ and SINNERS to earn their ticket to the BLAST tournament. With Eternal Fire's advancement to the Fall Showdown, there are three tournament spots left to be filled.
 

MOUZ entered the TWR Eastern European Masters Fall 2022 as the favorite to win the tournament. They were also the highest-ranked squad to join the event.
 
During their time in Group A, MOUZ gave an awe-inspiring performance, one of which was their matchup against ONYX. The German franchise defeated ONYX 16-1 on one of the maps of their series.

That streak did not extend into the knockout rounds, however, as 
Christopher "⁠dexter⁠" Nong and his team were defeated by Eternal Fire in an exceedingly close semi-final which extended to a third map. The Turkish team were eventually winners of the decider map, Nuke, with a 19-17 scoreline in overtime to close the series 2-1.


In their grand final match against SINNERS, Eternal Fire lost the first map – Overpass – 16-11, due to the efforts of Patrik "Zero" Žúdel. EF were able to even out the score in the second map, Nuke, during the final round of regulation despite SINNERS' attempt at a comeback.
 
Eternal Fire eventually finished off the reverse sweep on Inferno after reaching a respectable 16-8 win.


Eternal Fire's Ismailcan "XANTARES" Dörtkardeş stood out during the TWR Eastern European Masters Fall 2022 and scored one of the highest ratings among the players in the tournament. 


In the past 10 days, Eternal Fire have participated in 16 matches, making their recent victories all the more commendable. Due to competing in several tournaments at the same time, they have also played more than 34 individual maps.
 

With this win, Eternal Fire join the list of teams who have qualified for the October BLAST Fall Showdown. Some of these teams include Heroic, BIG, Astralis, and Vitality.
 
The remaining three slots will be filled by the Ace North American Masters Fall winner and two direct invitations from the tournament organizers.


Besides the $135,000 prize pool, the participants of the BLAST Premier Fall Showdown have a chance to win two of the available spots to compete in the BLAST Premier Fall Final, which will take place in November.