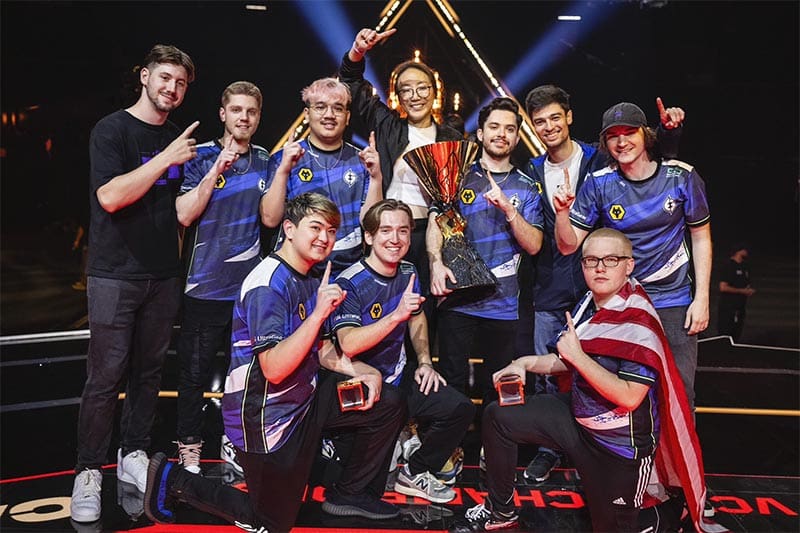 by in
Evil Geniuses have won the Valorant Champions tournament, defeating Paper Rex 3-1 and securing the title of world champions for the year.
The grand final of the Valorant Champions was a showdown where both teams showcased their strengths at stages of the match. Despite Paper Rex having a two map advantage due, to arriving from the bracket it proved insufficient to deter Evil Geniuses.
The latter triumphed on Valorant maps Split, Bind and Lotus maps ultimately sealing their victory.
Evil Geniuses wasted no time in acknowledging the performance of their opponents, after securing their $1 million USD prize for winning the tournament.
"pprxteam you played so well and made both series bangers. You were the best opponent we could've had in the Finals," they wrote on social media website X, which was formerly known as Twitter.
EG also showed appreciation for star player Wang "Jinggg" Jing Jie, who will be taking a break from play during the 2024 Valorant season after being called up for National Service in home country Singapores.
"@Jingggxd you are an absolute legend of the game and we wish you the best!" they wrote. ]
The first two maps of the Valorant Champions final were contested battles, with EG taking the opening spoils with a score of 13-10.
Paper Rex turned things around and won the next map with a score of 13-11.
This 1-1 result after two maps, turned the of five final into a best of three showdown.
EG then dominated on Bind winning with a score of 13-5 and shifting the momentum in their favour.
The focus then shifted to Lotus, which ultimately became the deciding battleground.
EG secured a 13-10 victory earning them the championship crown.
Evil Genius had quite a journey to reach the Valorant Champions final.
Despite a performance, in the group stage where they had 2-0 victories against FunPlus, Phoenix and FUT Esports they faced challenges in the playoffs.
They first defeated EDward Gaming with a scoreline of 2-1.
They then triumphed over DRX with a 2-0 win setting up their initial match against Paper Rex.
The upper bracket clash ended in a loss, for EG with a map that went into overtime, a clear indication of how closely matched these teams were.
Next EG emerged as the winners, by a margin of 3-2 against the reigning champions, Loud.
This victory paved the way for a anticipated rematch in the grand final.
Paper Rex also showcased their dominance by securing the position in their group. They achieved 2-0 victories against KRÜ Esports and EDward Gaming.
In the playoffs round they continued their winning streak with another 2-0 triumph over FUT Esports.
They then defeated Loud with a score of 2-1 setting up a clash with EG in the bracket final.
EGs triumph over Paper Rex crowned them as the Valorant World Champion and earned them a pay packet of $1 million.
Paper Rex earned $400,000 for their effort, while while last years titleholders, Loud claimed $250,000 for finishing in third place.
Fnatic, who were hot favourites with esports betting sites pre-tournament, fell short this time and had to settlef or $130,000 for finishing fourth.