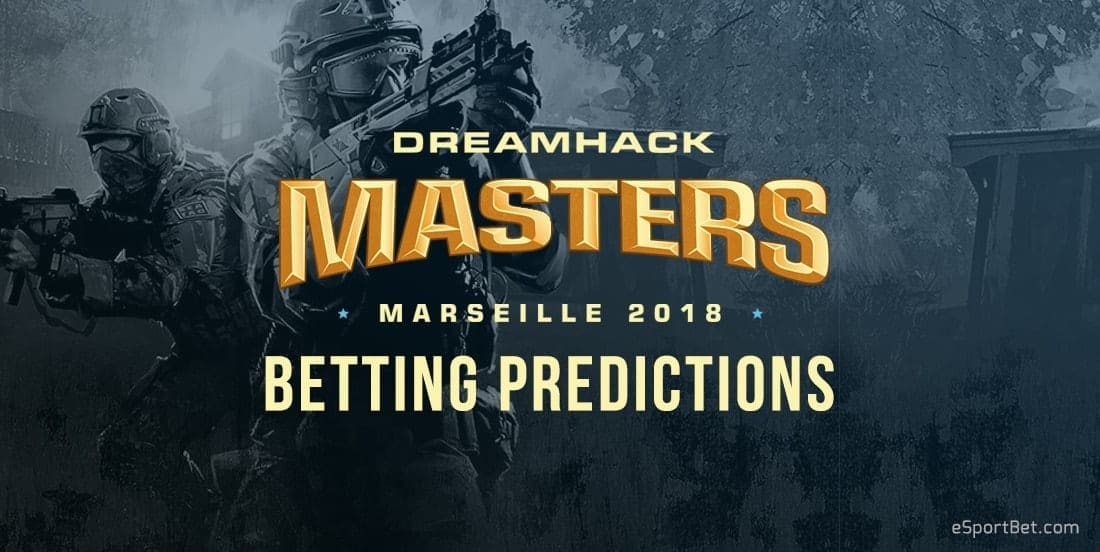 by in
DreamHack Masters Marseille 2018 is a massive Counter-Strike: Global Offensive held in Marseille, France between April 18th – 22nd. Organized by DreamHack, the competition brings together 16 teams and has a prize pool of a quarter million dollars.
Being a stacked tournament attended by most of the world's best teams and facilitating so many great matches, DreamHack Masters Marseille 2018 is a CS:GO bettor's dream come true. Every single day of this event is full of excellent betting opportunities.

Teams, groups and event format
DreamHack Masters Marseille 2018 features 16 teams that will be split into 4 groups of 4.
Group A:
FaZe Clan
Cloud9
G2 Esports
Team EnVyUs
Group B:
mousesports
SK Gaming
Ninjas in Pyjamas
Valiance
Group C:
Fnatic
Natus Vincere
Renegades
TyLoo
Group D:
Team Liquid
Astralis
Space Soldiers
Gambit Esports
Each of these groups is played in a GSL format (double-elimination bracket). The best two teams from every group advance to the Playoffs Stage, which will be played in a single-elimination bracket format.
The opening and elimination group matches are Bo1. The rest of the matches are Bo3, including the ones from the Playoffs and even the Grand Final.
Prize distribution
The quarter million dollars prize pool will be shared among the 16 teams in the following way:
1st place: $100.000
2nd place: $50.000
3rd – 4th place: $22.000
5th – 8th place: $10.000
9th – 16th place: $2.000
Betting predictions
Astralis vs. Space Soldiers
Based on recent results, Astralis is without a doubt one of the strongest teams at this event. It has won 28 out of its last 34 maps and is going into DreamHack Masters Marseille 2018 at the top of its game. It turns out that Kjaerbye's replacement with Magisk was an excellent idea and the whole team has been reborn as a result.
Space Soldiers is one of the most underrated teams in the world and a competitor that could cause some serious upsets at this tournament. However, I don't think they will beat this Astralis team. Space Soldiers has had three 2nd place finishes this year: at ESEA Season 26: Global Challenge, Play2Live Cryptomasters and World Electronic Sports Games. Its recent performances have also been excellent and the team won 20 out of its last 25 maps.
Bovada puts the odds at -190 / +135 or around 1.53 – 2.35 in Astralis' favor, expecting a victory for the Danes. I'm going to predict the same result, but the match will likely be very disputed.
Free tip: Astralis to win, paying -188.68 with BetOnline
.
mousesports vs. Valiance
At the moment, mousesports has one of the strongest rosters in CS:GO and will likely qualify for the Playoffs of this tournament. This year, mousesports has won two championship titles (V4 Future Sports Festival Budapest 2018 and StarLadder & i-League StarSeries Season 4) and is attempting to win a third at DreamHack Masters Marseille 2018.
On the other side, Valiance is an outsider to the world of big CS and will likely get destroyed by all of its opponents.
Bovada puts the odds at -500 / +295 or around 1.20 – 3.95 in mousesports' favor. Given mousesports' high chance of winning, these odds are absolutely huge on their side.
Free tip: mousesports to win, paying +300 with BetOnline
Cloud9 vs. G2 Esports
Both Cloud9 and G2 Esports are going through a period of uncertainty, after making roster changes and having to integrate the new players. Cloud9 bought FNS from compLexity Gaming as a replacement for Stewie2K, while G2 Esports replaced both their coach (SmithZz) and one of their players (shox, who is injured). Their replacements are NiaK (new coach) and mixwell. Arguably, both teams have downgraded their rosters with these changes and are now facing the consequences: instability and inconsistency. However, Cloud9 is still the stronger side, playing with the same 4-player core that won the ELEAGUE Major: Boston 2018 just 3 months ago.
Bovada puts the odds at +105 / -145 or around 2.05 – 1.69 in favor of G2 Esports, anticipating a very close match that's slightly G2 Esports favored. However, I believe that Cloud9 has a significant advantage going into this battle.
Free tip: Cloud9 to win, paying +110 with BetOnline
SK Gaming vs. Ninjas in Pyjamas
SK Gaming is currently trying to get back to its glory days and achieve playstyle fluency with its new roster. And it will take a while for the Brazilians to do that.
After months of failure, SK Gaming decided to part ways with TACO (who is now a member of Team Liquid) and buy Stewie2K from Cloud9. A new version of SK Gaming is currently taking form but the process will last for at least a few months. Until its completion, expect to see a lot of inconsistency from Fallen and his squad. For the time being, it's best to avoid betting on this team. What you might want to do on the other hand is to bet against them.
Ninjas in Pyjamas is also in full reconstruction mode and you could argue that there's still some way to go until they're back to their peak. NiP has changed its roster and is working on a new way of playing the game. However, the addition of dennis has certainly improved things for them. And based on both teams' recent results, NiP is likely to produce an upset in this match.
Bovada puts the odds at -175 / +125 or around 1.57 – 2.25 in SK Gaming's favor, but the likelihood of an upset is very high.
Free tip: Ninjas in Pyjamas to win, paying +125 with BetOnline
Fnatic vs. TyLoo
Fnatic is definitely a top 3 team right now so this match will likely be a one-sided affair. This year, Fnatic got two 1st place results at World Electronic Sports Games and Intel Extreme Masters Season XII World Championship. After these successes, rumors emerged that Golden was going to be released from the team for some mysterious reason, but ultimately nothing happened and the roster stayed intact. Subsequently, Fnatic had nothing else to do over the last month except to train hard and perfect its strategies.
On the other side, TyLoo is good team from a weak region: Asia. TyLoo has just a few notable results in high-level tournaments. Its greatest achievement came at StarLadder & ImbaTV Invitational Chongquing 2018, where it won the title.
Overall, the strength and experience difference between these two teams is astronomic, so I don't really see how TyLoo could upset Fnatic in this encounter.
Bovada puts the odds at -500 / +320 or around 1.20 – 4.20 in favor of the European team, as the result of this match is very predictable.
Free tip: Fnatic to win, paying -500 with BetOnline
FaZe Clan vs. Team EnVyUs
Over the past few months, FaZe Clan achieved good results at Intel Extreme Masters Season XII World Championship (2nd place), the ELEAGUE Major: Boston 2018 (2nd place), StarLadder & i-League StarSeries Season 4 (4th place), and V4 Future Sports Festival Budapest 2018 (3rd – 4th place). At this point, FaZe Clan is certainly one of the best teams in CS:GO and should be regarded as a main contender at any event.
Team EnVyUs is not even close to top 8 at this point and has not had a single notable achievement this year.
Both of these teams have recently gone through roster changes and are in the process of reinventing their playstyle. FaZe Clan has temporarily replaced olofmeister with Xizt from NiP while Team EnVyUs has replaced xms and SIXER with kioShiMa and hAdji.
Bovada puts the odds at -345 / +325 or around 1.29 – 4.25 in favor of FaZe Clan, anticipating a rather easy victory for karrigan's team.
Free tip: FaZe Clan to win, paying -333.33 with BetOnline
Team Liquid vs. Gambit Esports
After signing TACO from SK Gaming, Team Liquid is looking like a top contender capable of beating any opponent. The team's recent performances have been great and the entire roster seems ready for the battles ahead.
This year, Team Liquid won a tournament title at cs_summit 2 and achieved 3 other top 4 results at important CS:GO events. On the other side, Gambit Esports has been having problems for the past few months and does not look capable of defeating an adversary of Team Liquid's caliber.
Bovada puts the odds at -260 / +185 or around 1.38 – 2.85 in Team Liquid's favor, which is more than reasonable considering Liquid's high chance of winning.
Free tip: Team Liquid to win, paying -277.78 with BetOnline
Natus Vincere vs. Renegades
After TACO's departure from SK Gaming, Natus Vincere was in danger of losing its star player s1mple and possibly even flamie. Ultimately, the rumors did not materialize and Na'Vi is still unchanged, still a good CIS team but one that's heavily dependent on s1mple's ability to pretty much win matches on his own.
On the other side, Renegades is a decent team with an Australian core (3/5 players). But, unfortunately for them, they haven't had a notable result in a quite a long tiem. And since they're facing one of the strongest teams in the world, I don't see how they could possibly win here.
Bovada puts the odds at -245 / +180 or around 1.41 – 2.80 in favor of Natus Vincere, giving Renegades a lot of credit considering their complete lack of results this year.
Free tip: Natus Vincere to win, paying -250 with BetOnline
Best CS:GO Dreamhack Master betting sites

Best esports betting sites for your country