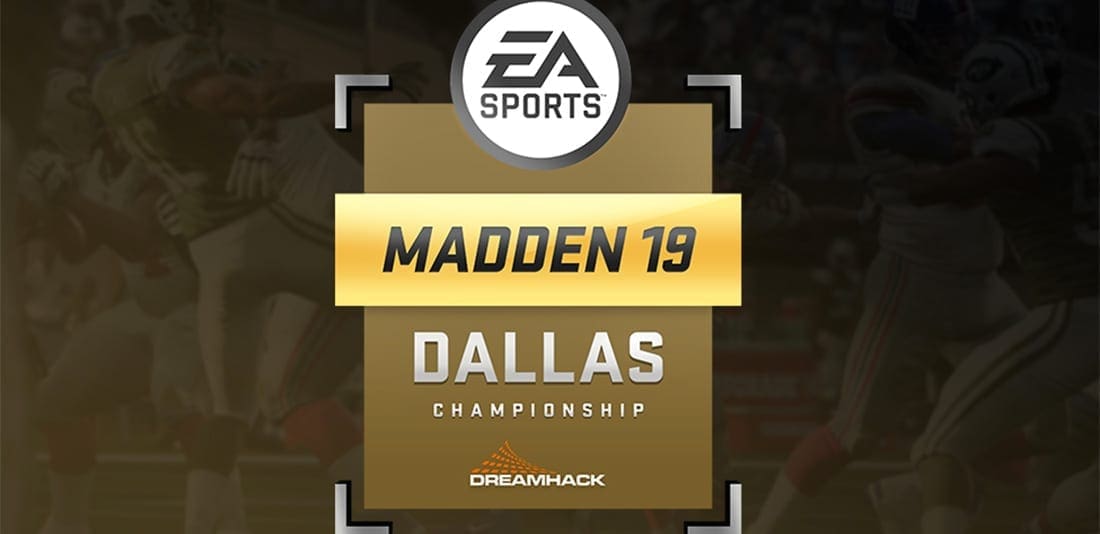 by in
DreamHack Dallas has announced a $25,000 Madden NFL 19 tournament open to anyone attending the festival.
The tournament will mark the first time the game has been played at the festival, which will take place in Dallas for the first time from May 31 – June 2.
DreamHack Dallas which is set to take place from May 31st till June 2nd 2019 has announced that a $25,000 Madden NFL 19 tournament will take place at the venue, which will be open for anyone attending the festival.
The open Madden tournament is set to be a bonanza for NFL fans — the only stipulation for competitors is they have to be over 16 to enter.
SEE ALSO: Best bookmakers for eSports betting in your country
In a statement released this week, DreamHack Chief Product Officer, Mark Van Driel, said the Madden NFL 19 tournament would bring out the best players in the city.
"Bringing DreamHack to Dallas for the first time is going to be epic. This is such a great city with a passion for sports at its core, including the NFL's Dallas Cowboys," 
 Van Driel said.
"Dallas is also known to be a strong breeding ground for tomorrow's esports professionals, so it will be a tremendous experience to see what this community brings to the Madden NFL Tournament."
While it's an exciting addition, the Madden NFL 19 tournament won't be the main event at DreamHack Dallas.
The main event at DreamHack Dallas will be the CORSAIR DreamHack Masters Dallas, a $250,000 (€221,860) CS: GO event, which will see heavyweights like FaZe Clan, Fnatic, Team Liquid, Ninjas in Pyjamas and Team Vitality battling it out for the chance to appear in the Grand Finals on June 2nd.
The debut DreamHack in Dallas which will host CROSAIR Dream Hack Masters, the three-day event, as well as $25,000 Madden NFL 19 tournament, will mark the largest DreamHack festival in North America up to date, with plenty of other activities for the attendees to enjoy.
From Madden NFL 19 tournament, BYOC Lan, cosplay, live music, and much, much more, the event will feature everything game related under one roof. The attendees will even get a chance to test themselves in numerous fighting games competitions (Mortal Kombat 11, Street Fighter V, Super Smash Bros. Melee and Super Smash Bros. Ultimate), mobile games such as Brawl Stars and Clash Royale as well as our favourite combination of FIFA and a racing game; Rocket League.
As a premier event, the DreamHack Dallas has put a lot of focus on their viewers. From offering low ticket prices ($15) which allows almost everyone to enjoy the spectacle, to providing live streams on Twitch which will allow people from all around the globe to experience the event in the comfort of their home.
It's no secret that Madden NFL 19 is not among the biggest esports in the world, however, a surprise tournament which will allow anyone to join will surely add to its recognition in this new and rapidly growing sport genre. At the end of the day, any additional activity for the fans will be welcome and appreciated.