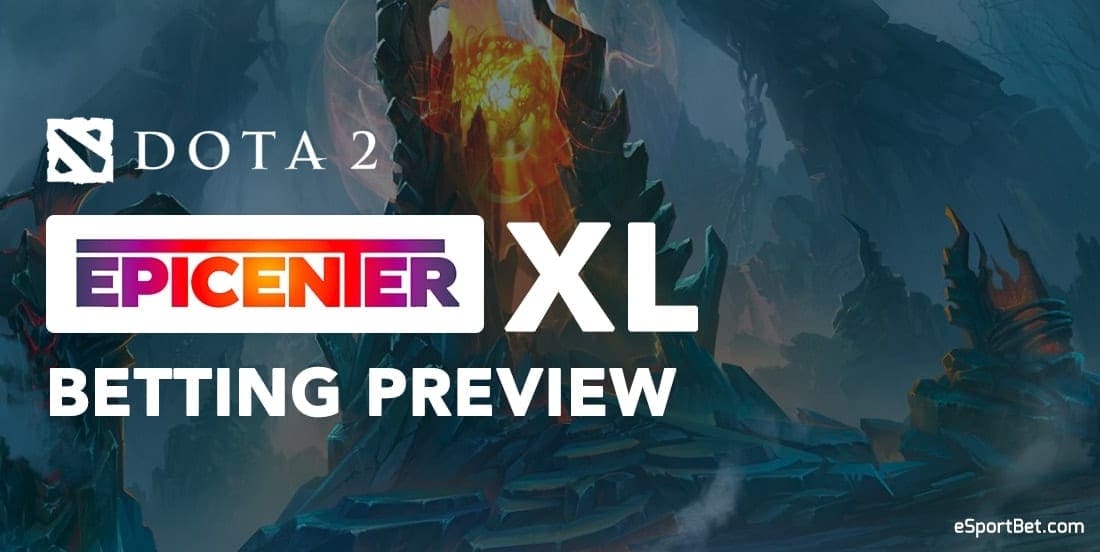 by in
EPICENTER XL is one of the several remaining Dota Pro Circuit LAN events for this competitive season. Being at its 3rd edition, the tournament is already famous worldwide for creating an incredible atmosphere rivaled only by that of The International. This year, EPICENTER XL is offering a prize pool of $1 million dollars as well as 1500 qualification points for TI 8.
GUIDE: HOW TO BET ON DOTA 2
WATCH: STREAM DOTA 2
Participants and event format
EPICENTER XL is held in Moscow between April 27 and May 6, and features 12 teams from 6 different regions:
CIS: Natus Vincere, Team Empire, FlyToMoon, Virtus.pro.
North America: compLexity Gaming.
South America: paiN Gaming.
Europe: Team Liquid, OG, Team Secret.
China: Newbee, LGD Gaming.
Southeast Asia: Mineski.
Initially, the teams will be divided into two groups of 6.
Group A:
Team Liquid
Mineski
PSG.LGD
Team Empire
compLexity Gaming
FlyToMoon
Group B:
Virtus.pro
Team Secret
Natus Vincere
paiN Gaming
Newbee
OG
In each group, every team plays a Bo3 match against every other team. At the end, the top two teams from each group advance to the upper bracket of the main event. The next two teams advance to the lower bracket. The bottom two teams are eliminated.
Teams to watch at EPICENTER XL
Mineski
After months of struggling and poor results, Mineski made a spectacular comeback at Dota 2 Asia Championships 2018, where it won the title. No doubt, the team's new coach Tang "71" Wenyi played an instrumental role in that success. This man is actually the former coach of EHOME from The International 2011, where the Chinese powerhouse placed 2nd.
At the moment, Mineski is 4th in the Dota Pro Circuit rankings table and will likely continue to impress everyone with its performances for the rest of the season.
Virtus.pro
Sitting at number 1 in the Dota Pro Circuit rankings and being already qualified for The International 2018, Virtus.pro is now just trying to keep up with the latest patches and developments on the professional scene, in order to guarantee itself the best shot at winning this year's TI.
This season, VP won 5 tournaments in total: 3 Majors, 1 Minor, and another big tournament that wasn't part of the Dota Pro Circuit, namely World Electronic Sports Games. And with 4 other top 4 results at Dota Pro Circuit LAN events, Virtus.pro has definitely had its best season ever.
Going into EPICENTER XL, Virtus.pro is expected to get a top 4 finish, although its previous participations at this tournament did not end up well for it. Still, this year will likely be different as this particular VP roster is the strongest in the history of the organization.
Team Secret
With 3 tournament titles (1 Major and 2 Minors) and various other top 4 results, Team Secret has had a great season and is currently 3rd in the Dota Pro Circuit rankings table. Secret's latest title dates back just one month ago, when it won DreamLeague Season 9 by defeating Fnatic in the Grand Final (score 3 – 0).
Going into EPICENTER XL, Team Secret is expected to get a top 4 finish, even though at Dota 2 Asia Championships 2018 Puppey and his teammates looked a little uncoordinated and ultimately finished 9th-12th.
Team Liquid
Having won the first two editions of EPICENTER, Team Liquid goes into this tournament to defend its title. The team is currently 2nd in the Dota Pro Circuit rankings table, being almost assured of its direct invite to The International 2018.
This season, Team Liquid had 9 top 4 finishes and won 3 titles. Overall, the team's consistency has been second to none. If everything goes according to plan, Liquid should easily get another top 4 finish at this event. Realistically, this team is the 3rd best at this tournament, being almost at Virtus.pro and Mineski's level.
Betting predictions
compLexity Gaming vs. FlyToMoon
CompLexity Gaming is a fairly strong team from the North American region and its roster has a lot of international experience and a multitude of notable achievements. On the other side, FlyToMoon is a recently formed CIS team with almost no international results to speak of and very limited experience playing as a unit.
Bovada puts the odds for this match at -145 / +100 or around 1.69 – 2.00 in favor of compLexity Gaming and at these odds, this is a great betting opportunity.
Betting prediction: compLexity Gaming to win, paying -125 at BetOnline
Virtus.pro vs. paiN Gaming
The skill difference between these two teams is enormous. Virtus.pro has been the best team in the world this season while paiN Gaming does not have a single point in the Dota Pro Circuit rankings table. In addition to this, paiN Gaming has recently brought in a new player, namely w33.
Bovada puts the odds for this match at -2500 / +1000 or around 1.07 – 11.00 in favor of Virtus.pro, anticipating a quick and effortless victory for the CIS squad.
Betting prediction: Virtus.pro to win, paying -2500 at BetOnline
Team Secret vs. Newbee
Both of these teams are very strong and occupy top 5 spots within the Dota Pro Circuit rankings table. However, the difference between them is quite substantial: almost 2500 points. Furthermore, the head to head record for this season clearly favors Team Secret: 5 W – 2 L.
Bovada puts the odds for this match at -195 / +155 or around 1.51 – 2.55 in favor of Team Secret, and its assessment is pretty much on point.
Betting prediction: Team Secret to win, paying -175.44 at BetOnline
Mineski vs. PSG.LGD
This is a rematch of the Dota 2 Asia Championships 2018 Grand Final. Mineski won that match with the score of 3 – 2, but the battle was extremely fierce and the match could have easily gone either way.
At the moment, the difference between Mineski and PSG.LGD within the Dota Pro Circuit rankings table is quite significant. The two teams are separated by 4 places and more than 1300 points. That's a direct result of Mineski's much better performance throughout the season.
Going into this match, Mineski is definitely favored to win again, but only by a little. Bovada puts the odds at -120 / -120 or around 1.83 – 1.83, going as far as to assess the situation as being perfectly equal on both sides. I personally don't think that's the case and I still favor Mineski to emerge victorious.
Betting prediction: Mineski to win, paying -120.48 at BetOnline
OG vs. Natus Vincere
This is a very difficult match to predict, as both of these teams have been in a lot of trouble lately. OG lost Resolut1on while Natus Vincere lost RodjER and SoNNeikO. After these losses, both teams went from one failure to another, except for OG's small regional victory during the qualifiers for ESL One Birmingham. The team qualified for this Major by beating Team Kinguin in the Grand Final. At the same time, Na'Vi had several poor results lately, losing against small regional teams like Vega Squadron and even Mega-Lada E-sports.
Bovada puts the odds for this match at -205 / +160 or around 1.49 – 2.60 in favor of OG, and that is certainly an assessment based on Na'Vi's latest results in regional qualifiers for future Dota Pro Circuit LAN events. However, I think the assessment is correct.
Betting prediction: OG to win, paying -175.44 at BetOnline
Team Liquid vs. Team Empire
This is another mismatch between one team that won The International 2017 and is currently sitting at number 2 within the Dota Pro Circuit rankings, and another one that hasn't earned a single point this season and is a complete mess overall.
Bovada puts the odds at -800 / +500 or around 1.13 – 6.00 in favor of Team Liquid, as it would take a miracle for Empire to avoid defeat in this match. Keep in mind, this will be a Bo3 series, meaning that Empire has to defeat Liquid not once, but twice to walk away with a victory.
Betting prediction: Team Liquid to win, paying -833.33 at BetOnline