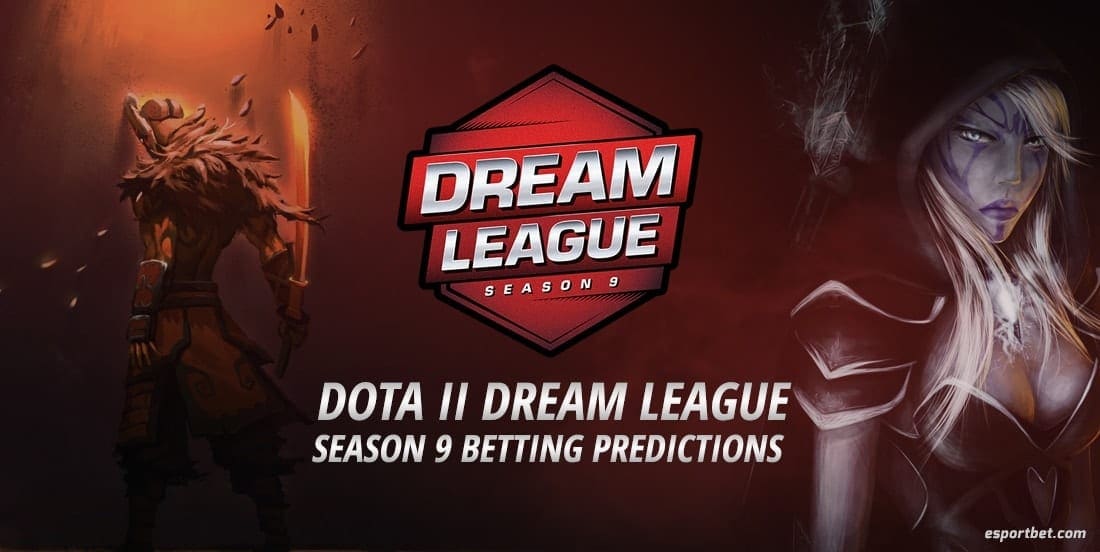 by in
DreamLeague Season 9 is an upcoming Dota Pro Circuit Minor scheduled to take place in Stockholm, Sweden between March 21st – 25th. The event is organized by DreamHack, brings together 8 teams from 6 different regions, has a prize pool of $300,000 and offers 300 qualification points for the next edition of The International.
Although DreamLeague Season 9 is only a Minor, many of the world's best teams will be attending it. As a result, the event offers great matches and excellent Dota 2 betting opportunities. Kenny R gives his free predictions below.
Prize distribution and participants
Because it belongs to the Dota Pro Circuit, DreamLeague Season 9 offers 300 qualification points in addition to the $300.000 prize pool. These rewards will be divided among participating teams in the following way:
1st place: 150 points; $125.000
2nd place: 90 points; $70.000
3rd place: 45 points; $30.000
4th place: 15 points; $30.000
5th – 6th place: 0 points; $15.000
7th – 8th place: 0 points; $7.500
DreamLeague Season 9 features 8 teams from 6 different regions:
China: Newbee.
Southeast Asia: Fnatic.
North America: Immortals.
South America: PaiN Gaming.
CIS: Team Empire.
Europe: Team Liquid, Team Secret, OG.
Dream League Season 9 event format
DreamLeague Season 9 will be played in a double-elimination bracket format with all of the teams starting in the upper bracket. All matches are Bo3, except for the Grand Final (Bo5).
Free betting tips for Dota 2 Dream League Season 9
Fnatic vs. OG
These two teams are of roughly the same strength, although Fnatic has a significant advantage due to the fact that OG lost a very important player recently. Resolut1on's departure will no doubt have a negative short- term impact on OG's teamplay and overall coordination.
Betting analysis: Bovada puts the odds at -135 / -105 or around 1.74 – 2.05 in favor of Fnatic, and at these odds a bet on the Southeast Asian team is definitely worthwhile.
Best bet: Back Fnatic at -138.89 at BetOnline
Newbee vs. Immortals
This match can only end one way, as it's impossible for a team of Immortals caliber to beat Newbee not once, but twice. The Bo3 format ensures that the best team wins in the vast majority of cases.
Betting analysis: Bovada puts the odds at -1000 / +475 or around 1.10 – 5.75 in favor of Newbee, as this is basically free money to be made.
Best bet: Back Newbee at -1612.9 at BetOnline
Team Secret vs. Team Empire
This is another match between two teams of vastly different levels of skill. Team Secret will probably mop the floor with Team Empire, who is present at this event simply because the top CIS teams had no interest in it.
Betting analysis: Bovada puts the odds at -1000 / +475 or around 1.10 – 5.75 in favor of Team Secret, allowing you to make a 10% profit on an almost certain result.
Best bet: Back Team Secret at -1204.82 at BetOnline
Team Liquid vs. PaiN Gaming
PaiN Gaming's performance at the recent WESG tournament was no doubt impressive, but it's not exactly relevant going into this match. And that's because the WESG tournament brought together mostly improvised teams made up of players of just one nationality. As a result, almost none of the world's best teams attended the event. The only one who did was Virtus.pro. They replaced one player (No[o]ne, who is Ukrainian) and played under the name Team Russia. VP won WESG by defeating PaiN Gaming in the Grand Final.
Betting analysis: Since this is a Bo3 series, PaiN Gaming's chances against the TI 7 champions are extremely low. Bovada puts the odds at -2500 / +800 or around 1.04 – 9.00 in favor of Team Liquid, as this will likely be a very easy match for the Europeans.
Best bet: Back Team Liquid at -2000 at BetOnline

Best esports betting sites for your country
ALSO READ: DREAMLEAGUE SEASON 9 TEAM ANALYSIS