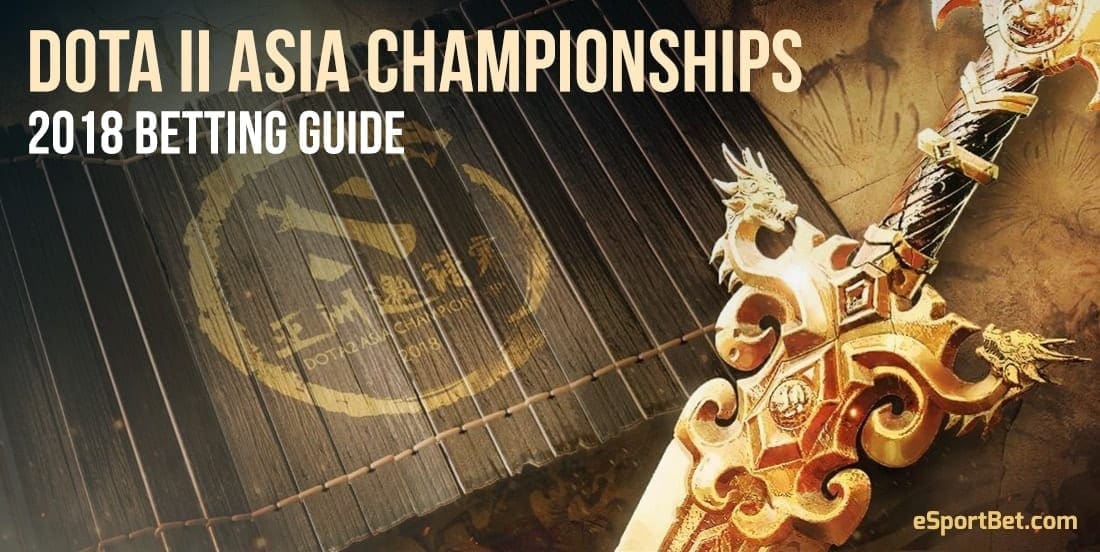 by in
Dota 2 Asia Championships 2018 is right around the corner and with 16 of the world's best teams and $1 million in prizes, the competition is sure to be fierce and the betting opportunities are many.
Between March 29 and April 7 the best bookmakers will be offering you plenty of chances to put your esports knowledge to use. DAC 2018 is regarded as the most important tournament of the season with the exception of The International, so you can be sure that special attention will be given to this event by all of the top betting operators.
WATCH: HOW TO STREAM DOTA 2
FREE TIPS: MORE ESPORTS PREDICTIONS
Participating teams
Dota 2 Asia Championships 2018 will bring together 16 teams from all over the world:
North America: OpTic Gaming, Evil Geniuses.
South America: paiN Gaming.
CIS: Effect, Virtus.pro.
Southeast Asia: TNC Pro Team, Mineski.
Europe: OG, Team Secret, Team Liquid.
China: VGJ.Thunder, LGD Gaming, Vici Gaming, Newbee, Keen Gaming, Invictus Gaming.
Tournament format
Dota 2 Asia Championships 2018 will take place in 3 stages. In the Group Stage, the 16 teams will be divided into two separate groups.
Group A: Team Liquid, Newbee, LGD Gaming, Vici Gaming, TNC Pro Team, OG, OpTic Gaming, Keen Gaming.
Group B: Team Secret, Evil Geniuses, Virtus.pro, Invictus Gaming, Mineski, VGJ.Thunder, paiN Gaming, Effect.
One best-of-1 match will be played by each team against every other opponent from its group. At the end of this stage, four teams are eliminated (7th and 8th from each group), eight teams (3rd – 6th) qualify for the Breakout Stage of the main event (which consists of four elimination matches played in a Bo3 format) and four teams (1st-2nd from each group) qualify for the first round of upper bracket matches.
After the Breakout Stage ends, the main event will be played in a GLS format (double-elimination bracket).
Prize distribution
Like all Major tournaments that belong to the Dota Pro Circuit, Dota 2 Asia Championships 2018 offers 1 million dollars in prizes and a total of 1500 qualification points for the next edition of The International. The event's rewards will be divided among participating teams in the following way:
1st place: 750 points; $370,000.
2nd place: 450 points; $135,000.
3rd place: 225 points; $105,000.
4th place: 75 points; $85,000.
5th-6th place: 0 points; $67,500.
7th-8th place: 0 points; $35,000.
9th-12th place: 0 points; $15,000.
13th-16th place: 0 points; $10,000.
Dota 2 Asia Championships betting predictions
Mineski vs. paiN Gaming
After their 2nd place finish at StarLadder i-League Invitational Season 3 and 1st place finish at PGL Open Bucharest, Mineski's results dropped like a rock and the team disappeared from the spotlight for a few months. Then it resurfaced with top 4 finishes at two other Minors (StarLadder i-League Invitational Season 4 and Captains Draft 4.0) but in the last 2 months, Mineski has had a disappointing run.
Still, in spite of all this, the Southeast Asian team is much stronger and has a much better record in Dota Pro Circuit events than paiN Gaming, who always seems to get eliminated first, no matter what the tournament is. The South Americans' only remarkable result this season was their 2nd place finish at World Electronic Sports Games. However, that kind of performance is irrelevant when considering Dota Pro Circuit events, simply because WESG did not bring together the typical world class Dota 2 teams, but rather a bunch of made-up teams. That's because of the tournament's fundamental rule: only teams with players of just one nationality were allowed to enter the event.
Odds analysis: Bovada puts the odds at -275 / +180 or around 1.36 – 2.80 in favor of Mineski and at these odds, a bet on Mineski is definitely worthwhile.
Best bet: Mineski to win -277.78 with BetOnline
OG vs. Keen Gaming
With just two notable results in the last 6 months (5th-6th place at ESL One Hamburg 2017 and 5th-8th place at World Electronic Sports Games), Keen Gaming is an outsider to the world of big Dota and has a mountain to climb if it wants to be competitive against most opponents in this tournament.
OG is not exactly in good shape right now. In fact, quite the opposite. However, the Europeans still have a lot more experience and much better results over the past 6 months, which indicates that they're more likely to win this match against Keen Gaming.
Odds analysis: Bovada puts the odds at -200 / +135 or around 1.50 – 2.35 in favor of OG and the reason why these odds are so high on OG's side is because they recently said farewell to their carry player, Resolut1on, after a series of poor results. At these odds, betting on OG would be a a wise decision.
Best bet: OG to win -200 with BetOnline
TNC Pro Team vs. OpTic Gaming
Both of these teams had a number of notable results this season. TNC won China Top 2017, placed second at MDL Macau and had three other LAN event participations: Galaxy Battles II: Emerging Worlds (5th – 6th), ESL One Genting 2018 (9th – 12th), and The Bucharest Major (5th – 8th). OpTic, on the other hand, took part in five tournaments: Midas Mode – North America (1st), ROG MASTERS 2017 (2nd), DOTA Summit 8 (6th-7th), ESL One Katowice 2018 (9th-12th), The Bucharest Major (5th-8th).
The last direct match between these two teams (at The Bucharest Major) was won by TNC. The Southeast Asian team is considered to be the favorite this time again, although OpTic Gaming has shown obvious signs of strength recently, by defeating Evil Geniuses (the GESC: Indonesia champions) in the NA qualifiers for MDL Changsha.
Odds analysis: Bovada puts the odds at -160 / +110 or around 1.63 – 2.10 in favor of TNC, but the chance of an upset is very high. As a result, betting on the underdog would probably be a better idea.
Best bet: OpTic Gaming to win +110 with BetOnline
How to bet on the Dota 2 Asia Championship
Dota 2 Asia Championships 2018 offers a lot more matches and betting opportunities besides the ones presented above. To find out more about them, check out our guide to the best esports betting sites and visit our partners' websites. Also, keep in mind that the top contenders for winning this tournament are Virtus.pro, Team Secret, Team Liquid, VGJ.Thunder and Evil Geniuses. It's very likely that these teams won't be defeated in matches until they start encountering each other.

Best esports betting sites for your country