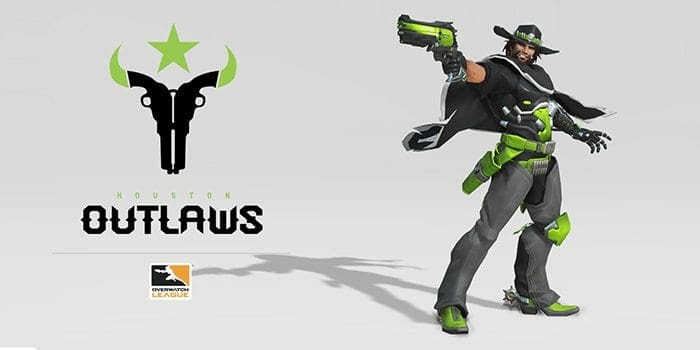 by in
North America
Houston Outlaws Strikes Major Sponsorship Deal With Energy Titan
The Houston Outlaws, a top North American Overwatch League pro esports team, recently struck a historic sponsorship deal with US energy sector titan NRG, owners of Reliant Energy. The deal comes after the Outlaws were acquired by Beasley Media last year.
For NRG, this isn't their first rodeo in sports sponsorship. It does represent a first for esports, as no other major energy sector companies sponsor any North American teams. The company, with a strong presence in Texas, foresees considerable synergy between the Outlaws and NRG.
With the agreement, the company hopes to increase its appeal among young consumers. Similar deals with other corporate partners would be very beneficial for the North American esports scene.
Asia
FACEIT Set To Launch Collegiate Esports League In Turkey
Esports tournament company FACEIT has partnered with Gaming in Turkey for a new collegiate esports league. The league will cover CS:GO tournaments in the nation at the student level. CS:GO has exploded in popularity in Turkey in recent years.
The first tournament to originate from the new deal will be the Collegiate Esports League Turkey. It's set to start in 2021, over the fall semester. Turkish universities will be able to field their own teams and communities through the FACEIT platform.
Gaming in Turkey has plans for several other collegiate esports leagues for 2021. They include a collegiate League of Legends tournament and a collegiate Valorant competition.
Africa
Predator Gaming Announces New Call Of Duty: Warzone Tournament
Computer hardware company Predator Gaming has teamed up with the African Cyber Gaming League to launch a new Call Of Duty tournament. The Predator Warzone Showdown will take place over a span of two months, bringing together the best African COD talent.
For eight weeks, South African teams will face off every Wednesday for weekly qualifiers. A weekly finale will be played every Friday after each qualifier. Predator Gaming is putting up the prizes, with 20,000 South African rands up for grabs.
Each Wednesday, the best four teams will qualify for the finale. On Friday, they'll face off against four invited teams for weekly prizes in a single-elimination bracket.
Europe
St. Petersburg's FC Zenit Enters Sorare's Fantasy Football Platform
Russian Premier League FC Zenit Saint Petersburg has officially joined Sorare. The global fantasy football platform allows players to collect and trade digital player cards, used to build their fantasy teams. All FC Zenit players are now available as Sorare digital cards.
Launched in early 2019, the Sorare platform boasts more than 40.000 users. Since its inception, it's undergone very rapid growth, driven mostly by word-of-mouth. According to the company, user growth has averaged 52% per month since launch.
In order to play fantasy football through Sorare, players need at least five digital cards. Gamers accrue points depending on the real-life performance of the players whose cards they own. Russia has been one of the fastest growth markets for Sorare.
South America
Seven Teams Step Out Of Argentinian LoL Liga Master Flow 2021
Argentina's Liga Master Flow is a League of Legends tournament established in 2019. Winners qualify for the Liga Latino Americana tournament (LLA), where they can win spots in the League of Legends Worlds Championship.
Now, after failing to reach an agreement, eight Argentinian teams are stepping out of the competition. They include Furious Gaming, 9z Team, Nocturns Gaming, Coscu Army, Wygers, Feint, and Malvinas Gaming. They're all sports betting favorites, and their failure to participate will no doubt drastically reshape bookmaker odds for the event.
An eight team, Undead Gaming, also signed the statement, but will still compete in the tournament. LMF organizers, Liga de Videjuegos Profesional, have announced that new teams will be considered for participation in the tournament.
Oceania
Australian Esports Platform Mogul Completes Successful Funding Round
Mogul, the Australian-based esports tournament and matchmaking service, completed a successful fundraising drive. The company conducted a share placement (which was massively oversubscribed), managing to raise more than $8 million AUD.
Both existing investors and new players poured cash into Mogul's coffers. Gernot Abl, Mogul's chairman, personally invested more than $50,000 AUD. The money will cover company operational costs for the next 24 months.
As Australia betting sites and bookmakers continue to dive into esports, Mogul can grow substantially. The company will be developing its brand engagement and monetization strategies over the coming years.