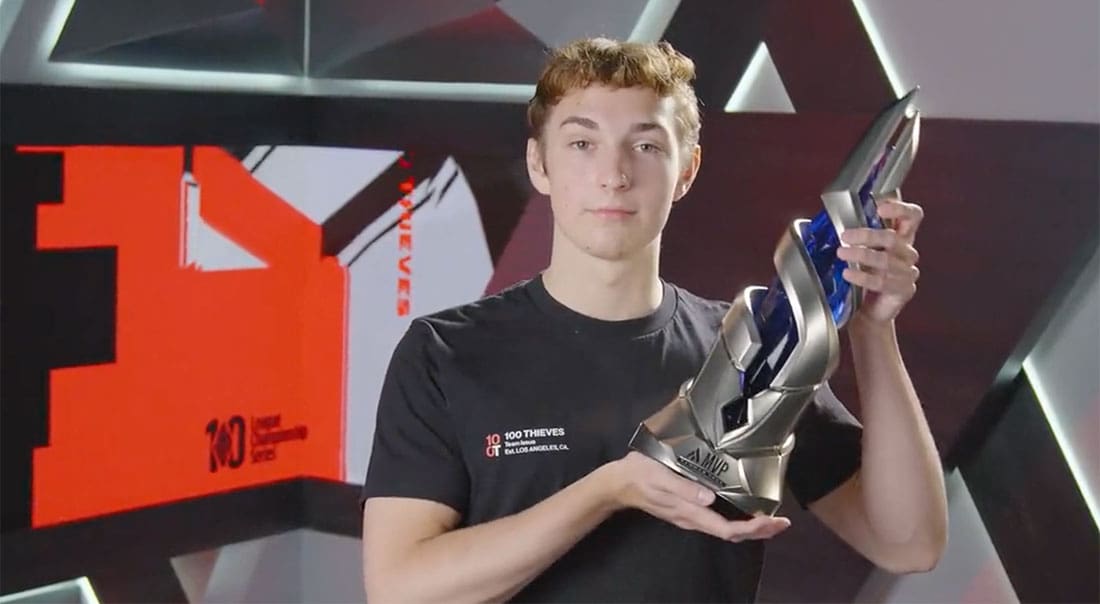 by in
Alan "Busio" Cwalina, the fast-rising League of Legends support for 100 Thieves Academy, was named the Most Valuable Prospect owing to his performance in the LCS NA Academy 2022 Summer Split.
Since coming into the scene in 2018, 100 Thieves have established themselves as one of the top LCS organizations in terms of growing talent in LCS and North America. The organization's development initiative is affirmed to be a success with Busio announced as the LCS Academy MVP for the year.
In response to the official congratulatory post by LCS on Twitter, the 100 Thieves Academy support thanked everyone who contributed to him getting the award. Busio wrote, "Thank you to my teammates, my supporters, and everyone around me that helped me get this award. It only goes up from here."
In the video posted by LCS' official page, Busio explained the reason he moved from his midlaner position to support after joining 100 Thieves in 2021. His first team as a competitive player in the league was Polar Ace in 2020 before moving to 100 Thieves a year later.
According to the player, his main reason for shifting roles was that not many support players were equipped with midlaner mechanics, as well as the knowledge and fundamentals involved in the role.
Busio's performance in the role of 100 Thieves' support made him stand out and moved him up the organization's hierarchical ladder until July 2022, when he joined the Academy team. The former midlander concluded the clip by saying he was positive that his abilities would make him one of the top supports in LCS.
Busio said, "With this being the Most Valuable Prospect, I know it doesn't mean I am the best right now, but that it means I have the potential. And from this past year, I know how much you can improve in a year."
The 100 Thieves Academy support added, "I think in one year, I can already be a pretty good LCS support, and in two years, I think that I can be the best."
After a 3-1 loss to the Team Liquid Academy during the LCS Proving Grounds Summer tournament series, the 100 Thieves Academy season for 2022 was declared officially over. The remaining teams in the competition include Cloud9 Academy, Team Liquid Academy, and Dignitas Academy.