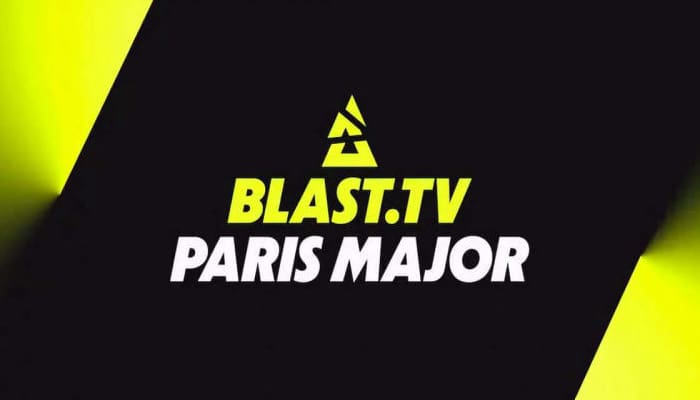 by in
Event organizer BLAST has revealed the schedule for Counter-Strike: Global Offensive Regional Major Ranking Tournaments (RMR) open and closed qualifiers ahead of the BLAST.tv Paris Major.
The open and closed qualifiers for the RMR are scheduled to take place from around mid-February to the end of the month. The RMR events that follow will take place just about one month apart, starting from April 3–13, 2023. The BLAST.tv Paris Major itself is scheduled to take place on May 8, 2023.
The European RMR events take place in Copenhagen, which will be organized by BLAST; the American event is in Monterrey, hosted by Liga Ace; and the Asian event is in Ulaanbaatar, hosted by the CS:GO tournaments organizer MESA. All of these regional events will take place from April 3–13.
The teams that are privileged to bypass the qualifiers and gain direct entry to the RMR are those that made it to the legend stage of the 2022 IEM Rio Major. The European direct entry teams are 14 out of 32, and in the Americas, 2 out of 16 teams. Teams that will be given a direct invitation have been picked through the "new Valve rating."
CS:GO RMR Teams Selected From Valve
The European teams selected from the Valve ratings include:
Team Spirit
● Leonid "chopper" Vishnyakov (IGL)
● Boris "magixx" Vorobyev
● Robert "Patsi" Isyanov
● Pavel "s1ren" Ogloblin
● Ihor "w0nderful" Zhdanov
● Sergey "hally" Shavayev (Coach)
Ninjas in Pyjamas
● Fredrik "REZ" Sterner
● Hampus "hampus" Poser
● Ludvig "Brollan" Brolin
● Aleksi "Aleksib" Virolainen (IGL)
● Danyyl "headtr1ck" Valitov
● Daniel "djL" Narancic (Coach)
Cloud9
● Vladislav "nafany" Gorshkov (IGL)
● Dmitriy "sh1ro" Sokolov
● Sergey "Ax1Le" Rykhtorov
● Abai "HObbit" Hasenov
● Timur "buster" Tulepov
● Konstantin "groove" Pikiner (Coach)
BIG
● Johannes "tabseN" Wodarz (IGL)
● Florian "syrsoN" Rische
● Josef "faveN" Baumann
● Karim "Krimbo" Moussa
● Nils "k1to" Gruhne
● Fatih "gob b" Dayik (Coach)
Fnatic
● William "mezii" Merriman (IGL)
● Freddy "KRIMZ" Johansson
● Nico "nicoodoz" Tamjidi
● Fredrik "roeJ" Jørgensen
● Dion "FASHR" Derksen
● Jamie "keita" Hall (Strategic Coach)
SPROUT
● Ismail "refrezh" Ali (IGL)
● Victor "Staehr" Staehr
● Laurențiu "lauNX" Țârlea
● Rasmus "Zyphon" Nordfoss
● Adrian "XELLOW" Guță
● Danny "BERRY" Krüger (Coach)
Team Vitality
● Dan "apEX" Madesclaire (IGL)
● Mathieu "ZywOo" Herbaut
● Peter "dupreeh" Rasmussen
● Emil "Magisk" Reif
● Lotan "Spinx" Giladi
● Danny "zonic" Sørensen (coach)
Bad News Eagles
● Dionis "sinnopsyy" Budeci (IGL)
● Sener "SENER1" Mahmuti
● Genc "gxx-" Kolgeci
● Flatron "juanflatroo" Halimi
● Rigon "rigoN" Gashi
● Jonatan "Devilwalk" Lundberg (coach)
FaZe Clan
● Finn "karrigan" Andersen (IGL)
● Håvard "rain" Nygaard
● Helvijs "broky" Saukants
● Russel "Twistzz" Van Dulken
● Robin "ropz" Kool
● Robert "RobbaN" Dahlström (coach)
MOUZ
● Christopher "dexter" Nong (IGL)
● David "frozen" Čerňanský
● Ádám "torzsi" Torzsás
● Jon "JDC" de Castro
● Dorian "xertioN" Berman
● Dennis "sycrone" Nielsen (coach)
Outsiders
● Dzhami "Jame" Ali (IGL)
● Aleksei "Qikert" Golubev
● Evgeniy "FL1T" Lebedev
● Pyotr "fame" Bolyshev
● Aleksandr "KaiR0N-" Anashkin
● Dastan "dastan" Aqbaev (coach)
Natus Vincere
● Denis "electroNic" Sharipov (IGL)
● Ilya "Perfecto" Zalutskiy
● Valerii "b1t" Vakhovskyi
● Andrii "npl" Kukharskyi
● Oleksandr "s1mple" Kostyliev
● Andrii "B1ad3" Horodenskyi (coach)
Heroic
● Casper "cadiaN" Møller (IGL)
● Andrii "B1ad3" Horodenskyi
● Rasmus "sjuush" Beck
● René "TeSeS" Madsen
● Jakob "Jabbi" Nygaard
● Richard "Xizt" Landström (coach)
ENCE
● Marco "Snappi" Pfeiffer (IGL)
● Alvaro "SunPayus" Garcia
● Paweł "dycha" Dycha
● Pavle "maden" Bošković
● Valdemar "valde" Vangså
● Eetu "sAw" Saha (Coach)
American Teams With Direct Entry From Valve Rating
The American teams with direct entry from the valve rating include:
FURIA Esports
● Andrei "arT" Piovezan (IGL)
● Kaike "KSCERATO" Cerato
● Yuri "yuurih" Boian
● André "drop" Abreu
● Rafael "saffee" Costa
● Nicholas "guerri" Nogueira (Coach)
Team Liquid
● Nicholas "nitr0" Cannella (IGL)
● Jonathan "EliGE" Jablonowski
● Keith "NAF" Markovic
● Joshua "oSee" Ohm
● Mareks "YEKINDAR" Gaļinskis
● Damian "daps" Steele (coach)
All the other remaining teams in Europe, America, and Asia will have to compete in the qualifiers to make it to the RMR.
2023 BLAST Paris Major Scheduled Dates
Date schedule for overall 2023 BLAST Paris Major:
● RMR Open Qualifiers from February 13-27, 2023
● RMR events in April 3-13, 2023
● BLAST Paris Major (Main event) from May 8-21, 2023
● The Challengers will be from May 8-11, 2023; and the Legends from May 13-16, 2023; lastly, the Champions will be from May 18-21, 2023