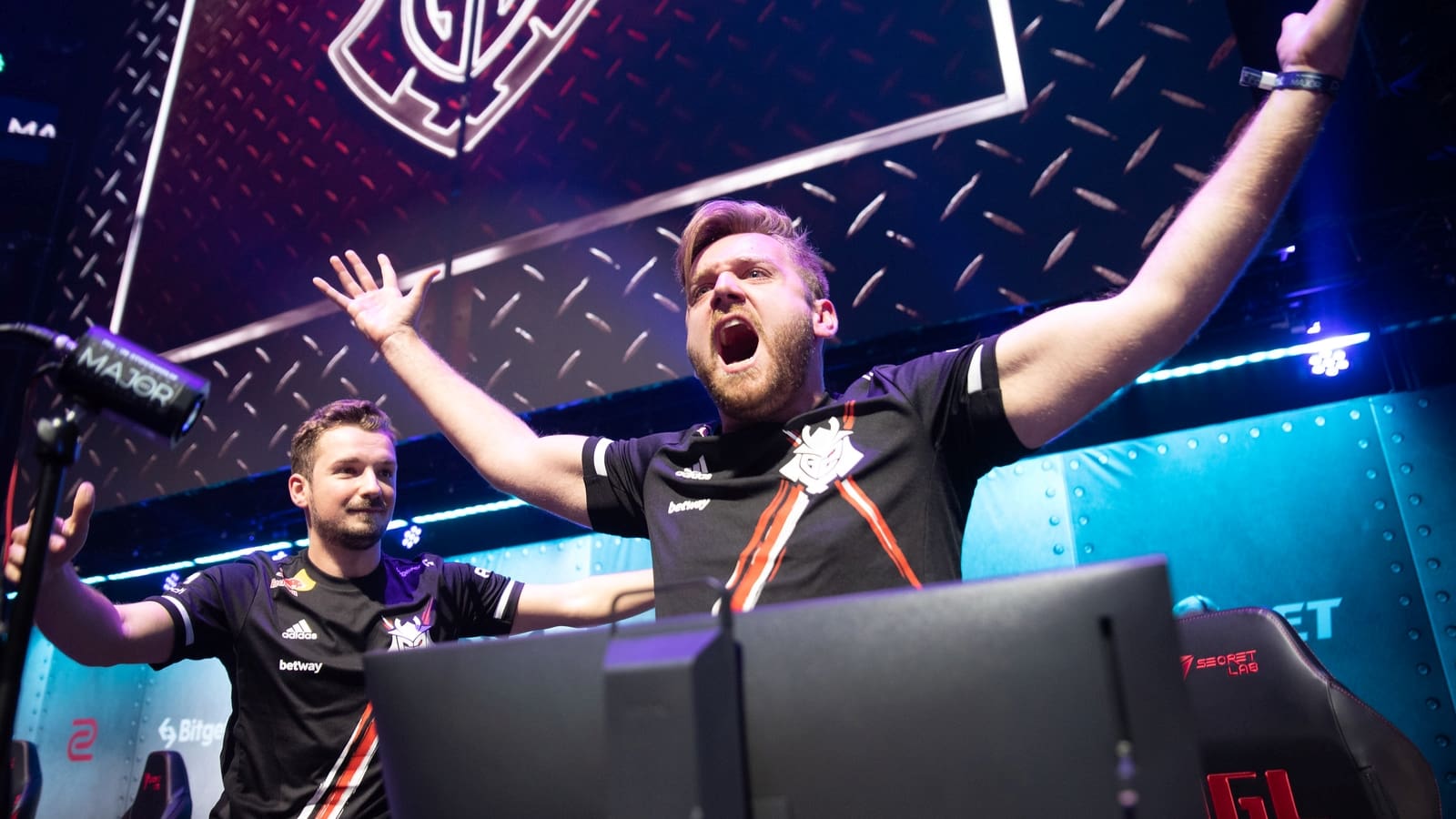 by in
The 2022 Counter-Strike: Global Offensive PGL Major Antwerp commenced on May 9, and two teams have quickly secured their berths in the Legends Stage of the competition.
Although 16 teams have to participate in the Legends Stage, eight already secured their spots through the regional rankings. To complete the list, 16 teams in the Challengers Stage have to fight for the remaining eight spots.
Team Vitality and G2 Esports have jumped off to an incredibly early start, winning their first three games to advance to the Legends stage. The first team to secure qualification was Vitality, after their 2-1 win over ENCE in the advancement match.
It was a pretty easy run for Vitality, as they did not face much resistance from their opponents. The 2021 BLAST Premier lower-bracket finalists made quick work of Complexity Gaming in their first game of the tournament.
The best-of-one match was played on Inferno, and Vitality torched Complexity, allowing only one kill. It ended 16-1 in favor of Vitality, having the fastest finish in the first round.
The European team continued to assert their dominance in the competition, beating Astralis 16-8 in Round 2. Although they played on a different map (Mirage), there was no slowing down Vitality.
Forze were the only team that managed to win a map against Vitality, but it was not enough to stop their momentum. After losing Nuke, the French team took Dust II and Mirage, thereby securing the no.9 spot in the Legends standings.
SEE ALSO: ESB's Counter-Strike esports betting guide
G2 Esports wasted no time in securing their qualification next, after another impressive 3-0 run in the Challengers Stage. They had wins against Team Liquid and Team Spirit in the first two rounds before seeing off ENCE in the advancement game.
ENCE were not willing to go down easy, as they put up a good fight in the game. Despite their attempted comeback, G2 made sure to put the series to bed on Mirage.
With both teams qualifying for the Legends Stage, there are only six more slots left to fill. While there are 14 teams left in the Challengers Stage, only 12 have a shot at advancing to the next round.
Renegades and 9z team failed to win a single game in their three outings, making it impossible for them to secure a place in the next round. In fact, their participation in the competition has come to an end as they will not be featuring in the fourth and fifth rounds.
Team Vitality and G2 Esports have joined Heroic, BIG, Cloud9, Copenhagen Flames, FURIA Esports, Faze Clan, Ninjas in Pyjamas, and Natus Vincere in the Legends Stage. All 10 teams now await the final six teams before Legends action kicks off on May 14.
Everyone is fighting for a piece of the US$1 million prize pool, as well as circuit points for the 2022 BLAST World Final. The winner gets $500,000 of the prize fund and secures direct qualification to the World Final.
Note that Faze Clan, regardless of their performance in this tournament and other Pro Tour events, have already secured their spot at the World Final with their display in ESL Pro League Season 15. They defeated ENCE 3-1 in the grand final of that event to secure a BLAST World Final 2022 seed.
Nonetheless, there are seven slots left to be filled, and another participant will be revealed after the Antwerp Major is played to a conclusion on May 22. Action in the Challengers Stage will resume on May 11, and the final six teams will be known after the Round 5 matches on May 12.