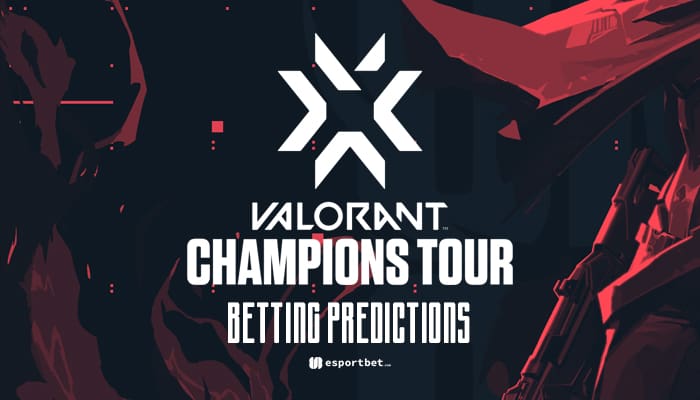 by in
ESB's free esports betting tips for Thursday, May 18, include a pair of Valorant Champions Tour (VCT) 2023 EMEA League bouts. Check out our selections for Team Heretics vs Team Vitality and Karmine Corp vs Giants, with betting odds courtesy of the best Valorant bookmakers.
---
TEAM HERETICS vs TEAM VITALITY VCT BETTING & MATCH DETAILS

Best Odds:
Heretics +240 at BetOnline | Vitality -333.33 at BetOnline
When:
May 18, 2023 | 18:00 CEST
Watch Live:
Twitch (https://www.twitch.tv/valorant_emea)

Team Heretics are 2-6 ahead of their final fixture of the VCT 2023 EMEA League regular season, which puts them in a do-or-die situation where anything less than a clean victory would result in an instant elimination from the playoff race. Team Vitality are in a similar spot with three wins (3-5) as they still need to catch up with BBL Esports, who share the same (3-6) record, albeit with a better map and round differential.
To make things even more interesting, both teams are in bad shape. Team Vitality have lost their last four games against Giants (1-2), Fnatic (0-2), Natus Vincere (0-2), and BBL Esports (0-2), whereas Heretics are 1-5 from their last six. Their only win over that stretch came against Giants (2-0) two weeks ago, which is impressive, but Heretics also lost against KOI (1-2) last week.
Based on what we've seen from Team Heretics and Team Vitality recently, it's hard to pick a favourite. Vitality have a higher ceiling which is a good reason to price them as favourites, but -333.33 is way too short for a team that hasn't won a game in one month.
Team Heretics to win at +240 is an excellent longshot bet, but we're satisfied with the odds offered on the map handicap.
---
KARMINE CORP vs GIANTS VCT BETTING & MATCH DETAILS

Best Odds:
KC +250 at BetOnline | Giants -357.14 at BetOnline
When:
May 18, 2023 | 21:00 CEST
Watch Live:
Twitch (https://www.twitch.tv/valorant_emea)

Karmine Corp enter the penultimate round of VCT 2023 EMEA League as the wooden-spoon frontrunners, following KOI's victory against Team Heretics (2-1) on Friday. Unless they manage to upset Giants, KC will end this season in last place.
The French squad have had their moments over the last few weeks, but those were far and between, so it's not too surprising to see them priced as +250 underdogs with the top Valorant betting sites. Perhaps Karmine Corp would be worth a bet if the Giants were already done for the season, but that's not the case.
The Giants have already pocketed their ticket for the playoffs, but they still need one more win and hope that Team Liquid will lose against KOI on Saturday to secure a more favourable seeding. It's an unlikely scenario, but it could happen.
Karmine Corp essentially have nothing more to fight for, whereas Giants potentially do, which is just one more reason to like Giants better. Take Emir "rhyme" Muminovic and his crew to sweep Karmine Corp.