The sports betting industry in Pennsylvania is thriving, with upwards of 10 different sportsbooks accepting bets. Esports betting is still restricted in PA with the regulator needing to give its approval before bookies in the state can begin accepting bets on professional video games. The best online betting sites that can legally operate in Pennsylvania include brands like FanDuel and DraftKings. ESB will update this page when there is further information about Pennsylvania esports betting.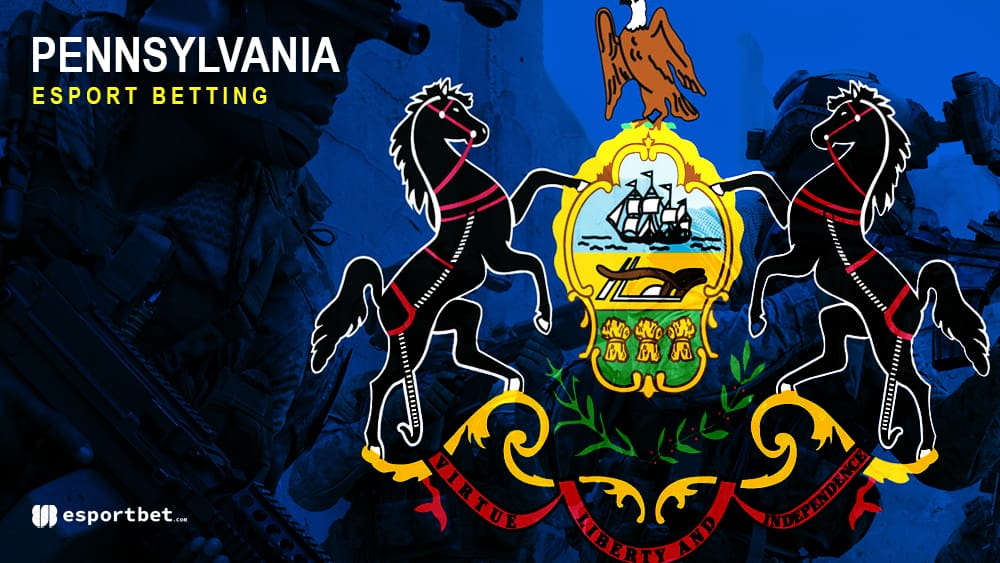 ---
Introduction to online betting in Pennsylvania
Sports betting in Pennsylvania was launched in 2018 and expanded to accommodate online wagering in 2019. However, eSports betting is still not allowed in Pennsylvania. The scope of sports wagering in Pennsylvania does not cover esports, according to the Pennsylvania Gaming Control Board.
Under the Gaming Expansion Act, the statutory definition of sports wagering in Pennsylvania is "wagering on the outcome of an athletic event or the statistical performance of an athlete within an event."
Even with its increased popularity, no effort has been made to legalize eSports betting in the state. Regardless, the Pennsylvania eSports coalition director, Bill Thomas, is hopeful that attention will be paid to the eSports industry by the legislators soon. Even with eSports wagering being out of the mix, Pennsylvania sports betting hit a record $615.3 million handle in January 2021.
---
PA Sports Betting Sites 2021
There are ten operational sportsbooks in PA that allow bettors to wager on sporting events remotely from their mobile devices. These sportsbooks are;
BetRivers
SugarHouse
BetAmerica
Unibet
BetMGM
Parx Online Sportsbook
The top sports betting sites in Pennsylvania are licensed and can legally accept bets from within their state borders. Bettors can wager via
---
Deposit options at esports betting sites
There are several deposit options unique to the sportsbook you are looking to wager with. However, you will likely find a good number of these deposit methods in all the available sportsbooks in PA. Below are the most popular deposit options at online sportsbooks in PA:
Credit/Debit Cards: Deposits using your credit/debit cards are available in all PA sportsbooks but are limited to Visa and MasterCard. It is a very straightforward process as funds are deducted from your card and deposited into your betting account. However, you might face complications using this method as banks sometimes tend to block these transactions.
Prepaid Cards: These are site-owned branded cards that can be used in situations where the credit/debit cards do not work. With prepaid cards, all transactions can happen virtually as you do not have to receive the physical prepaid card. Prepaid cards can be funded through checking accounts or debit cards.
ACH Transfer: This method is most convenient for bettors with checking accounts, which is commonly called eChecks. It is one of the most common deposit options available and used on these sites. It is not strange to see your betting account funded despite the amount yet to be deducted from your bank account yet.
PayPal: When it comes to eWallets in the US, PayPal is leading the charge. It took a while to activate PayPal on most of these sites. However, existing PayPal users have a reason to celebrate as some of the PA betting sites facilitate deposits through PayPal. One of the advantages of using PayPal is the fast transfer nature of the transaction. Also, bettors will enjoy higher deposit limits.
Skrill/Neteller: These are eWallet solutions that function like Paypal. It is unclear how many sportsbooks use them but they are close substitutes. A downside of Skrill is that it charges a transaction fee on almost all transactions.
PayNearMe: For bettors that are not comfortable with sharing their information online, this is an option that can be utilized. These transactions usually happen in 7-Eleven stores.
---
Popular eSport games in Pennsylvania in 2021
eSports have continued to garner popularity each passing year. What started as just a game has turned into one of the most competitive events in recent times, handing out rewards up to millions of dollars. The competitions in the eSports industry cover almost every traditional sports you can think of. However, some of the most popular ones are action-based.
Counter-Strike: Global Offensive (CS:GO) is perhaps the most popular eSport game currently. The game has over 13,000 players internationally and has hosted a little over 5,000 tournaments since its inception in 2012. It is a first-person shooter game that pits teams of counter-terrorists against terrorists in a series of rounds, with each round won if a team completes the mission or eliminates every member of the opposing force.
Another high-profile eSports game is Dota 2 (Dota 2 esports betting guide). It is another action game that has been active since 2013. So far, over $230 million has been awarded in prize money in 1,487 tournaments. A good number of the 3,983 players in this game have been made millionaires for their participation in several competitions.
It is impossible to round-off this list without mentioning games like Fortnite, League of Legends. (LoL), Call of Duty, and PUBG. These are also very popular games in the eSports industry that have a lot of players and teams actively competing to get a share of the prize pools and make a name for themselves.
---
eSports betting laws in Pennsylvania
Pennsylvania got a head start on sports betting legislation as HB271 was passed by the state legislature in October 2017. The move was in anticipation of PASPA being repealed by the Supreme Court in the state of New Jersey (NJ esports betting). The result from the case and the speedy passing of sports betting legislation had PA as one of the first US states to have state-licensed sports betting. It became official in November 2018, as this was when retail sports betting was launched.
The laws introduced to regulate betting in PA were very concise. First, a clear definition of sports wagering was given to avoid confusion further down the road. With that definition, wagers can only be taken on real-life sporting activities and not on events like elections, NFL draft, or the Oscars. Also, it meant that bets could not be placed on eSports because it is not seen as a sporting activity, following the definition given by the Pennsylvania Gaming Control Board. Other requirements to legally bet in Pennsylvania include:
All bettors must be at least 21-years-old
You do not have to be a permanent resident of PA before you can place bets
It is illegal for personnel involved in sports leagues to bet on their sports
Although licensed separately, bettors can place bets on horse racing
When Will eSports Betting be Legal in Pennsylvania
As of right now, there is no conversation in the legislature about legalizing eSports betting in Pennsylvania. Many anticipated that it might be looked into following the advent of the covid-19 pandemic. However, that is not the case as Bill believes that it is not even on the agenda of the legislatures in the near future. This can be attributed to the fact that the legislatures are not familiar with the industry because of the age difference, despite its growing popularity.
No one can say when eSports betting will be legal in Pennsylvania. Even the Pennsylvania eSports Coalition director is hopeful that eSports would move towards approval, but could not comment on the 'when.' Thomas also believes that a lot needs to be done before eSports is legal in the state. However, he stated that focus should be placed on ensuring credibility and making regulators comfortable with the idea of eSports wagering and how it would be conducted.
---
PA sportsbook licensing
After the US Supreme Court lifted the ban on state-based legislation, several states have started to legalize sports betting. Pennsylvania is one of those states as the decision to legalize US online sports betting came in the later part of 2017. Now, bettors can wager on professional and collegiate sporting events in person or from the comfort of their homes.
To get a license to operate as a sportsbook in PA, operators are required to pay a one-time fee of $10 million. Subsequently, tax is received from the licensee's revenue at the rate of only 36 per cent.
The Pennsylvania Gaming Control Board, which has a very concise definition of what sports betting should be, is responsible for the regulation of sports betting in the state. They handle everything as it relates to sports betting in the state including licensing, monitoring for compliance by sportsbooks, and testing of online sportsbooks before they go live. So far, there are 10 sportsbooks operational in PA, with a few others looking to make an entry.