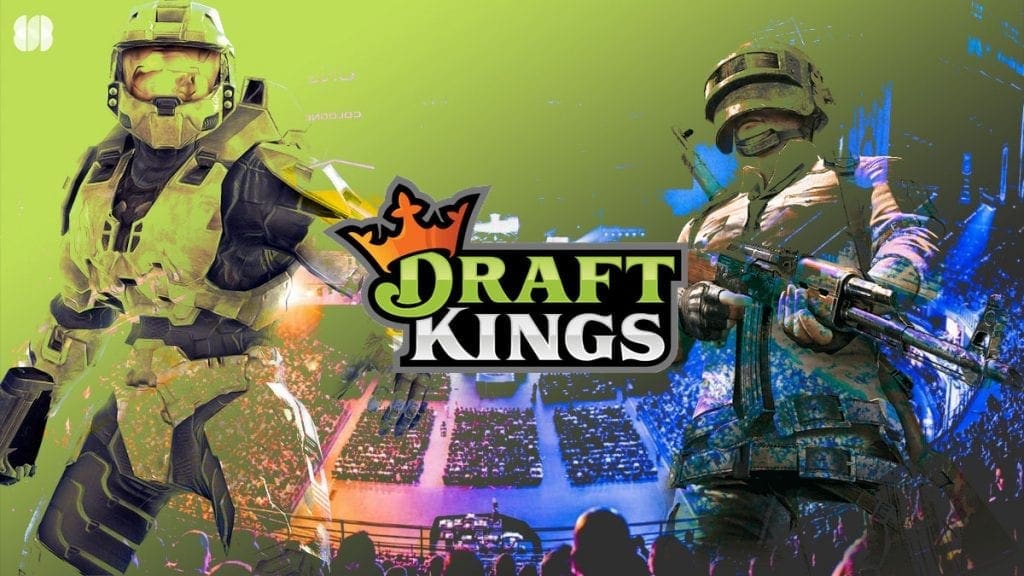 In the world of online daily fantasy sports, DraftKings is a household name. Founded in Boston in 2012, it's quickly grown to become a tremendously successful DFS and sports betting operator right across the USA.
The company had relatively humble beginnings. Its first home was the house of one of the founders. Back then, it was a simple one-on-one fantasy baseball game. Its success was clear from the outset, though. The Major League Baseball decided to invest in DraftKings a year after its foundation.
Many other investors would follow. Today, over 10 million people use DraftKings to play DFS tournaments or wager on sports. By 2020, DraftKings had become a publicly-traded company and expanded into places such as Australia and Canada. It's listed on the NASDAQ under the title DKNG and is a big player on the world gambling stage.
---
DraftKings Review – A top US sportsbook
DraftKings is a modern, sleek, and convenient daily fantasy sports provider and online sportsbook. The company is registered with New Jersey Division of Gaming Enforcement, following all applicable regulations. The website also offers secure, encrypted connections.
For mobile users, there's a lot to appreciate. First off, the website is fully compatible with desktop and mobile devices. Better yet, there are mobile apps available for both iOS and Android devices. Playing DFS or betting on sports on the go is extremely easy.
The site looks crisp and feels quite dynamic. It's effortless to navigate, with legible fonts, dark and light modes, and highly visible menus. You can find whatever you're looking for within just a couple of clicks.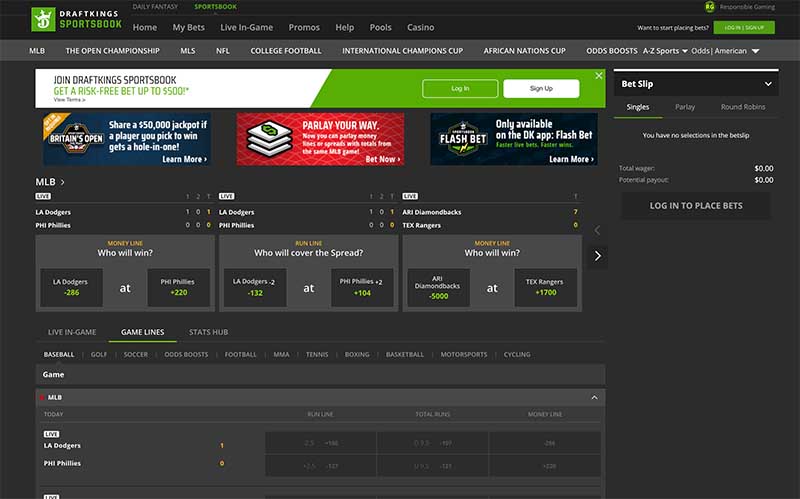 The site also incorporates many resources to help new players place bets or play DFS for the first time. These include helpful tips and a dedicated FAQ page, with tons of answers to common beginner questions. Betting markets at DraftKings are quite diverse. You'll find odds available for dozens of sports leagues spread across the whole world.
Some of the sports available include baseball, basketball, boxing, cricket, cycling, football, golf, MMA, rugby, soccer, and tennis. Each sport offers multiple different leagues, associations, and tournaments to wager on.
The odds available tend to be reasonably competitive. While ratings for international betting markets can be a bit below average, domestic US sports feature excellent ones. Furthermore, frequent Boosted Odds promotions make it easy to get even better ones.
Beyond the Sportsbook and DFS, DraftKings also offers casino gambling. Currently, it's only available in three states: Pennsylvania, New Jersey, and West Virginia. It packs all the classic casino staples you know and love, such as blackjack, poker, and video slots.
---
DraftKings Sign Up Bonus
Virtually every online gambling site out there has some sort of welcome bonus for new players. It's the easiest way for operators to attract new business and stand out in a saturated market. Promotions are a huge incentive for newcomers and a decisive factor for many of them.
DraftKings is no exception to the rule. The DraftKings sign up bonus is a generous $1,000 promotion. The offer combines a risk-free bet with a conventional deposit match bonus.
The risk-free bet part of the offer is essentially a form of insurance for your first sports wager. If your bet doesn't payout, you get your full stake back as a free one, up to $500. This allows you to take risks with long shots. You're safe in the knowledge that you'll get your money either way.

Keep in mind that free bets expire 90 days after receiving them.
The other half of the promotion is a deposit match bonus, also capped at $500. However, while most betting operators offer this promotion at 100%, DraftKings is far below average in this regard, at 20%. That means that to cash in that $500 bonus, you need a $2,500 deposit.
It seems rather steep, particularly when you consider the 25x wagering requirement. That same $500 bonus would not only need a $2,500 deposit, but over $12,000 in playthrough. To clear the $1 of bonus cash, you have to wager $25 elsewhere in the site.
---
DraftKings Esports
Esports is one of the most rapidly growing segments of the online sports betting industry. The ubiquitous popularity of video games and the immediacy of the matches make esports ripe for betting. Among online sportsbooks in the US, esports has caught on and spread like wildfire.
DraftKings wasn't going to be left out of this nascent industry. The website has recently launched an official, dedicated esports section, complete with its own esports-specific $500 sign up bonus.
However, much like the sportsbook welcome bonus, it's a mere 20% match. Wagering requirements are also identical, at $1 cleared for every $25 bet. Players have 90 days to meet these requirements, which is at least a fair amount of time.
DraftKings might be one of the few places online where you can actually play daily fantasy esports. From Fantasy Call of Duty and Fantasy CS: GO to Fantasy Rocket League or Fantasy League of Legends. The selection is somewhat limited but features the most popular esports.
However, do note that the esports section only covers the daily fantasy format. You won't find any esports currently offered in the Sportsbook section for straight wagering. If you're a big fan of this, it may well be a deal-breaker for you.
What US States Is DraftKings Legal In?
DraftKings is one of the most widely spread online gambling sites in the US. While it's not present across all 50 states, it gets fairly close. There are some states that DraftKings doesn't operate in, though, due to the legal framework. Just to be clear, we're talking about the Fantasy Sports section of Draft Kings, sports betting is only available in some US states.
The company does do everything in its power to seek approval in new territories. The latest states that DraftKings has been approved in are Iowa and Alabama. A handful of holdout states remain, though. As of August 2020, they are Washington, Idaho, Montana, Nevada, Arizona, and Louisiana. Everywhere else in the Union, DraftKings is fully legal.
---
DraftKings Review Conclusion
All in all, DraftKings is a very enticing gambling operator. It's absolutely dominant in the field of esports fantasy sports leagues, and a pioneer of fantasy esports. It's also an attractive sportsbook, packed with many promotions. The only real downer we could find about DraftKings was that the casino is somewhat limited, though. But the fact DraftKings has a designated esports sign up bonus makes them a great addition to the US betting landscape.