In Arkansas esports betting is not yet legal, with this mirroring the situation in other US states. While many US states, including Arkansas, have rolled out legal sports betting, esports betting opens a different can of worms with regulators worried it might encourage young people to bet. Because of the proliferation of money filtering to offshore esports betting sites, we cannot imagine it will be long until Arkansas approved wagering on professional video games and their corresponding esports events. The top esports betting sites for 2021 are: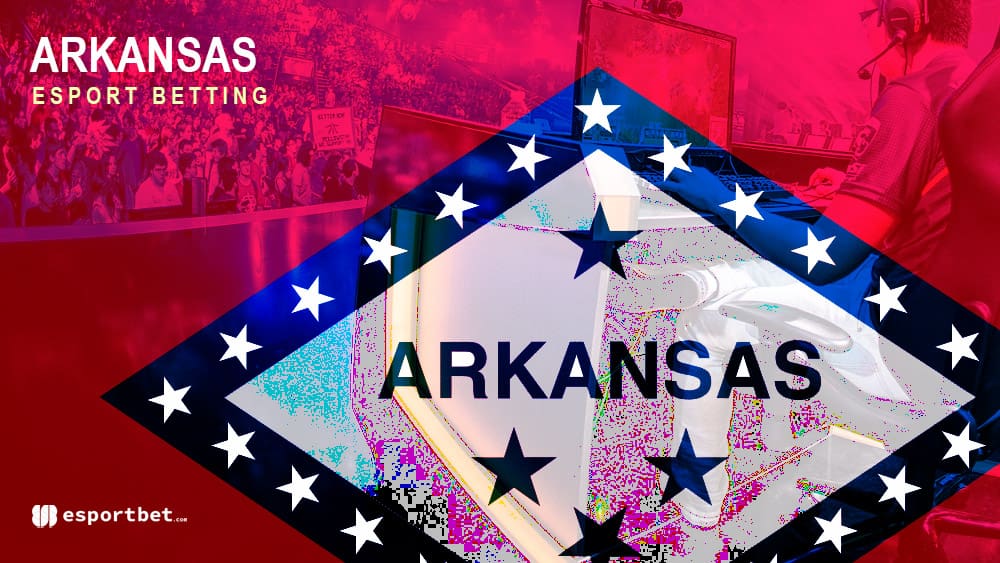 ---
Introducing Arkansas esports betting
In the past, the state of Arkansas was heavily perceived as an anti-gambling state as they were very few forms of gambling, and as such was almost tagged as illegal. There was no actual form of gaming. What they had was predominantly the state-owned lottery, some bingo halls, and two Racinos that offered a pressed poker product which is sort of an imitation. These were enabled by the Electronic Games of Skill Act of 2005.
The Natural State in November 2018 legalized sports betting, as voters secured a 55% pass rate at their mid-term ballot. The residents of Arkansas felt it was time for the state to follow in line with the agenda of the whole country and become a pro-gambling state. With sports betting being alive and kicking in Arkansas since 2018, its gambling scene is limited to land-based offerings only, with daily fantasy sports and live poker also permitted. Casino games are tagged as illegal, either online or in retail walk-ins. However, you are expected to be at least 21 years of age to participate in sports betting in the state of Arkansas. The sports betting regulations are meant to guide both licensed Racinos and two future casinos, with room for more gambling laws in the nearest future possible.
Esports betting, on the other hand, is yet to be legalized in Arkansas as progress has been quite slow compared to their counterparts – New Jersey, Colorado, Washington, Tennessee, Nevada, and West Virginia, who have all legalized esports betting in their states, with Nevada being the first state to legalize esports betting. The state of Arkansas has not termed esports betting as illegal, either have they banned it, as they are yet to make sound clarifications on their stance on it.
The legalization of sports betting is expected to open up more conversations as regards the legalization of online sports betting, esports betting, and online casino gambling in no distant time. But for now, the residents of Arkansas can only place bets at any of the state's land-based outfits or utilize the many offshore sports betting sites available.
Below we will discuss some top legal sports betting sites in Arkansas.
---
Top Esports Betting Sites in Arkansas
Online betting is not yet acceptable in Arkansas, and it is illegal for an unlicensed entity to accept sports bets, as such only walk-ins are allowed or the use of offshore online sports betting sites.
They are tons of sports betting platforms available, but we will focus on a few top sportsbooks due to their competitive odds, speedy payouts, variety of betting options, incredible promotions and bonuses, and as well as, their rich variations of deposit and withdrawal options.
The following are top betting sites in Arkansas:
Oaklawns Race & Sportsbook
Saracen Casino Annex Sportsbook
Betly Sportsbook at Southland Casino Racing
---
Best Mobile Esports Betting Apps
They are only three licensed state-regulated sports betting lines in Arkansas, one of which is the Oaklawn Racing Casino Resort located in Hot Springs, the Saracen Casino Resort located in Pine Bluff, and the Southland Casino Racing. Southland Casino will soon secure a license and thereafter launch a sportsbook and final sports betting parlor to be located in Pope County.
There are no legal mobile sports betting applications in the state of Arkansas. However, offshore legal sports betting platforms can accept bets from residents of Arkansas, as they are unbounded by laws of Arkansas or the American laws at large.
---
Payment options at Arkansas Betting Sites
With the rapid acceptance of digital currencies and their growing popularity, it has become a necessity in financial transactions, and betting sites are no exception. Bettors have overtime called for the integration of this type of payment method on sportsbooks for some reasons. Some of which are the obvious reason of anonymity, lowers fees applicable, and faster transfers from point A to B. Some top sports betting sites have since integrated digital currency as a payment method, while some even go a step further to offer mouth-watering promotions specifically for cryptocurrency bettors.
And the residents of Arkansas are also not left out of this. They can fund their betting accounts or withdraw from them using their typical credit and debit cards (VISA, MasterCard), Check by Courier, Zelle, Voucher, and wire transfer. They can also utilize digital currencies like Bitcoin and Bitcoin Cash.
Popular deposit options at AR betting sites:
---
Arkansas Sports Betting Laws
Months after the repeal of the PASPA (Professional and Amateur Sports Protection Acts) of 1992 by the United States Supreme Court, Arkansas state legalized sports betting in November 2018. Arkansas was among some of the earlier states to begin the process of legalizing sports betting. It is, however, limited strictly to land-based sportsbooks.
PASPA restricted the state from hosting its own legal sports betting markets. But after the legalization of sports betting as seen on Arkansas Issue 4 and repeal of the act, Arkansas boasts of three land-based sportsbooks, namely the Southland Casino Racing Sportbook, Oaklawn Racing Casino, and the Saracen Casino Resort. However, the Issue 4 passage did not legalize online nor mobile sports betting. So with the absence of its regulated online sports betting market, residents are bound to walk into a land-based sportsbook or partake via offshore sportsbooks.
Residents are allowed to wager on daily fantasy sports as it features all major players. Although there exists no major league team in the state, players can bet on fantasy lineups for NHL, golf, basketball, NFL, soccer, CBB, MLB, NASCAR, and others, via various online sports betting sportsbooks, like FanDuel, DraftKings, Yahoo, and Fantasy Drafts. Residents of Arkansas are, however, prohibited from wagering on games that directly involve the states college teams.
Some assume that eSports betting is legalized in Arkansas as sports betting is, but it is not. According to the bill, eSports would have to be tagged as an 'athletic sport' by the Racing Commission for it to be covered by the bill and deemed legal.
The Gambling bill covers the lottery games, and residents are permitted to play both the state and national lotteries in Arkansas. They have access to the state-owned Arkansas Scholarship Lottery and Natural State Jackpot. Players can access tickets for major national lotteries, including Mega Millions and Powerball. Also legal in Arkansas is horse racing. Races are held at the Oaklawn Park Race Track, with its racing venue located in Hot Springs. The Oaklawn Park Race Track features the Grade 1 Arkansas Derby. Residents of Arkansas are allowed to wager on horse racing online via NYRA Bets.
More USA betting guides:
---
When will online sports betting be legal in Arkansas?
There exist no particular law prohibiting the use of online sportsbooks from operating in Arkansas and as such, offshore online sportsbooks have grown popular in the state, offering residents great odds. There's a high motivation to legalize online and mobile sports betting in order to generate another stream of revenue for the state.
Although there have been no indicators from legislators concerning the legalization of online sports betting or that they are working towards a state-regulated online betting market. We are optimistic that this will happen any moment now as some states have since embraced online sports betting, while others are in the process of legalizing online sports betting.
In the USA online betting industry, esports is yet to be full embraced, but this does not mean it won't be in the future. While covid-19 has slowed the progress of legal esports betting in Arkansas, we can envisage a time when it is 100% regulated.