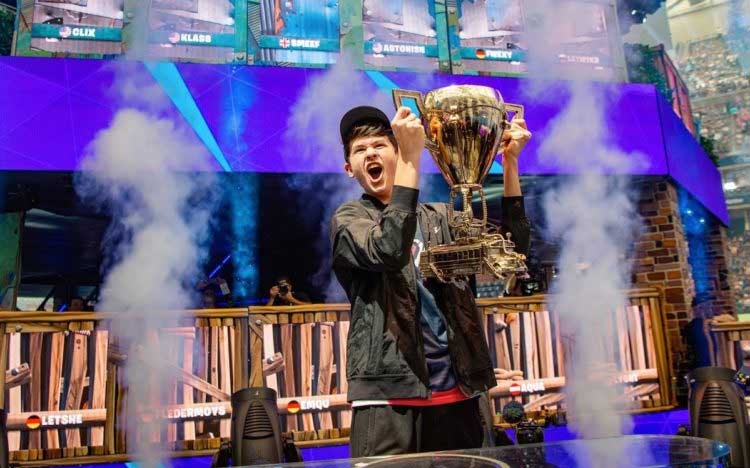 by in
As we look back at 2019, it's safe to say it was the biggest year for the esports industry, featuring a record 4583 tournaments across all titles and over US $214,000,000 in prize money that was awarded to teams, players and organizations. Here we will look over the list of top 10 esports players by total prize winnings in 2019, based on the numbers provided by esportsearnings.com.
10. Shane "EpikWhale" Cotton ($1,297,366.67)
EpikWhale is an American Fortnite professional player, who formerly played for Kungarna and has since August 2019 switched over to NRG Esports. The young esports player pocketed slightly under $1.3 million throughout 2019, making him one of esports millionaires at only 16-years of age. His biggest achievement in 2019 came at the Fortnite World Cup – Solo where he finished third and won $1.2 million. He also finished 12th at Fortnite World Cup Finals – Duos alongside Storm, each earning $50.000.
9. Emil "Nyhrox" Bergquist Pedersen ($1,509,516.19)
Nyhrox is another Fortnite professional player who was previously a member of Cooler Esports. He made just over $200,000 more compared to EpikWhale with his performance at Fortnite World Cup Finals – Duos, where Nyhrox alongside David "Aqua" Wang claimed the gold medal and $1,500,000 in prize winnings each.
8. David "Aqua" Wang ($1,790,036.55)
Nyhrox's teammate Aqua made the list with slightly under $1.8 million which he won throughout the year. The majority of his earnings came from the World Cup – Duos event, where he pocketed $1.500,000, thus became a millionaire at only 17-years of age.
7. Harrison "psalm" Chang ($1,819,300.00)
As we move up our list, we welcome the fourth Fortnite pro and a member of Counter Logic Gaming – psalm, who finished the Fortnite World Cup – Solo in a second place.
His performance earned the 24-year-old $1.8 million, which is about 99% of his total winnings from 2019. That only goes to show how massive the Fortnite World Cup 2019 was for the esports scene and the players themselves.
6. Kyle "Bugha" Giersdorf ($3,061,716.67)
As we look at the sixth player on the list, we need to take a massive jump of over $1.2 million in prize winnings to get to 16-year-old Bugha who needs no special introduction.
Bugha wrote history by winning the Fortnite World Cup earlier in the summer, which made him one of the most recognisable esports players of the year. With his achievement, Bugha won $3 and become an overnight sensation. Later in November he also got crowned as the Esports Player of the Year and Esports PC Rookie of the Year at an Esports Awards ceremony. His winnings in 2019 alone made Bugha the 12th highest-paid esports player in history and the only Fortnite player that sits in the top 31 on the all-time leaderboard.
5. Anathan "ana" Pham ($3,146,536.20)
As we get into the top five players, we get greeted with the first Dota 2 professional player – ana. The Australian 20-year-old has been a member of OG since June 2018 meaning he has won his second International title earlier August, which alone catapulted him to the top five highest-earning esports players of the year.
OG won a total of $15,620,200 for their performance at the event, which split five ways earned ana $3.124 million. The remaining earnings came from Major and Minor tournament placements of OG.
4. Johan "N0tail" Sundstein ($3,155,536.20)
Just slightly above ana, we have OG's captain and one of the most recognisable names in the Dota 2 pro scene – N0tail. Much like ana, N0tails made the majority of his 2019 prize winnings at the International, with the remaining $31,000 coming from other tournaments throughout the year.
With $3,155,536.20 in his total prize winnings for 2019, N0tail also became the highest-paid esports player in the world, earning just under $6.90 million throughout his seven-year-long career as a Dota 2 pro.
1-3 Topias "Topson" Taavitsainen ($3,163,536.20)
Sitting exactly $8,000 above his teammate, we have OG's solo mid-laner Topson, who was also involved in the massive payout at The International 2019.
The Finn is now fifth-highest paid esports pro in the history with $5,414,446.17 in prize winnings, which he earned in a relatively short time, seeing how Topson started playing Dota 2 professionally at the end of August 2017.
1-3 Sébastien "Ceb" Debs ($3,163,536.20)
Ceb has earned the exact same amount as his teammate Topson in 2019, meaning he has pocketed $3,163,536.20 for his contribution to the OG Dota 2 roster. Ceb was also third-highest paid esports player last year when he earned a total of $2,280,216.63, which combined with his winnings in this and previous years brings him to a grand total of $5,489,233.01, making Ceb the fourth-highest paid esports player in the history.
1-3 Jesse "JerAx" Vainikka ($3,163,536.20)
JerAx is sharing the first spot for the highest-paid esports player with his two teammates Topson and Ceb, with $3,163,536.20 to his name.
The 27-year old has had a fruitful career as a Dota 2 professional, which started in early 2013 and has previously represented Team Liquid, yet it was his decision to move to OG in August 2016, which made his career take off.
OG's back-to-back TI titles made JerAx the second-highest-paid esports player in history with a grand total of $6,470,000.02 to his name, which puts him about $420,000 behind his teammate and captain N0tail on the all-time list.