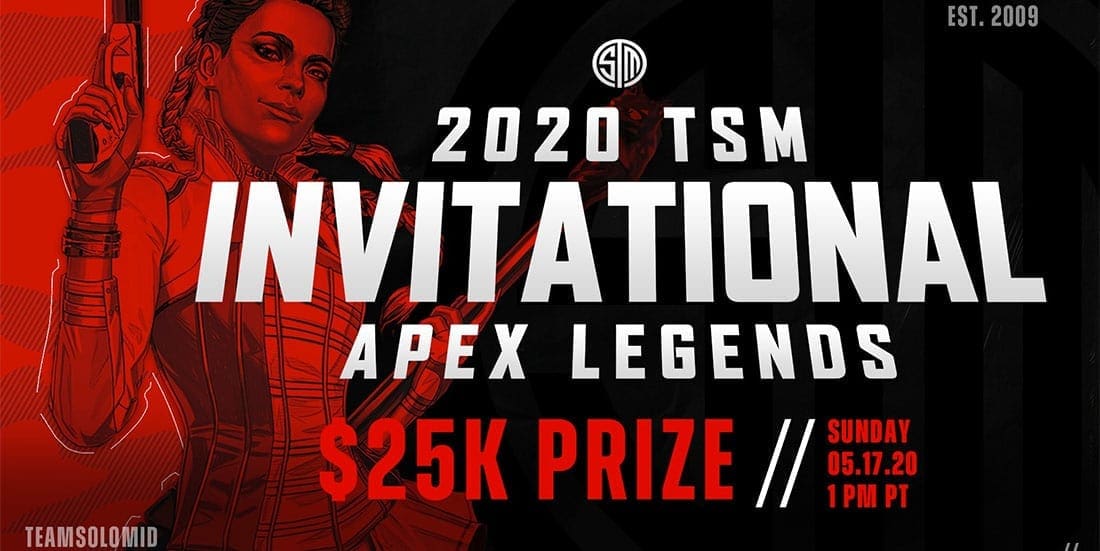 by in
One of the most successful and well-known North American esports organisations, Team SoloMid, have announced the TSM Invitational: Apex Legends tournament, which is set to begin on Sunday, May 17.
The news surfaced this Monday on TSM's official Twitter page, where it was confirmed that the tournament will feature 20 teams and a US $25,000 prize pool. TSM have yet to unveil the tournament lineup as they are still gathering applications from players and content creators.
The tournament rules prevent fully professional teams from entering the field. Each squad that attend the TSM Invitational will have a captain and two other players, one of whom must be a gaming content creator.
Many notable names in the esports industry have already expressed interest in the event, including Apex Legends pros in Christian "Nokokopuffs" Feliciano, Mikkel "Mande" Halle Hestbek and Jordan "Reps" Wolfe, as well as famous Twitch streamer Jake "JakeNBake" Abramson. No full teams have been confirmed as yet.
SEE ALSO: HOW TO BET ON APEX LEGENDS ESPORTS
The TSM Invitational will begin only five days after the launch of Apex Legends' fifth season, dubbed Fortune's Favor, which dropped this Tuesday. The new season introduced a plethora of changes to Respawn's prized battle royale title, with one of the most notable being the destruction of Skull Town and the addition of new areas to the original map.
Adding to that, Apex Legends Season 5 will also introduce new weapons and a new playable character, Loba. The TSM Invitational: Apex Legends tournament rules state that at least one player per team will have to play the new Translocating Thief, thus encouraging the participants to explore the latest changes to the game.
Team SoloMid have a massive presence in the Apex Legends esports scene. The trio of Phillip "ImperialHal" Dosen, Mac "Albralelie" Kenzie Beckwith and Reps hoisted the Apex Legends Preseason Invitational trophy in September last year, to which they added titles at the GLL Apex Legends Series in December and Online Tournament #2 – North America in March.