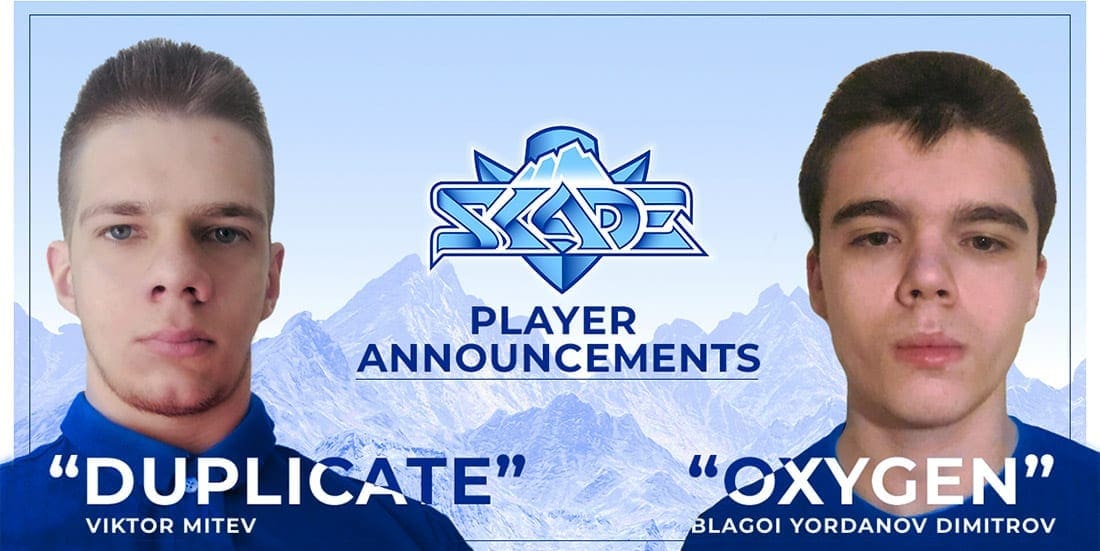 by in
SKADE have bolstered their CS:GO roster with the addition of Viktor "⁠duplicate⁠" Mitev and Blagoi "⁠Oxygen⁠" Dimitrov, the Norwegian esports organisation confirmed on Friday.
The newcomers replace Ivan "⁠Rock1nG⁠" Stratiev and Kostadin "⁠rafftu⁠" Turbinov, who were benched following a period of less-than-impressive results at the #HomeSweetHome tournaments and other online events.
SKADE saw plenty of success in the opening months of 2020, which included third-fourth finishes at GG.Bet Winter Cup and WINNERS League – Season 3: Europe Invite Division, fourth place at ESEA Season 33: Advanced Division – Europe and gold medals from SECTOR: MOSTBET Season 2 and ESEA Season 33: Premier Relegation – Europe.
Since securing a spot at ESEA S34 via the ESEA S33 Premier Relegation battle last month, the all-Bulgarian roster have fallen out of form and dropped 18 spots to 54th in the CS:GO esports world rankings.
That plunge comes on the back some poor results at the last few #HomeSweetHome events, with SKADE finishing 13th-16th in Week 3 and ninth-12th in the following three editions of the competition. The team also struggled at Hellcase Cup #8, where they did not make the playoffs after losing to Nemiga (1-2) in the final match of the group stage.
In a bid to escape the slump, SKADE decided to freshen up their roster with the acquisition of ex-FATE rifler duplicate and a mostly unknown talent in Oxygen, who previously played for SKADE as a stand-in for one match at LOOT.BET/CS Season 7.
By adding two young talents, SKADE hope they will "bring some much needed fresh minds into the roster and a positive vibe" as they look to re-establish themselves as the strongest Bulgarian roster – a title they lost to FATE.
SKADE CEO Kim-Erik Aanes said, "This has been something we have worked on for some time now and it was not an easy decision to make. With the changes we have made we feel like it is the optimal lineup to have in the Bulgarian scene right now and I can't wait to see what the future brings," said SKADE CEO Kim-Erik Aanes.
Those sentiments were echoed by SPELLAN, who said he was looking forward to working with some fresh talent.
"I feel pretty bad that our start lineup didn't work out in the end, as Rock1nG and Rafftu are great guys, but something needed to change," the SKADE head coach said.
"At the same time I'm extra motivated to work with the new lineup which is new as lately my motivation was not great and I believe we can achieve great things with Oxygen and duplicate as they are both really interesting young and fresh talent!"
SKADE played their first match with Oxygen and duplicate on Thursday, June 11. They crushed AGF Esports (16-8) at the WINNERS League – Season 4: Europe Invite Division, where they currently hold a 3-1 record.
Duplicate quickly proved his worth by ending the match with the second-highest rating (1.42) across both teams, while Oxygen locked in the second-lowest rating at 0.92.
SKADE's next match is slated for Friday, June 19 at 16:00 CEST, when they will play ALTERNATE aTTaX in the ESEA Season 34: Premier Division.