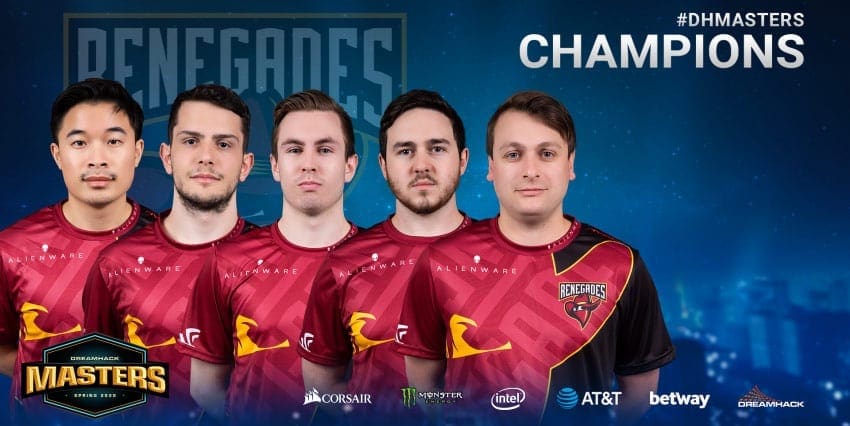 by in
Renegades defeated Avant Gaming on Sunday in the DreamHack Masters Spring Oceania grand finals, taking home US $10,000 in prize money and 185 Electronic Sports League (EPL) Pro Tour points.
Christopher "dexter" Nong and his team entered the best-of-five (Bo5) decider from the upper bracket. That gave them a default one-map advantage over Avant, who earned their spot on the big stage with a reverse-sweep win against ORDER (2-1) in the lower bracket finals.
Renegades defeated Avant 2-1 in the upper bracket finals on Thursday. The victory did not come easy for dexter and his team over the weekend, however, as they had to play out all of the remaining four maps to claim a hard-fought win over their regional rivals.
The grand finals began on Avant's map pick, Dust II, where Mike "ap0c" Aliferis and co. got off to a strong start by winning four straight rounds against the heavily favorited Renegades. They failed to take advantage of their early lead, however, as the margin was whittled down to one round at 8-7 by half-time.
Avant quickly picked up the pace on CT-side, winning the opening three rounds to go 10-8 up before Renegades struck back by pocketing five out of the next six rounds to take a 13-11 lead. The favourites' enthusiasm did not last for long, however, as Avant regained the control of the map by winning five rounds in a row to come out ahead 16-13.
Avant translated their momentum onto Nuke, where they took advantage of CT-side superiority and sealed the first half with a commanding 13-2 lead. While the leaders saw far less success on the other side, they mustered up the remaining three rounds to seal a 2-1 series lead.
With victory in sight, things turned grim for Avant on Mirage, where Renegades came to life and secured an 11-4 lead by the end of the first half. Dexter and his crew continued with strong showings on T-side by picking up the opening three rounds. While Avant managed to win seven out of the next eight rounds, Simon "Sico" Williams and Liam "malta" Schembri carried Renegades to a commanding 16-10 win with 1.66 and 1.50 ratings respectively.
The series came down to Inferno, where the two Australian esports squads went back and forth for the first 15 rounds as Renegades eked out an 8-7 lead. While Avant looked strong towards the end of the first half, they fell apart after switching over to T-side. Renegades came out of the gates flying, defended the bombsite with ease and won seven out of the next eight rounds to claim a 15-8 lead.
With only one round separating them from the title, Renegades let their foot off the gas and allowed Avant to pick up three rounds, but ap0c and his crew were only delaying the inevitable as they couldn't stop Joshua "INS" Potter from carrying Renegades to a win with his remarkable 1.71 rating.
The win at DreamHack Masters Spring Oceania gave Renegades their second title in the space of a month, as they also took out first place at the regional ESL One: Road to Rio event in May.
INS ended the series with the highest rating (1.27) across both teams, closely followed by dexter (1.25). On the other side, ap0c emerged as the only Avant player with a positive rating (1.07), with Euan "sterling" Moore (0.98), Chris "ofnu" Hanley (0.93), Jared "HaZR" O'Bree (0.88) and Peter "BL1TZ" Athanasatos (0.82) all falling short of the mark.