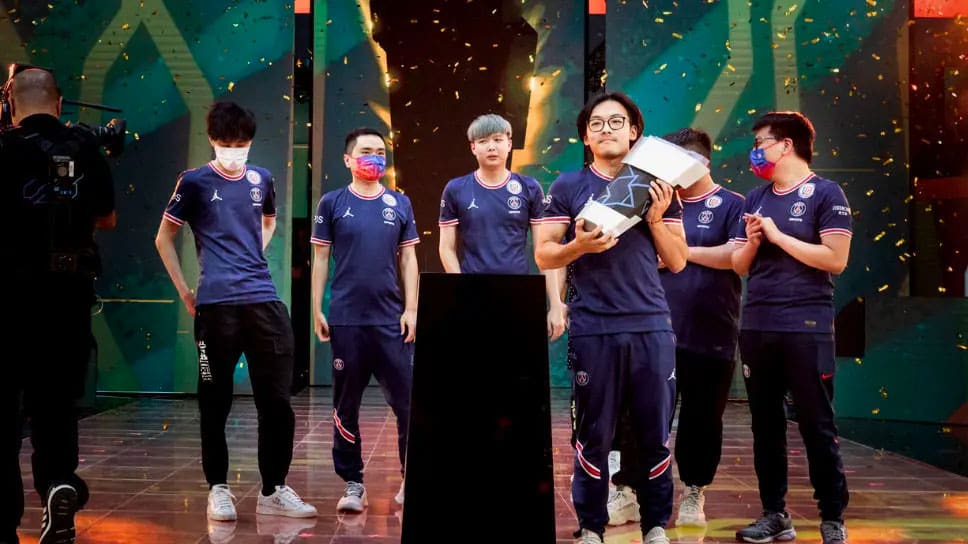 by in
On Sunday, PSG.LGD defeated Team Spirit 2-0 in the final of the 2022 Riyadh Masters to walk away with $1.5 million of the US$4 million prize pool.
The four-day event, which started on July 7, hosted 10 Dota 2 teams from around the world. Although three teams had to seal their spots through the Gamers Without Borders qualifiers, seven others were invited.
Despite starting 2022 on a high note and dominating the DPC China, they lost their way in Tour 3. They registered their worst finish, ending split in fourth place.
However, they bounced back in the Riyadh Masters. PSG.LGD started their Riyadh Masters run in Group B, alongside Team Secret, Team Spirit, Tundra Esports, and Deboosters.
Team Secret disrupted what could have been a perfect group stage run for PSG.LGD. They comfortably beat all the other teams in the group but lost to Secret 2-0.
On their way to the final, PSG.LGD defeated Nigma Galaxy and OG. The Chinese powerhouse were the clear favorite in the match across several betting sites, and they delivered.
Team Spirit put up a decent fight but the entire series was over in 64 minutes, ending 2-0 in favor of PSG.LGD. The Russian organization was also one of the invited teams, who finished third behind Team Secret and PSG.LGD in Group B.
Their first loss came at the hands of PSG.LGD, and it turned out that the same team ended denied them the Riyadh Masters title. After a 2-1-1 group stage performance, Team Spirit started their playoff run with a 2-1 victory over Royal Never Give Up.
In their semifinal tie, they faced a familiar foe, which ended in a stalemate during the group stage. On this occasion, Spirit bested Secret 2-1 in the best-of-three series.
Despite it being the first time teams from China were able to travel for a LAN event this year, they held their own. RNG reached the playoffs while PSG.LGD won the event.
PSG.LGD's next outing will be in the PGL Arlington Major which will commence on August 4. They are one of the 18 teams that will be fighting for a piece of the $500,000 prize pool and DPC points.
Regardless of how the Arlington Major goes, PSG.LGD have already sealed a spot in The International 2022. Of the 20 teams expected to participate, only four have guaranteed their participation.
It is worth pointing out that PSG.LGD are the reigning finalists in the event. They squared off against Spirit in the grand final of the 2021 edition and lost 3-2.
Although the initial prize pool is $1.6 million, there is a chance that will increase before the end of the event. Last year, the prize pool rose to over $40 million.