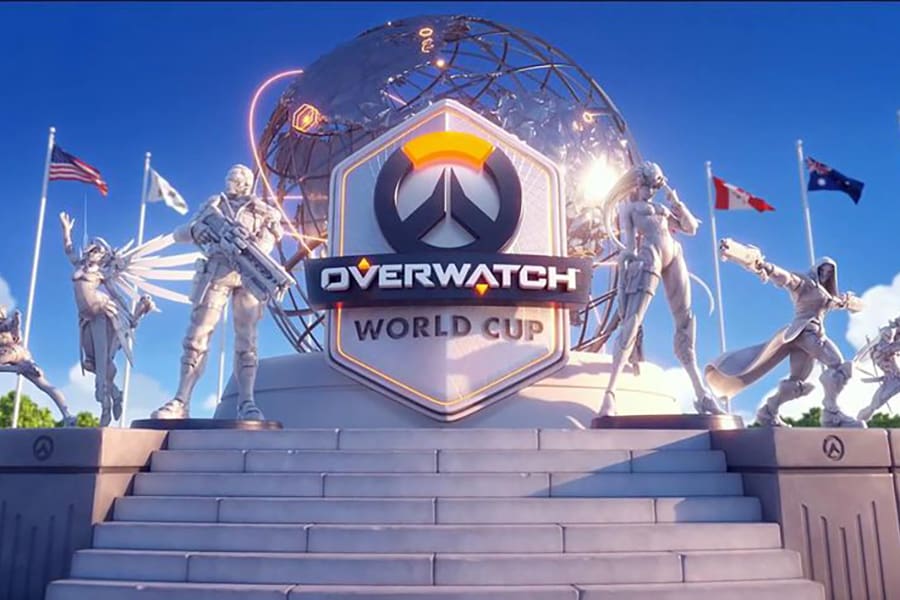 by in
After a three-year hiatus, the Overwatch World Cup is set to make a comeback later this year.
Blizzard Entertainment has recently unveiled the format for the online qualifiers of the tournament. It announced that the Overwatch 2023 World Cup will feature 36 teams from three global regions. The countries and regions eligible for the tournament were chosen based on Overwatch 2 player population data.
The game developer made a statement on their official web portal announcing the return of its flagship event.
"In 2023, the fifth Overwatch World Cup competition will crown the first World Cup champion since 2019," the statement read.
"Reigning champion United States and three-time winner South Korea will try to build on their legacy with another gold medal, but the launch of Overwatch 2 brings new competitors to the scene! Will a new champion be crowned this year? It is time to meet your competing countries and regions."
Blizzard went on to reveal details of the tournament, stating that the event will feature three conferences containing a set of two groups with six countries and regions making up each group. It also went on to share that the competition committee applications will commence next month and that World Cup Trials will run from February 10 through to 26.
"The program will consist of three conferences, each with two separate groups of six countries and regions. These countries and regions have been selected based on Overwatch 2 player population data," Blizzard said.
"In February, competition committee applications begin. Additionally, each participating country and region will host World Cup Trials over three weekends in February (Feb. 10–12, Feb. 17–19, and Feb. 24–26). Competition committees will be responsible for organizing additional team tryouts in March and finalizing a team of seven players in April."
With the World Cup Trials set to commence in February, the game organizer added that the competition committees of each region will be responsible for organizing additional tryouts in March. By April, the final rosters of seven players are expected to have been garnered. In June, teams within each regional group are to compete in a bid to earn one of the 16 spots at the LAN finals event, which is scheduled to take place in the fall of 2023.
However, due to the recent ban on Blizzard games in China, the process for the Chinese team will differ. They will be given a direct invitation to the Group Stage and will not participate in the World Cup Trials. The tryout process for the Chinese team will also be different from the other countries and regions, and more information will be provided to players in China directly.
The three conferences to be featured in the Overwatch 2023 World Cup, including the Americas Conference (AMER A & B), the Europe and Middle East Conference (EMEC A & B), and the Asia-Pacific Conference (APAC A & B). Each conference will feature two groups of teams, with countries such as the United States, Canada, and Brazil in the AMER conference, France, Great Britain, and Germany in the EMEC conference, and South Korea, Japan, and Australia in the APAC conference.
Below is a complete breakdown of the 36 teams and six groups selected for the online qualifiers. Three countries each will make it through to the main event from AMER A, EMEC A, and APAC A, while two countries will advance from AMER B, EMEC B, and APAC B.
Americas Conference (AMER)
AMER A
– Canada
– Costa Rica
– Guatemala
– Mexico
– Puerto Rico
– United States
AMER B
– Argentina
– Brazil
– Chile
– Colombia
– Ecuador
– Peru
Europe and Middle East Conference (EMEC)
EMEC A
– Belgium
– France
– Great Britain
– Italy
– Netherlands
– Spain
EMEC B
– Germany
– Norway
– Poland
– Saudi Arabia
– Sweden
– Turkey
Asia-Pacific Conference (APAC)
APAC A
– Chinese Taipei
– Hong Kong
– Indonesia
– Japan
– Philippines
– South Korea
APAC B
– Australia
– India
– Malaysia
– New Zealand
– Singapore
– Thailand
The Overwatch World Cup is a chance for fans to see the best players from around the world compete on a global stage. The tournament has always been a showcase of high-level competitive Overwatch, and fans can expect more of the same this year. The return of the World Cup also gives players an opportunity to represent their countries and make a name for themselves on the global stage. The online qualifiers for the tournament will begin next month, and fans are eagerly waiting to see which teams will come out on top.