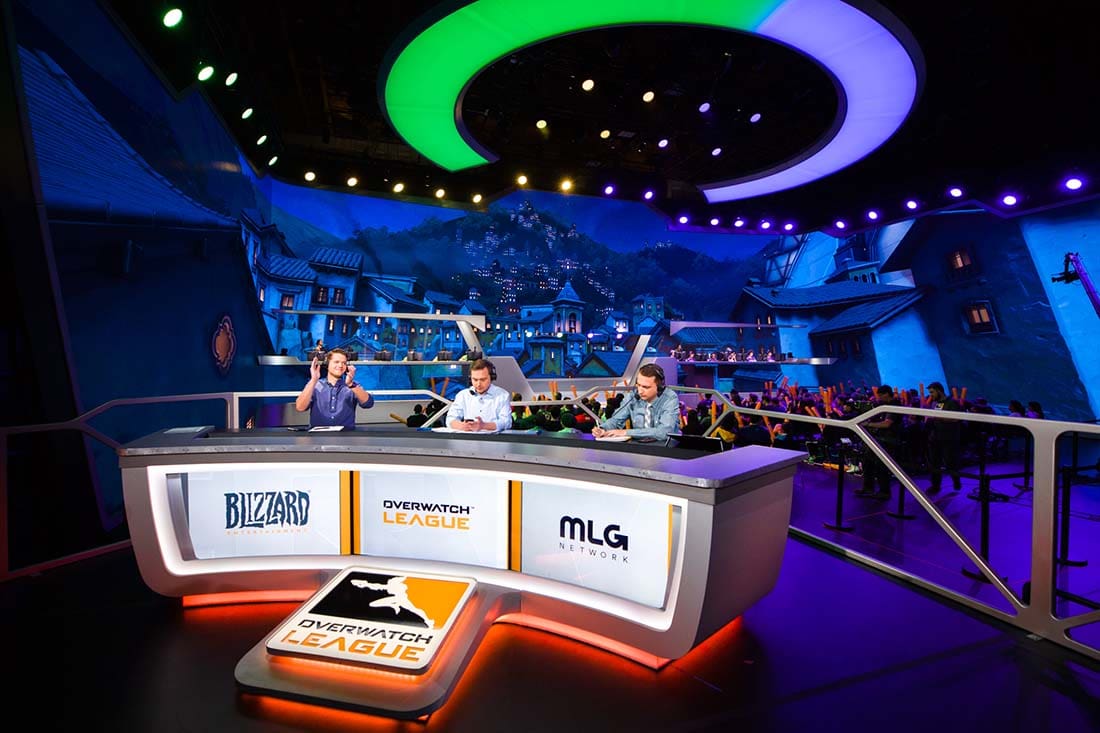 by in
Blizzard has announced four new casters will join the already talented line-up of international commentators and hosts of the Overwatch League inaugural season.
Former video-game editor Malik Forté and veteran caster Alex 'Goldenboy' Mendez are set to join the existing Overwatch League presenters over on the English broadcast, while Qiong 'Chixiaotu' Li and Miram 'Hwimori' Ahn will produce content for Chinese and Korean OWL fans, respectively.
The new talent brings some much requested diversity to the current team of casters, and each of them bring substantial experience to the table.
Forté is the former editor of video game news site Nerdist.com and is well known in the Overwatch esports scene for his active involvement in the early days of the professional circuit. He was the sole field reporter for the 2016 ELEAGUE Overwatch Open and garnered national attention for a botched handshake in an interview with Dallas Fuel's Brandon 'Seagull' Larned, which did the rounds on social media but kick-started his esports broadcasting career.
Mendez is an incredibly popular freelance esports commentator and host in the worldwide esports community, casting and presenting several competitive events for Blizzard Entertainment, Electronic Arts, Microsoft, Sony Computer Entertainment and Twitch. He's also well known for his humour and wit, so he will gel well with the existing team.
This is actually happening! I'm hosting the #OWL2018 desk today.https://t.co/5prhnOzmjB

I totally didn't plan this picture…

But you know who has great plans? ? pic.twitter.com/MUT1pNyWX6

— Alex Mendez (@GoldenboyFTW) February 8, 2018
Hwimori might not be as well known to English fans of the Overwatch League, but she is making a name for herself in South Korea as a caster and host for college esports tournaments and reporting on Overwatch news via her Twitch and YouTube streaming channels. Her addition will help strengthen the Korean-language video content.
Chixiaotu rounds out the team with substantial experience as both a caster and team manager of professional Overwatch. She has been one of the main broadcasters and hosts for Chinese Overwatch esports tournaments, most notably the Overwatch World Cup 2017 Shanghai Qualifier and APAC Overwatch Premier Series, and will spearhead the video content for Chinese-language viewers.
Both Forté and Mendez are confirmed to join the current casting team later this week, while Chixiaotu and Hwimori will "begin producing special content segments for fans in China and Korea."
All in all, as fans of the Overwatch League we're pretty happy with the new additions, and we won't say no if we can get more hilariously awkward handshakes from Forté.
The closing week of Overwatch League's Stage 1 is underway, with Philadelphia Fusion vs. Boston Uprising at 2pm PST / 5pm EST.
Check out our free bet predictions for this weekend's best OWL matches if you're interested in placing a bet while you watch.
Oh, and if you want to watch the infamous Seagull handshake yourself, get ready to cringe with the embedded video below.