by in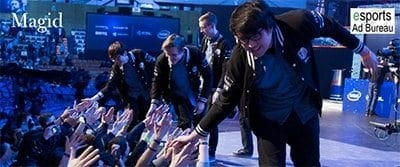 While video gaming has been suggested to be a masculine pastime, a recent study has revealed women are more interested in esports than initially thought.
The study from both the Esports Ad Bureau and research firm Magid has revealed one-third of the US esports audience is female.
Conducted in March 2017, the study involved 1000 esports consumers aged 16 to 45. It revealed 39 percent of the participants were women. The average age of the women was found to be 31. It also found that 78 percent of the women who do follow esports are new to the league, with most taking interest in the last year.
Magid Advisors', Stan Press, said in a statement that "the study shows that esports presents a tremendous opportunity for advertisers, delivering a desirable demographic that is highly engaged, very active, and open to interaction with brand messaging."
"These audiences are also more receptive to brands than originally anticipated," he added.
"For advertisers who get involved now, they have the chance to really take control of how they present themselves to fans as an integral partner that is helping to support and grow the esports space."
It has been reported that the esports industry will gross $1 billion in ad revenue worldwide by 2021. While advertising is incredibly important to the league in terms of sponsoring players, events, etc., the study also shows how the esports landscape is changing and what we can expect in the future.
Accounting and consulting firm, PwC believes the esports will grow from $108 million in 2016 to $299 million in 2021 in America. This is a 22.6 percent compound annual growth rate. While the US is the largest market in revenue terms in esports, South Korea is ahead in terms of per-capita revenue.
Regardless, the industry is booming in multiple countries around the world and the league is no longer just a male profession. Women are becoming more involved and not just in a passive way.
Recently an all women's college in Missouri launched a varsity esports program which will compete in Overwatch's collegial fall season. Overwatch's diversity in terms of gender, race, and sexuality was quoted as a major reason why the Stephens College chose to get into esports.
But this is not new – women have been participating in esports tournaments for quite some time. Counter-Strike: Global Offensive is well-known for having all women's teams. It is just becoming more common.
In terms of capturing more females as viewers, PwC has predicted esports streaming advertising revenue is forecast to rise from $33 million in 2016 to $148 million in 2021 in the US, and as the study suggests it may be a result of more female viewers tuning in.
Esports Ad Bureau and Magid did not provide an explanation as to why women were becoming more interested in esports. But it could have something to do with video gamers targeting females via marketing.
Brand manager for Bandai Namco Entertainment – a video game publisher –, Mark Religioso, said he wants more women involved in esports. As a result, he began planning "Bonnie and Clyde" tournaments, which sees esports teams consist of one woman and one man.