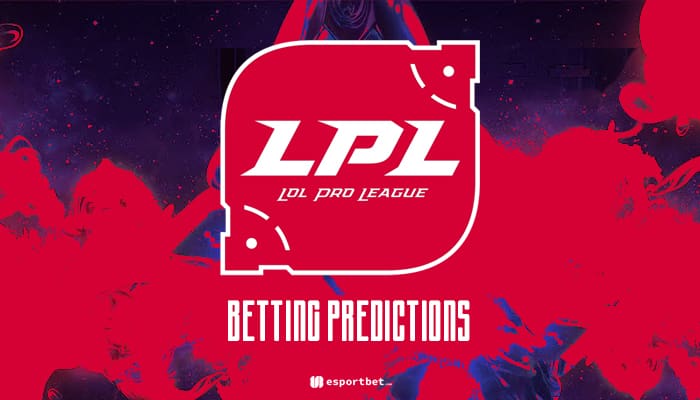 by in
ESB's free League of Legends betting picks for Tuesday, February 28, focus on a pair of LoL Pro League (LPL) 2022 Spring bouts. Here are our selections for Royal Never Give Up vs Anyone's Legend and Team WE vs Top Esports, with esports betting odds courtesy of BetOnline.
---
ROYAL NEVER GIVE UP vs ANYONE'S LEGEND LoL BETTING & MATCH DETAILS

Best Odds:
RNG -1000 at BetOnline | AL +550 at BetOnline
When:
February 28, 2023 | 17:00 CST
Watch Live:
Lolesports, Twitch


Royal Never Give Up kept their winning streak alive with a 2-0 victory against ThunderTalk Gaming on Saturday, marking their fifth win of the season (5-4) and fourth in a row. The first map of the series was very close and could've ended either way; however, RNG proved to be much stronger on the blue side, needing just north of 23 minutes to close it out.
Royal Never Give Up have been improving week after week, and without any shocking results, they should be playoff-bound in no time. A title run still seems a bit out of reach for RNG, but they're very consistent in beating mid-table teams.
READ: Best LoL betting sites in 2023
Their next opponents, Anyone's Legend, won their first game of the season last week against Team WE (2-1) but quickly returned to their old ways and suffered their ninth loss of the year against Ninjas in Pyjamas (1-2) on Friday.
Over the last two weeks, Anyone's Legend have shown better performances and have won at least one map in each of their last four outings, but that mainly had to do with AL getting ahead in the early game and snowballing off that. Unfortunately, Royal Never Give Up are way too good in the first 15 minutes to allow that to happen.
Expect RNG to win with plenty to spare and keep their winning streak alive.
Royal Never Give Up -9.5 kills
---
TEAM WE vs TOP ESPORTS LoL BETTING & MATCH DETAILS

Best Odds:
WE +400 at BetOnline | TES -714.29 at BetOnline
When:
February 28, 2023 | 19:00 CST
Watch Live:
Lolesports, Twitch
Top Esports had quite a blunder last week when they lost to JD Gaming (0-2) in a match that could've easily ended the other way. TES held a substantial lead on the first map but lost a crucial team fight at the 29-minute mark and saw their Nexus explode seconds later.
The second map again looked to be in TES's favour, but they again made a few too many errors to take down JDG. But regardless of their slip-up, Top Esports should do well against Team WE on Tuesday.
READ: Top esports betting sites for United States
Team WE are 4-5 this season and are fresh off a 2-1 victory against Rare Atom, but WE also lost against Anyone's Legend (1-2), LNG Esports (0-2), and Royal Never Give Up (2-1), which doesn't inspire much confidence. Even stat-wise, Team WE are not in a good spot. They sport the league's fifth-lowest K/D (0.90), fourth-lowest first blood % (39.1%), have a 48% drake control, and just 2,172 damage per minute.
Even though Top Esports are the type of team that likes to 'run it down' occasionally, the talent difference should be enough for a comfortable victory.