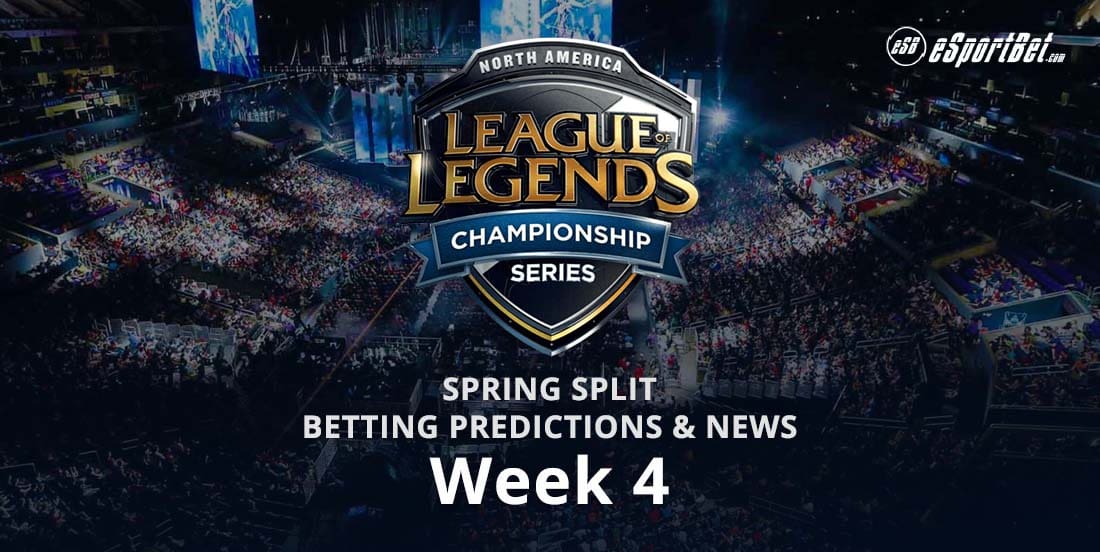 by in
No longer the undefeated champions, Echo Fox is now neck-and-neck with Cloud9 and Team Liquid in the race to secure top standing heading into Week 4 of the North American League of Legends Championship Series (NA LCS).
Counter Logic Gaming obliterated Echo Fox in the most unexpected upset of the series so far, and are in solid form to produce similar results against a resurgent TSM this week and ascend from the mid-tier.
Cloud9 and Liquid meet again for the must watch battle of the week, while 100 Thieves aim to put down a middling FlyQuest.
Here are our best bets and team picks for Week 4 of the 2018 League of Legends NA LCS Spring Split.
NA LCS Spring Split – Parlay of the Week with Bovada.lv
Team Liquid to beat Cloud9: -130 ($1.77)
100 Thieves to beat FlyQuest: -250 ($1.40)
Counter Logic Gaming to beat TeamSolo Mid: +125 ($2.25)
Clutch Gaming to beat Optic Gaming: -190 ($1.53)

Team Liquid vs. Cloud9
Game 2, Saturday, February 10 – 3pm PST / 6pm EST
Team Liquid heads into its Cloud9 clash with all the momentum after breaking its own Spring Split record for the fastest game time of the NA LCS this past Saturday.
Liquid have absolutely been in top form their past few matches, with mid-laner Eugene 'Pobelter' Park crowd controlling and hard-carrying without breaking a sweat and top laner Jun 'Impact' Eon-yeong picking off objectives left-right-and-center.
With the rest of the team consistently sweeping in for easy teamfight kills on the back of their leadership, Liquid closed closed FlyQuest last weekend in 27 minutes of pure domination.
Their battle with C9 will be much closer on paper, given mid-laner Nicolaj 'Jensen' Jensen's tendency for first barons and sneaky ganks and the rest of the team's very solid split-pushing.
However, the precision of Liquid's shotcalling and team coordination, especially in recent matches, cannot be understated.
Team Liquid to win -130 ($1.77) at Bovada
100 Thieves vs. FlyQuest
Game 4, Saturday, February 10 – 5pm PST / 8pm EST
100 Thieves continue to demonstrate superior scaling composition and steamroll over confident opponents with critical teamfights and sneaky objective completion.
Whether it was AD carry Cody Sun's Tristana handing out critical hits like candy or Kim 'Ssumday' Chan-ho's Gnar crowd-controlling the panicked Clutch Gaming, their late-game domination is both hard-earned and superbly executed.
Despite their embarrassing thrashing at the hands of Liquid, FlyQuest's roster have demonstrated they have the individual talent – they're just constantly let down by questionable macro play and poor reaction time whenever the scrims are over and the real matches begin.
Subbing in a new jungler for his first ever start when they had a crucial match against Liquid was also a recipe for disaster.
Will they improve with more practice? Yes, but not time for this fight with 100 Thieves.
100 Thieves to win -250 ($1.40) at Bovada
Team SoloMid vs. Counter Logic Gaming
Game 3, Sunday, February 11 – 4pm PST / 7pm EST
Both Team SoloMid and CLG ascended from mediocrity last week to win both of their match-ups and regain control of their place in the NA LCS.
TSM Jungler Mike 'MikeYeung' Yeung's Sejuani has had some of the best kill participation in the NA LCS at the moment, and CLG AD carry Trevor 'Stixxay' Hayes achieved the best triple kill clutch in the series to give his team an ace victory over the shell-shocked Echo Fox.
CLG honestly looked like a whole new team last week, using new macro plays and making the right picks to prevent stronger teams like Echo from turtling to achieve late game scaling.
Even though TSM are more inclined towards early-game laning, CLG have more than enough firepower to shut them down after steamrolling the much more nuanced offense of Echo Fox.
Counter Logic Gaming to win +125 ($2.25) at Bovada
Optic Gaming vs. Clutch Gaming
Game 5, Sunday, February 11 – 6pm PST / 9pm EST
Optic has constantly turned to desperate teamfight to stave off gold leads and late-game scaling rather than proactively making plays or split-pushes, and it's the primary reason for their second-to-last bottom placing.
Clutch Gaming tend towards team comps with global ultimates and aggressive early-game skirmishes and while it hasn't worked out for them recently, this sort of play should be more than enough to put the scatter-brain Optic on the back-foot.
Particularly promising is support Nikolas 'Hakuho' Surgent's Shen and mid laner Fabian 'Febiven' Diepstraten's Galio, who have turned around numerous fights with smartly timed teleportation and Heroic Entrance and general improvement in team communication.
Clutch Gaming to win -190 ($1.53) at Bovada
Where can I watch NA LCS esports?
Want to watch this weekend's NA LCS matches?
You can find the entire North American League of Legends Championship Series via Riot Games' official website, live-streamed in HD quality and viewable for free on computer or smartphone.
Bovada.lv also has links to live-streams next to each betting market of each match, making it easy to place a bet and watch soon after in the same place.
Top NA League of Legends betting options

Best esports betting sites for your country