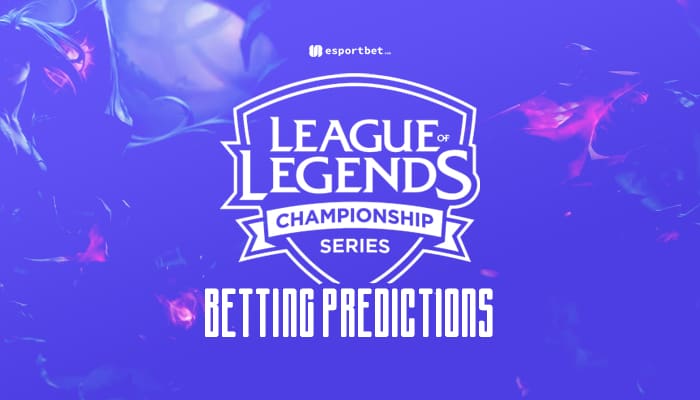 by in
ESB's free League of Legends betting predictions for Thursday, March 2, focus on three LoL Championship Series (LCS) 2023 Spring bouts. Check out our selections for Counter Logic Gaming vs FlyQuest, TSM vs Evil Geniuses, and 100 Thieves vs Cloud9.
---
COUNTER LOGIC GAMING vs FLYQUEST LoL BETTING & MATCH DETAILS

Best Odds:
CLG +275 at BetOnline | FQ -400 at BetOnline
When:
March 2, 2023 | 14:00 PST
Watch Live:
Lolesports, Twitch
FlyQuest kept their wheels spinning, having beaten 100 Thieves and Dignitas in LCS 2023 Spring Week 5, which earned them a two-game lead ahead of Cloud9 in the regular season standings. Across both games, FlyQuest looked dominant and were particularly impressive against 100 Thieves, where they amassed a substantial gold lead despite trailing in drakes and kills.
Stats like that show how good a team really is, so as we head into the sixth week of the regular season, there's nothing new to be said. FlyQuest continues to look like the strongest team in North America.
Counter Logic Gaming had a bit of a resurgence over the last two weeks, winning four of five series, which includes victories against Team Liquid, 100 Thieves, TSM, and Immortals. The only team that CLG couldn't beat was FlyQuest just under two weeks ago.
Looking back at the series, Counter Logic Gaming played well and were neck to neck with FlyQuest for most of the game, but poor drake control and a misplay at the 29-minute mark left them unable to match FlyQuest in the late game.
We don't expect CLG to cause an upset on Thursday, but they have shown enough over the last two weeks for us to believe that they can force another close game.
Counter Logic Gaming +8.5 kills
---
TSM vs EVIL GENIUSES LoL BETTING & MATCH DETAILS

Best Odds:
TSM +200 at BetOnline | EG -277.78 at BetOnline
When:
March 2, 2023 | 15:00 PST
Watch Live:
Lolesports, Twitch
Besides their victories against Team Liquid, Counter Logic Gaming, and the upset win against FlyQuest, TSM hasn't shown much this season. And that mostly comes down to their shaky early-game, which hasn't improved much lately.
With a -1399 gold differential at 15 minutes, TSM's early games are one of the worst in the league; however, they find a way to make some of that back in the mid-late game. This team has potential for improvement, but perhaps that'll come once the meta shifts.
Evil Geniuses are fresh off a 0-2 week, with defeats against Dignitas and Golden Guardians, and the main reason EG came out short in those fixtures was their poor start to the games. Against both teams, EG were approximately 2k gold and two drakes behind at 16 minutes despite picking powerful early-game compositions.
TSM and EG have shown a similar level of play over the last couple of weeks, so even though EG field better players, there's a decent chance TSM will come out on top. At the offered LoL betting odds, TSM are a solid longshot bet.
---
100 THIEVES vs CLOUD9 LoL BETTING & MATCH DETAILS

Best Odds:
100T +150 at BetOnline | C9 -200 at BetOnline
When:
March 2, 2023 | 16:00 PST
Watch Live:
Lolesports, Twitch
100 Thieves broke their five-game losing streak on Friday when they beat Team Liquid and improved their regular season record to 5-6. It wasn't the cleanest performance from 100 Thieves, and it's hard to praise them too much for beating the struggling Liquid, but that win could get them back on track.
Cloud9 were close to catching up to FlyQuest, but then lost against the surging Golden Guardians last Thursday, which set them back quite a bit. We saw C9 bounce back from that loss thanks to Jang "EMENES" Min-soo's heroic performance against TSM, but there's a lot more C9 have to show before we can talk about a possible title run.
On paper, Cloud9 look stronger than 100 Thieves, mainly because 100T have been struggling lately. However, this is still a strong roster, and with a long-overdue win under their belts, we might see a better display from 100 Thieves this week.