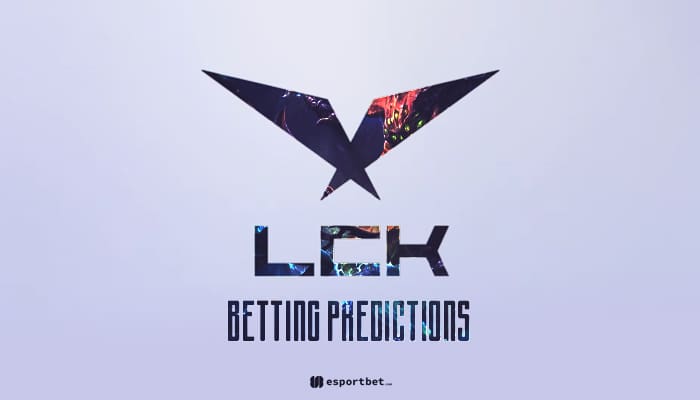 by in
The League of Legends Champions Korea (LCK) is approaching the end of the 2023 Spring split, with only four teams and four series remaining. T1 will face Gen.G in a best-of-five series after the upper-bracket final on Saturday evening, revealing one of the LCK grand finalists. Below is eSportBet.com's preview and best bet for Saturday's upper-bracket final, with odds provided by the best esports betting sites.
---
T1 vs GEN.G LoL BETTING & MATCH DETAILS

Best Odds:
T1 -250 at BetOnline | GEN.G +175 at BetOnline
When:
April 1, 2023 | 15:00 KST
Watch Live:
Lolesports, Twitch
T1 and Gen.G are the LCK's two powerhouse teams, finishing first and second on the table after the group stage, and while they face each other on Saturday, many people expect them to meet again in the grand final in 10 days. T1 has a record of 17 wins and one loss heading into the upper-bracket final, while Gen.G has a record of 14 wins and five losses after defeating Hanwha Life Esports in the upper-bracket semi-final to make the final.
T1 is without a doubt the greatest LCK team, having won eight LCK titles and three League of Legends World Championship titles since their inception in 2013. Along with being the greatest LCK team of all time, they also produced the greatest League of Legends player of all time, Lee "Faker" Sang-hyeok. This team has a reputation for winning championships and being extremely difficult to beat season after season, and they also believe that no one is better than them or fears them on a regional or global scale.
T1 finished the LCK Spring 2022 split as the only team to ever go undefeated at a regional or global split, finishing with a 20-0 record, and has nearly replicated that effort with a 17-1 record to end the LCK Spring 2023 split's group stage. T1 has had Gen.G on the ropes during the LCK Spring split, looking to avenge their 0-3 defeat in the LCK Summer 2022 grand final late last year. T1 defeated Gen.G twice during the group stage (2-0 and 2-1). If T1 defeats Gen.G convincingly on Saturday, they will enter the grand final as heavy favourites, looking to finish their split with a 19-1 record.
As for Gen.G, they had somewhat of a chequered LCK Spring split, where they got into a battle with KT Rolster and Dplus KIA for second place in the final four games of the split. Gen.G entered the split as the reigning LCK champions, having defeated T1 3-0 in the grand final after losing only one series during the 2022 LCK Summer split. There is no doubt that the loss of two of the best Korean-born bottom lane players, Park "Ruler" Jae-hyuk and Son "Lehends" Si-woo, has had a significant impact on the team's ability to consistently compete with the likes of T1. To turn the tables on T1, Gen.G will need to devise a completely new game plan and play three flawless maps in order to win the best-of-five series.
T1 has been dominant throughout the split, and they clearly had the best most consistent team during the group stage. We believe Gen.G can steal one map from the favourites, but that's all. We'll take T1 with -111.11 at the -1.5 match line.