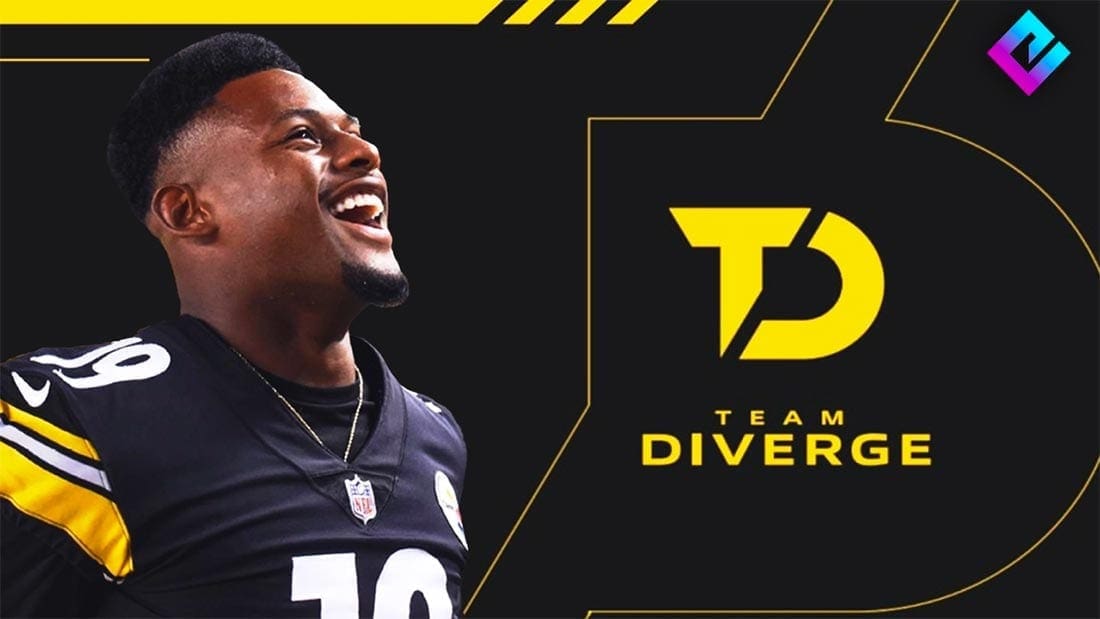 by in
North America esports news
Steelers WR JuJu Smith-Schuster Joins Esports Team Craze
After several professional North American athletes launched new esports teams in recent weeks, Pittsburgh Steelers wide receiver JuJu Smith-Schuster has joined in. Smith-Schuster is an established fan of the esports industry, often playing Fortnite himself. Now, JuJu has announced the launch of his own esports club, Team Diverge.
JuJu already has his own YouTube and Twitch channels. He's previously streamed games with celebrities like Ninja and Drake. Team Diverge will borrow from Juju's own experiences, both in-game and in real life. Team colors are based on those of the Steelers.
Asia esports news
South Korean LoL Team T1 Sign Twitch Streamer Tyler1
T1 have announced their latest superstar deal. Notorious LoL Twitch streamer Tyler "Tyler1" Steinkamp will be joining the South Korean team as a content creator and streamer.
Born in the US, 25-year-old Tyler1 was runner-up in the Streamer of the Year title in the 2018 Esports Awards. He is also an independent event organizer, hosting the Tyler1 Championship Series single-handedly.
Tyler1 will be the only American in the famous Korean esports organization besides T1 CEO Joe Marsh. The team, owned by SK Telecom, has an all-Korean player roster. Tyler1 will join fellow T1 content creator Lee "Wolf" Jae-wan.
Africa esports news
ATK Arena Announce New Halloween-Themed Esports Tournament
South African esports players have a lot to look forward to this October. ATK Arena have officially announced the ATK Scarefest. This Halloween-themed esports tournament will bring together South African gamers for an exciting competition.
Set to take place on October 31, it's slated to be a LAN tournament with 100 spots available. Entry tickets are being sold for R250 (about US $15). All participants must be over 18. Food and drinks will be offered at the event.
Participants will require a mask to enter due to COVID-19 safety measures. Games will begin at 4pm local time, with the bar opening at 7pm. Matches will end at 9pm, kicking off a live DJ set until 11pm.
Europe esports news
PUBG: PCS 3 Europe Finishes Fourth Day Of Group Stage
The PlayerUnknown's BattleGrounds Continental Series 3 Europe tournament marches onwards. The fifth day of play has officially been completed, with Group A finishing all matches. Groups B and C will play their final six maps today.
So far, FaZe Clan are dominating the competition with just shy of 200 points. They're closely followed by Natus Vincere, Northern Lights, and Digital Athletics. PCS 3 Europe replaced the former PUBG Global Series competition.
Continental Series winners will go on to compete at the PUBG Global Championship 2020. The 24 teams are competing for a total prize pool of $200,000.
South America esports news
Last Game Day For Mexico's Rainbow Six Latam League Underway
The Mexican Championship of the Rainbow Six Latam League is coming to an end this weekend. Half the final matches were played on Saturday, with the rest being played today.
Timbers Esports managed a partial victory (6-6, 7-5) over Infinity, while Atheris Esports did enough to overcome Pixel (7-1, 6-6). A perfect victory would've sent Timbers or Atheris straight to the November Majors.
Next, Infinity will face Estral Esports, while Timbers will play Mexico Esports Team. Pixel Esports will face Chivas in a do-or-die encounter, while MET and Infinity could still make the playoffs through the losers' bracket.
Oceania esports news
Chiefs Esports Club Announce New L'Oreal-Sponsored Valorant Event
One of Australia's most prominent esports organizations, the Chiefs Esports Club, has announced a new Valorant event. The Men Expert Valorant Invitational will feature corporate sponsorship from L'Oreal and $10,000 in prizes.
While Chiefs have an extensive trajectory competing in esports tournaments, this is their first foray into hosting. The event will bring together Oceania's eight finest Valorant squads. Chiefs see the tournament as a scouting opportunity, with an eye towards 2021 recruitment.
The tournament will begin on November 6. Teams will be split into two groups of four, with the top four moving to the finals.