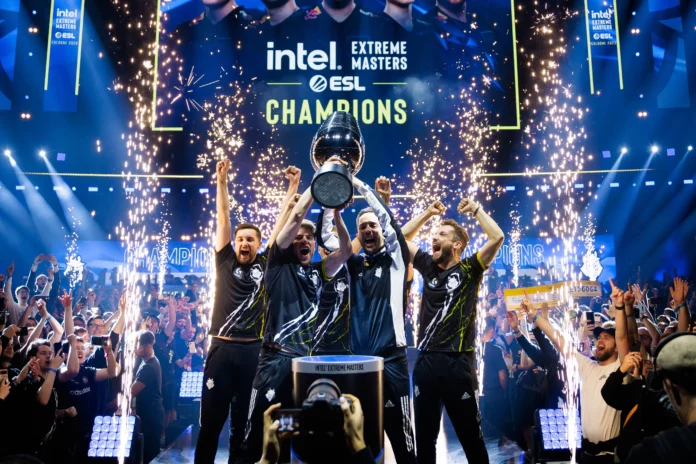 by in
G2 Esports have joined both Fnatic (2015) and FaZe Clan (2022) as the third team in history to win the IEM Katowice and IEM Cologne in the same year, after the international squad defeated ENCE 3-1 in the grand final on Sunday.
THE LAST CS:GO #IEM COLOGNE CHAMPIONS.@G2esports HAVE DONE IT 🏆@HooXiCSGO @jks_CS @G2huNter @G2NiKo @G2m0NESY @G2Swani pic.twitter.com/hIME7L0tE8

— ESL Counter-Strike (@ESLCS) August 6, 2023
Although IEM Cologne 2023 wasn't a Major, it could turn out to be the most prestigious edition of the event, as the LANXESS Arena that is known as the "Cathedral of Counter-Strike" held its final ever CS:GO tournament.
There were a lot of people questioning G2's decision to not change their roster after it struggled at the Paris Major in April, with many suggesting that they should drop their in-game leader Rasmus "HooXi" Nielsen.
However, their decision to stick with their Danish leader and keep this stacked roster together paid dividends, as their two-star players Nikola "NiKo" Kovac and Ilya "m0NESY" Osipov carried their team through the playoffs.
The grand final series started on ENCE's map pick of Nuke – a map that ENCE had won their last 10 matches on – however, the streak would be ended abruptly by a rampant G2, as they took the map 16-4 to set the tone for the best-of-five series.
G2 took their 1-0 series lead onto their map pick of Mirage, and even though ENCE were much more competitive, m0NESY and NiKo took over in the second half and wrapped up the map 16-10 to give their team a 2-0 lead.
ENCE went into their second map pick on Anubis with no room for error, as they would need to win Anubis to keep the series alive.
Led by their in-game leader Marco "Snappi" Pfeiffer, ENCE dominated the first half of the map and took a 10-5 halftime lead, before eventually wrapping up the map 16-13 to send the match to Ancient.
Much like Nuke, G2 lent on their stars as they kicked off their map pick with a 9-6 first half, with m0NESY and NiKo combining for 32 kills – which was two more kills than the entire ENCE roster combined.
Even though ENCE started the second half with three straight round wins, G2 piled on seven straight and took the map 16-9 and series 3-1.
After finishing the series with 91 kills, 98.4 average damage per round, +38 in kill/death differential and a rating of 1.49, NiKo was named the IEM Cologne 2023 Most Valuable Player.