The FIFA 19 Global Series is the top flight of FIFA esports betting. Let us show you how and where to find the best odds and biggest markets for the FIFA eWorld Cup, the UEFA eChampions League and more.
Best bookies for FIFA Global Series odds

Featured casinos
---
How to bet on FIFA Global Series
First of all, you need to find a trusted FIFA betting site. We suggest opening accounts at each of the esports bookies above to ensure you always get maximum value for money.
Next, you need to decide how you want to get money in and out of your online betting account. Most of our recommended bookmakers accept credit cards, debit cards, e-wallets, prepaid vouchers, bank transfers and even cryptocurrency.
Once you have cash in your account, betting on the FIFA Global Series is a straightforward affair. Many of the markets on offer are identical to those available for a standard football match, including popular options like:
Match betting
Handicap lines
Correct score
Total goals
First goalscorer
You can also place outright bets on the end result of major tournaments, make accumulator bets by putting several different wagers on a single ticket, and take advantage of exclusive betting specials for particular matches or events.
---
What is the FIFA Global Series?
The FIFA Global Series is a joint venture between Electronic Arts and the Federacion Internationale de Football Association (FIFA). With hundreds of affiliate leagues and millions of players all over the globe on both Playstation and Xbox, it is the largest FIFA esports competition in the world.
The inaugural edition of the Global Series was played on FIFA 18 and culminated in the FIFA eWorld Cup, which replaced the FIFA Interactive World Cup that had run since 2004. Saudi Arabia's Mosaad 'Msdossary' Aldossary won the first-ever eWorld Cup Grand Final, defeating Germany's Stefano Pinna 4-0 on aggregate in London.
---
Road to the FIFA eWorld Cup Grand Final
The FIFA 19 Global Series starts in October 2018 and concludes with the eWorld Cup Grand Final in August 2019. This is one of the world's most popular video games, so there is enormous demand for places. The question is: how do you make one of those spots your own?
FUT Champions Weekend League
Register at FUTChampions.com and play online in the FUT Champions Weekend League. Notching 27 wins earns you FUT Champions Verified status, which you hold for the rest of the season regardless of games played, matches won, et cetera.
Head-to-Head Qualifying
Verified players can participate in online qualification for FUT Champions Cups and other licensed tournaments. These live events include regional qualifiers all over the world and run in a head-to-head elimination format, so you have to beat the best to progress.
Global Series Points
All FUT Champions Verified players are ranked according to the number of FIFA Global Series Points earned from live events and Weekend League games. As real-time tournaments and qualifiers are more demanding, they offer more points than the Weekend League.
FIFA eWorld Cup Playoffs
As the season draws to a close, the top 60 points earners on Playstation and Xbox will enter the FIFA Global Series Playoffs. Players continue to earn leaderboard points throughout the playoffs, after which the top 16 on each platform progress to the FIFA eWorld Cup Grand Final.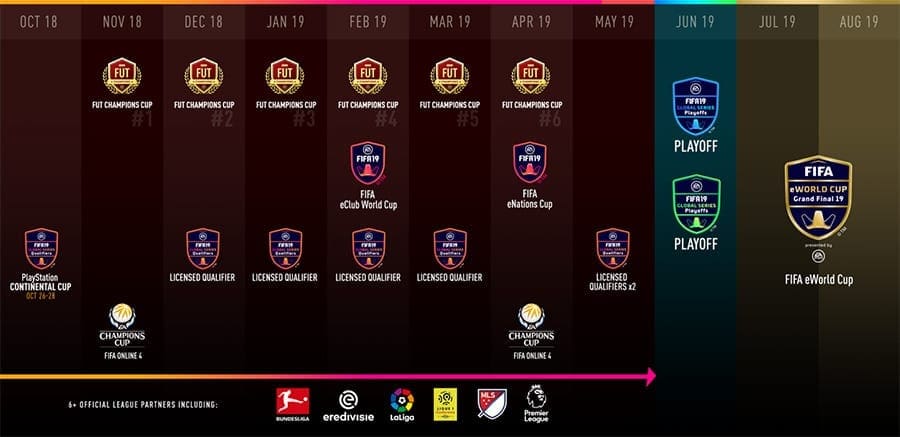 ---
FIFA Global Series esport leagues
Players can earn FIFA Global Series Points by competing in official partner leagues. These include the esports branches of some of the world's biggest football divisions, such as:
UEFA eChampions League
eBundesliga (Germany)
eDivisie (Netherlands)
eLigue 1 (France)
eMLS (United States)
ePremier League (England)
eSuperliga (Denmark)
La Liga eSports (Spain)
Recommended!
---
More FIFA Global Series qualifiers
FUT Champions Cups, Weekend League games and the official partner leagues make up only a few of the qualifying avenues available to would-be Global Series stars. Other options include:
FIFA Majors
There are two major tournaments on the calendar in 2019 – the FIFA eClub World Cup and the FIFA eNations Cup. Both tournaments contribute points towards the Global Series leaderboard.
Licensed Qualifying Events
The FIFA 19 Global Series includes seven additional online qualifying events that use a similar format as the FUT Champions Cups, but on a smaller scale. Each event features between 16 and 32 players per platform.
PS4 Country Tournaments
Sony is running a number of FIFA Global Series tournaments especially for PS4 players. Each event is restricted to FIFA gamers who reside in a certain nation or geographical region.