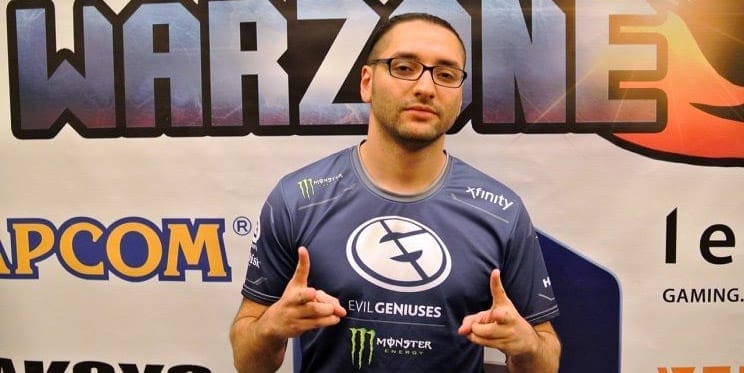 by in
Evil Geniuses have parted ways with Christopher "NYChrisG" Gonzalez due to inappropriate statements the esports pro made in 2017.
The announcement surfaced this Tuesday, just a day after the North American organisation released Dota2 caster Grant "GranDGranT" Harris amid sexual harassment allegations from several women.
In 2017, stating in a Facebook post that "black female gamers suck" and tried to justify his statement by providing additional insensitive claims.
"We at EG value each member of our community, and have zero tolerance for harassment," said Evil Geniuses in a statement.
"After investigation, it was evident that Chris' statements, though made in 2017, continue to have real, harmful impact in our community."
Evil Geniuses' decision to fire one of the most successful American fighting game players has caused quite a backlash in the esports community. While many agree NYChrisG's statements were out of line, EG have been criticised for acting over three years after the incident happened.
NYChrisG said on Twitter that he felt betrayed by the organisation, who supposedly told him at the time that they would help him "get through it all" and that he should not fear for his job.
"EG really throwing me under the bus like that……. AFTER EVERYTHING!!!" he wrote.
"They knew what I said, and that I regretted it. I told them day 1 when I posted it that I really messed up. And they told me that they would help me get through it all. THEY FORCED ME TO MOVE TO SEATTLE….."
He added, "I was told multiple times that EG was happy with how I was doing. I was told multiple times when I asked them if I was gonna get dropped for the things that I've done.
"I KNOW WHAT I DID, AND IVE BEEN SORRY SINCE DAY 1. They said NO, I was family, and that I wasn't going anywhere."
NYChrisG joined Evil Geniuses in January 2017 after spells at FingerCramp, AfterGlow Elite, GamesterGear and Tempo Storm during the previous five years. Despite his immense success as an esports pro across various fighting titles, NYChrisG was best known at that time for his achievements in Ultimate Marvel vs. Capcom 3.
Throughout 2016-2017, NYChrisG won Canada Cup 2016, Combo Breaker 2017, Defend the North 2017, Absolute Battle 8, and placed second at Final Round XX, Community Effort Orlando 2017, and Evolution Championship Series 2017. He continued putting up solid performances through 2019 with another title and a runner-up finish at Defend the North.
NYChrisG has also competed in Dragon Ball FighterZ, Mortal Kombat 11, Samurai Shodown and several other fighting games. He has only attended two events this year, finishing in fifth-sixth place at Frosty Faustings XII and 13th-16th at Dragon Ball FighterZ World Tour Finals 2019-20.
Evil Geniuses' actions have stirred speculation regarding the future of their star League of Legends jungler, Dennis "Svenskeren" Johnsen, who was fined US $2,500 and suspended from competing at the LoL World Championship with SK Gaming in 2014 after he used a racially insensitive username while playing on Taiwanese servers.