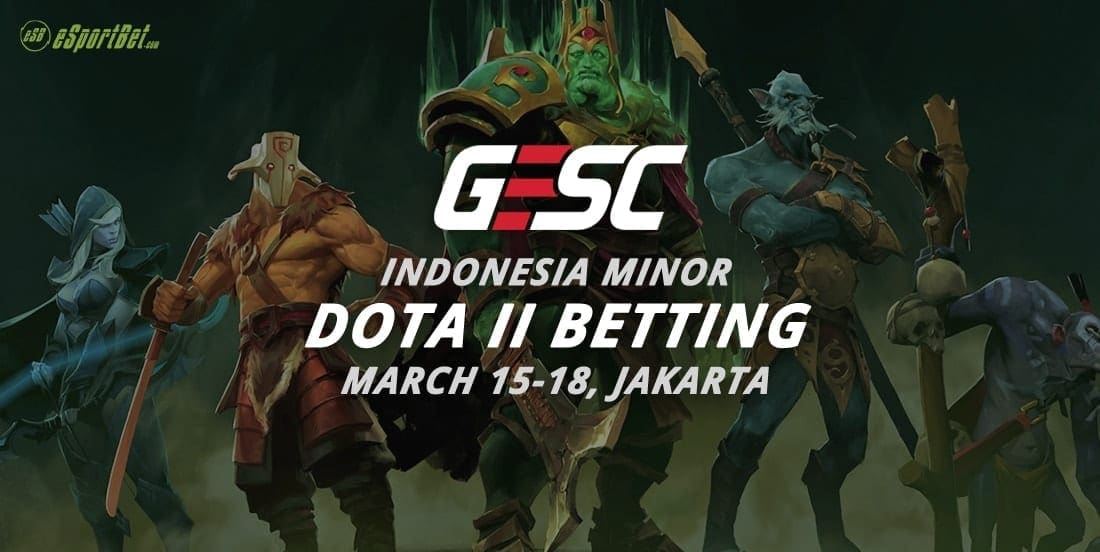 by in
GESC: Indonesia is an upcoming Dota Pro Circuit Minor scheduled to take place in Indonesia between March 15th – 18th. The tournament brings together eight teams from six different regions, has a prize pool of $300,000 and offers 300 qualification points for the next TI.
Because it's a relatively small tournament compared to the rest of Dota 2 events taking place in March, most of the top eight teams did not take an interest in it. As a result, GESC: Indonesia offers great Dota 2 betting opportunities and some pretty imbalanced matches with highly predictable outcomes.
TOURNEY INFO: BETTING, STRUCTURE AND PRIZE MONEY
STREAMING: HOW TO WATCH DOTA 2
HOW TO BET: DOTA 2 BETTING GUIDE
Analysis of the teams
Evil Geniuses
Almost 3 moths ago, Evil Geniuses decided to make some critical staff and roster changes that drew much criticism from the community. However, the decision paid off as EG went on to get a few important results. The team has been on the rise lately, beating top opponents (or at least taking games off them) and looking more and more like the Dota 2 machine it once was.
This tournament is of particular importance for the North American team, who has to climb back to top 8 in the Dota Pro Circuit rankings. Right now, they're sitting at no. 9 with 885 qualification points. Given that the competition at GESC: Indonesia is not that fierce, EG has a very high chance of qualifying for the Finals.
The Final Tribe
There's not much that can be said about this team because it's never made an appearance at a Dota Pro Circuit event. The main reason why they qualified for this tournament is that none of the big European teams had an interest in it.
The Final Tribe has a 100% Swedish roster made up of a few individuals who even played for Alliance at one point in their career. However, without a reputable captain and absolutely no achievements to speak of, The Final Tribe is likely to finish 7th – 8th at GESC: Indonesia.
Digital Chaos
Make no mistake, this is not the team that finished 2nd at The International 2016. It's actually the Animal Planet roster, which recently got signed by the North American organization.
Digital Chaos has some big names in its roster, including Aui_2000 (former TI champion with Evil Geniuses in 2015) and MoonMeander (former multiple Major champion with OG). However, just like The Final Tribe, the team lacks a great leader and without this component, it's almost impossible to do well against the world's best teams. Which is why we haven't seen Animal Planet at any Dota Pro Circuit event since its formation.
Going into GESC: Indonesia, my expectation is that Digital Chaos will finish 5th – 6th.
Natus Vincere
Six weeks ago, Natus Vincere lost 2 key players: RodjER and SoNNeikO. After their departure, the team's strength and overall coordination dropped like a rock. Na'Vi has no real captain at the moment and their whole playstyle seems improvised. Which is one of the reasons why the team is losing match after match against top opponents.
However, in a tournament like this, where they only have a few other strong teams to worry about, Na'Vi is quite likely to get a top 4 finish and earn some much-needed qualification points for The International 2018.
Fnatic
Live Evil Geniuses, Fnatic has been on the rise lately, obtaining tickets for Dota Pro Circuit tournaments and earning qualification points in them. With the addition of UNiVeRsE, the team has stepped into a new era and is now a fairly strong contender at any event.
Going into GESC: Indonesia, Fnatic is the third team in terms of strength. So they will likely get a top 4 finish.
Rex Regum Qeon
Rex Regum Qeon is an Indonesian team with no international experience. Like The Final Tribe, they're only here due to exceptional reasons. The tournament organizers decided to reserve one qualification spot for Indonesia, most likely to support the local Dota 2 scene and attract a larger audience at their live event.
Rex Regum Qeon will almost certainly get destroyed by every single opponent at GESC: Indonesia. Without any experience at this level of competition, there's not much they can do about it and will have to rely on a miracle to succeed even slightly. A 5th – 6th place finish would actually be an incredible result for this team.
Infamous
Infamous is a South American team with a fair amount of international experience. During the 2017-2018 competitive season, the team has taken part in four tournaments, including this one: Galaxy Battles II: Emerging Worlds, StarLadder i-League Invitational Season 4, ESL One Katowice 2018, and GESC: Indonesia. However, so far, they've only managed to qualify and not much else, finishing last at every event the went to.
Going into this tournament, Infamous will likely get a 5th – 6th place finish as they are stronger than Rex Regum Qeon, The Final Tribe and even Digital Chaos.
VGJ.Thunder
VGJ.Thunder is one of the strongest Dota teams in the world and a main contender for winning this event. Realistically speaking, it will be either them or Evil Geniuses.
VGJ.Thunder has several exceptional players in its roster. One of them is Sylar, who has been 3 times on the podium (top 3) at The International. Another one is ddc, who has attended every single TI event so far. At the 2017 edition, he was the captain of LGD.Forever Young and helped the team secure a 3rd place finish.
At their latest tournament (the Bucharest Major), VGJ.Thunder took 2nd place after they lost against Virtus.pro in the Finals. Keep in mind however that Virtus.pro is the number 1 team in the Dota Pro Circuit rankings, and that the Bucharest Major brought together the best teams in the world. VGJ.Thunder defeated Vici Gaming, Team Secret, TNC Pro Team and Newbee to get to the event's Finals. This kind of performance says a lot about their level of skill.
GESC Indonesia: Betting predictions and team news
Evil Geniuses vs. Infamous
There's a huge strength difference between these two teams right now, so I don't think Infamous can stand up to EG in this encounter. Evil Geniuses recently finished 5th – 8th at the Bucharest Major, defeating teams like Newbee, Team Liquid (in the Group Stage) and PaiN Gaming (another South American team, like Infamous) in the process. The chance of success for the North Americans is above 97%, making this match a great betting opportunity.
Bovada puts the odds at -1200 / +550 or around 1.08 – 6.50 in favor of Evil Geniuses.
Best bet: Evil Geniuses to win -1250 with BetOnline
VGJ.Thunder vs. The Final Tribe
This match offers the best betting opportunity on this list. VGJ.Thunder is better than EG while The Final Tribe is worse than the South Americans from Infamous. But, in spite of this, the odds for this match are even better than those of the previous one.
Bovada puts the odds at -700 / +375 or around 1.14 – 4.75 in favor of VGJ.Thunder and this is practically free money to be made.
Best bet: VGJ.Thunder to win -714.29 with BetOnline
Natus Vincere vs. Rex Regum Qeon
Being an established CIS team, Na'Vi certainly is the clear favorite in this match even though its recent record at Dota Pro Circuit events has been poor. In theory, they're still lightyears ahead of Rex Regum Qeon and should win this battle without too many problems. However, the chance of an upset is considerable in this case, simply because Rex Regum Qeon will be performing in front of their home crowd. The match is also a Bo1, so it's enough for Na'Vi to mess up their draft or make one critical error during the game and the odds will swing in their opponents' favor.
Bovada puts the odds at -500 / +300 or around 1.20 – 4.00 in favor of Natus Vincere. At these odds, if you're using a long-term betting strategy to optimize your profits, you may want to consider betting a smaller amount on Rex Regum Qeon.
Best bet: Rex Regum Qeon to win +300 with BetOnline
Fnatic vs. Digital Chaos
If Fnatic just plays its standard game, they should win this Bo1 without breaking a sweat. They have a great roster at the moment, with players like Abed and UNiVeRsE in key roles, and I can't see a team like Digital Chaos besting them in a match like this.
Bovada puts the odds at -225 / +150 or around 1.44 – 2.50 in favor of Fnatic, so the returns are very high for such a likely outcome.
Best bet: Fnatic to win -227.27 with BetOnline