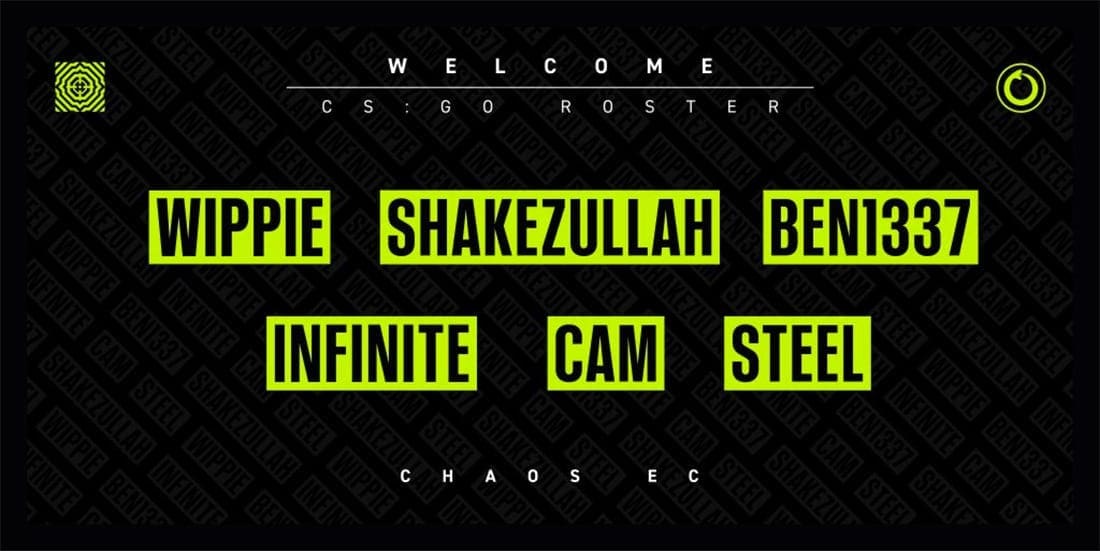 by in
Chaos Esports Club have entered the North American CS:GO esports scene with the signing of the former Ben's Anime Team roster.
The announcement of new Chaos roster surfaced this Monday on their official Twitter account, confirming the club's return to Counter-Strike esports after stepping away from the scene in September 2019.
"After searching for the perfect fit, we are happy to announce our return to CSGO," read the announcement, which revealed the new five-man roster of Cameron "cam" Kern, Gage "Infinite" Green, Benjamin "ben1337" Smith, Joshua "steel" Nissan, Maxim "wippie" Shepelev, and coach Alan "Shakezullah" Hardeman.
This will be Chaos Esports Club's second venture in the professional CS:GO scene after their first appearance in May 2018, when they acquired Enjoy's roster.
In the months that followed, Chaos made several changes to the roster and ultimately settled with an all-Swedish team of Fredrik "FREDDyFROG" Gustafsson, Joakim "Relaxa" Gustafsson, Niclas "PlesseN" Plessen, Linus "Bååten" Bååt Andersson and Daniel "djL" Narancic.
The team's biggest and last achievement came at the ECS Season 8 – European Challenger Cup open qualifiers, where Chaos Esports finished first and earned their spot in the Challenger Cup. Unfortunately, Chaos dropped out of the tournament after releasing their roster on September 3, 2019, eight days before the ECS Challenger Cup took off.
FREDDyFROG, Relaxa and djL decided to remain together and assemble a new roster under team Jalapeno, which finished the tournament in 12th-14th place.
Over two months have passed since then and many rumours have surfaced in that time, including suggestions that Chaos EC could look to North American with a lineup including William "RUSH" Wierzba and Niels-Christian "NaToSaphiX" Sillassen.
The rumours proved to be only half true, as neither RUSH or NaToSaphiX have signed on, but steel, cam and Infinite have all been linked with Chaos before and will be now joined by ben1337 and wippie in Chaos Esports Club's first venture into the NA CS:GO scene.
Ben's Anime Team recently finished second at WESG 2019 North America and fifth-sixth at ESEA Season 32: Premier Division – North America. The acquisition of the whole roster also earned Chaos Esports Club a spot at the 2019 DreamHack Open Atlanta, where Ben's Anime Team were set to compete as a replacement for Cloud9.
The announcement comes less than a week after Chaos acquired the Quincy Crew roster following the release of their former Dota 2 esports team in late October.
The new squad of Yawar "YawaR" Hassan, Quinn "CCnC" Callahan, Jonáš "SabeRLight-" Volek, Arif "MSS" Anwar and Avery "SVG" Silverman just recently finished runners-up at DOTA Summit 11, marking Chaos EC's first top-three finish in a Dota 2 event since their win at ESL One Genting 2017 under the Digital Chaos banner.
Chaos now have teams in six different esports titles, including Fortnite, PUBG, Rocket League and Tom Clancy's Rainbow Six Siege.