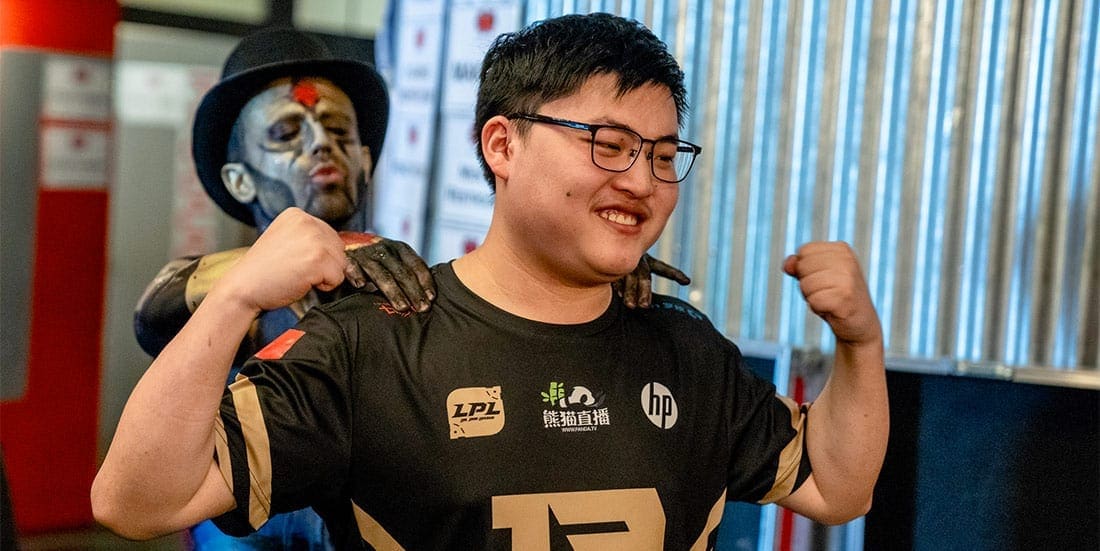 by in
One of the greatest ADC mains in history, Jian "Uzi" Zi-Hao, has retired from professional League of Legends esports, citing poor health stemming from a long-term arm injury.
Uzi's premature retirement has been a long time coming. The Chinese LoL pro said in 2015 that he was considering hanging up his mouse and keyboard due to ongoing health issues.
Uzi detailed his struggles in a Nike-sponsored League of Legends Pro League (LPL) documentary video, where he explained that his lack of lower-body strength was as much an issue as the pain in his upper arm.
"Because of a lot of sitting, I often feel like my legs have no strength. The lower part of the body feels like it's not mine," said Uzi.
"One time I went to the hospital for a check-up and the doctor said my arms are similar to that of a 40 to 50-year-old."
Many top esports players are dealing with similar health issues as a result of sitting behind the computer and playing games for prolonged periods. Uzi also said he had been diagnosed with type II diabetes and was battling chronic stress, obesity and irregular diet.
Uzi's League of Legends career began in October 2012, when he joined Royal Club (currently an RNG academy team) at only 15 years of age. He spent the first two years with the Chinese esports organisation before moving to Oh My God in December 2014 in one of the biggest LPL roster moves to date.
Uzi's stint with OMG was largely unsuccessful, as they ended their 2015 LPL Spring Split in the quarter-finals and finished the LPL Summer Split in seventh place. He ended up leaving OMG for Qiao Gu Reapers in December of 2015 and put up some decent results until they were forced to forfeit their 2016 LPL Spring semi-final due to internal conflicts.
Uzi reunited with Royal Never Give Up in the summer of 2016 and went on to become an iconic member of the Chinese esports organisation. The bot laner's crowning glory came in 2018, when he picked up a slew of MVP awards as RNG won both LPL splits, the Mid-Season Invitational and the Asian Games.
Ahead of the 2020 season, RNG announced Uzi would not be playing with the team for the foreseeable future, which sparked speculation that they were set to sign ex-Invictus Gaming ADC Yu "JackeyLove" Wen-Bo as his replacement. Those rumours were quashed when RNG acquired ex-Flash Wolves ADC Lu "Betty" Yu-Hung in December, while JackeyLove ended up joining Top Esports in April.
Although Uzi has decided to step away from competitive play, RNG said in a statement, "Even in retirement, Uzi is still an important member of the RNG family. In addition to doing everything we can to assist him in his future endeavours, we will also be by his side to help him on his journey to injury recovery. We are here to help him recover 100%."
Uzi's career achievements:
IEM Season 8 Shanghai (3rd-4th)
LoL World Championship 2013, 2014 (runner-up)
LoL World Championship 2017 (3rd-4th)
Mid-Season Invitational 2018 (1st)
2018 Asian Games (1st)
League of Legends Pro League 2018 Spring and Summer champion
Individual awards:
MVP of 2018 LPL Spring playoffs
MVP of 2018 LPL Summer playoffs
MVP of 2018 Mid-Season Invitational
MVP of 2018 Asian Games
All-Star 1v1 2017 winner
All-Star 1v1 2016 winner
Tencent Games Carnival 2014 winner
Records and firsts:
First-ever player to appear in two consecutive LoL World Championship grand finals
Highest kill count in 2014 and 2017 World Championship
The first player to score 500/1000/1500/2000/2500 kills in LPL
Highest CSPM in every LPL season he participated in since 2015
Player with the fewest games to claim 100 kills in LPL (14 games)
44th-highest esports tournament earnings out of all Chinese esports players (US $545,447.56)