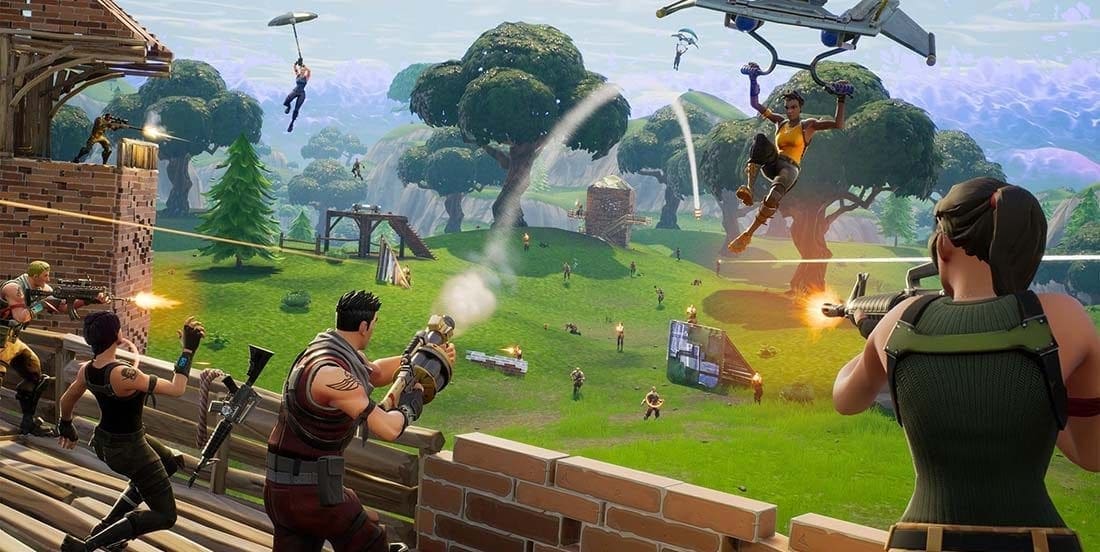 by in
TeamSolo Mid (TSM) has announced its full roster for its early foray into the Fortnite esports circuit.
After a month of searching and signings, TSM revealed Darryle 'Hamlinz' Hamlin, 'CaMiLLs,' and 'Daequan' will join Ali 'Myth' Kabbani as the final members of TSM Fortnite. Another popular Fortnite community figure, Shane 'OPscT' Turnbull will join TSM Fortnite's separate live streaming team, alongside 'Dakotaz' and 'HighDistortion'.
Fortnite fans will be familiar with many of the new names, who comprise some of the highest-ranked builders, solos and streamers in the game's growing competitive scene.
While there is no official Fortnite esports league for either the base game or its popular Battle Royale mode just yet, TSM's preemptive move makes sense given the game's worldwide popularity and the subtle teasing from the game's developer, Epic Games, about a future tournament series.
Our Fortnite team is complete!! Please welcome @DaequanLoco @Tsm_camills @TSM_Hamlinz ! ??? also the newest addition to our stream team @OPscT !! ??? https://t.co/3zUL7ineAa… pic.twitter.com/USjc6csLnP

— Team SoloMid (@TeamSoloMid) February 3, 2018
At present, Hamlinz is ranked in second place for solos and fourth place overall (for all seasons) on the Fortnite ladder, moving onto Fortnite: Battle Royale at the beginning of 2017 after a successful esports career in Call of Duty and Halo.
Daequan has long history of competitive gaming in PC MMOs such as Black Desert Online, before he entered the Fortnite amateur tournament scene. He currently holds the record for most Fortnite invitational tournament wins in North America.
CaMiLLs is a former competitive Gears of War pro player, ranking 3rd at several Major League Gaming tournaments before transitioning into Dota 2 and Starcraft and eventually moving into Fortnite. He is well-known within the Fortnite community for his win streak record with TSM's streaming division members Dakotaz and HighDistortion.
Shane 'OPscT' Turnbull rounds out the pack as a specialist Fortnite: Battle Royale player with a successful competitive run in other games such as H1Z1.
"This is really a dream come true – people always told me I'd be a professional gamer, but I definitely want to thank my family and viewers who supported me through the thick and thin because this wouldn't have been possible without them," Hamlinz said in the official TSM blog post.
"It's just mind blowing that a top dog org like TSM wanted me, Now I'm just ready to show people what TSM Fortnite is all about and take home some LAN victories.
"I'm feeling good about joining TSM.
"I can't wait to expand my community a bit further and most importantly playing alongside friends like Dakotaz, HighDistortion, CaMiLLs and Daequan. I'm looking forward to having comfort and security and and TSM looks promising for the years to come."
How big is TSM in esports?

TSM is one of the most popular and successful North American esport organizations in the world, fielding several teams in multiple competitive circuits such as Hearthstone, League of Legends and Smite. It has established a reputation for signing professional players for popular games which lack an official esports league.
Last year, TSM signed four popular video gaming live-streamers to its TSM PUBG outfit. PlayerUnknown's Battlegrounds is the most direct challenger to Fortnite: Battle Royale in terms of playerbase and viewerbase, and also lacks its own official esports league, despite similar rumblings from developers about a future tournament series.
While we wait for Fortnite: Battle Royale to get the proper esports series it deserves, fans of the battle royale genre in general can get their competitive fix with several upcoming third-party organized invitationals for PUBG, including the Intel Extreme Masters Katowice PUBG Invitational later this month.