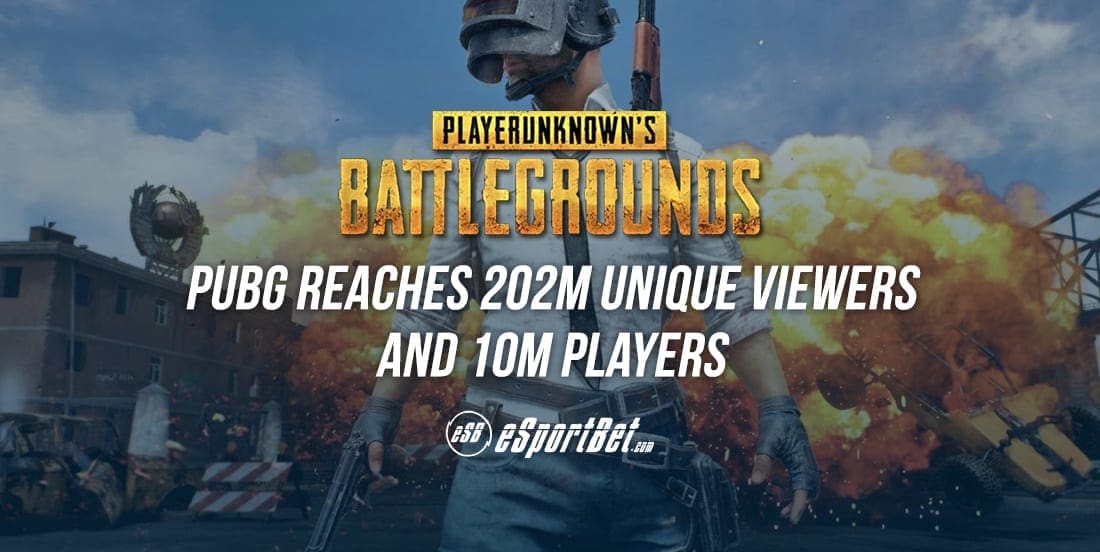 by in
PlayerUnknown's Battlegrounds is arguably the most talked about video game in 2017 and its rapid success has only been fuelled by the likes of Twitch and YouTube. Since its April debut, the game has benefited from tens of thousands of player-created live-streamed videos recording their gameplay experiences, and SuperData's end-of-year report on the esports industry released on Monday reveals the latest numbers of its impressive audience and player-base.
From May to October, PUBG brought in a total of 202 million unique viewers on Twitch and 10 concurrent million players on Steam, a mere seven months after its Early Access launch. Starting with an already impressive 19 million audience, it skyrocketed to 126 million viewers on the live-streaming platform a mere two months later before steadily rising throughout the year.
PUBG's October viewership is notable in that it is only beaten in raw viewership numbers by League of Legends, which gathered 286 million unique viewers and is considered the largest audience for a single video game and esport. LoL fans consumed up to 1,665 million hours of the game on Twitch in the period of April to October.
As the SuperData report states, we believe PlayerUnknown's Battlegrounds is well positioned to become the first and most popular esport in the emergent Battle Royale sub-genre it has popularised in 2017. Considering PUBG's viewership is 20 times more than its actual active player-base, it's a fair indication that the game has attracted interest from a significant portion of non-gamers.
Whether that popularity will last and translate into a potential esports fanbase remains to be seen, but Bluehole Inc. has given it a fair go with several sponsored events throughout the year. In May, the company hosted the 2017 Charity Invitational to raise money for the Gamers Outreach Foundation, eventually generating US$220,000 and acting as the prototype template for future, more professionally organised esports events.
In August, the Gamescom PUBG Invitational LAN Tournament hosted 80 of the most popular PUBG pro players and live-streamers for a share of US$350,000 in prize money. Just last month, the Intel Extreme Masters Oakland – PUBG Invitational 2017 was held and featured a 20-team, 80-player tournament organised by Intel and ESL with a prize pool of US$200,000.
The events were largely a success, but the main problems shoddy camerawork and broadcasting difficulties due to having to present the 200 million + audience with the best viewpoints among 100 possible players on the field – something Bluehole will need to nail before the game truly takes off as a competitive title.
PlayerUnknown's Battlegrounds is leaving Early Access on December 20 for its full 1.0 release, playable on Microsoft Windows (PC). It will launch with a brand new desert map called Miramar, currently being enjoyed on the game's test servers. It is currently in the Game Preview program for Xbox One until its full retail release later in 2018.
Several of the world's best esports betting sites have already begun offering markets on PUBG events – we recommend our readers from United States check out BetOnline if you're interested in placing a wager on your favourite players and teams, and for hundreds of other betting options on CS:GO, Dota 2, League of Legends and more.