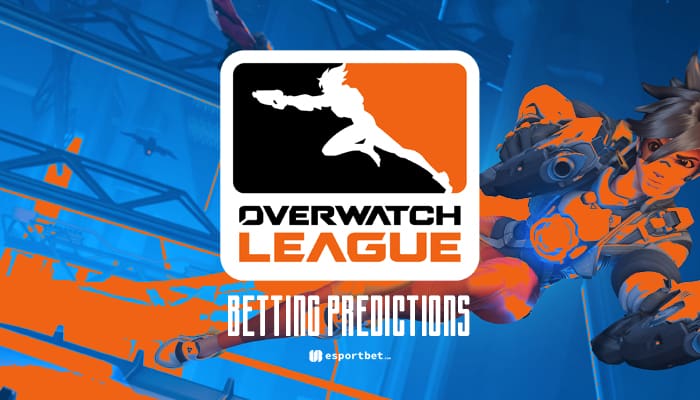 by in
ESB's free esports betting tips for Saturday, September 9, include a pair of Overwatch League (OWL) 2023 Play-In bouts. Here are our selections for New York Excelsior vs Washington Justice and San Francisco Shock vs London Spitfire, with esports odds courtesy of BetOnline.
---
NEW YORK EXCELSIOR vs WASHINGTON JUSTICE OWL BETTING & MATCH DETAILS

Best Odds:
Excelsior -120.48 at BetOnline | Justice -120.48 at BetOnline
When:
September 9, 2023 | 12:00 PDT
Watch Live:
YouTube (https://www.youtube.com/overwatchleague)
New York Excelsior ended the OWL Summer Stage Qualifiers with a 3-2 victory against the Vancouver Titans, which was somewhat surprising knowing how much the Excelsior struggled in the current meta. They played a good game, but there's still the question of how long this will last and whether the Excelsior truly have figured things out.
Washington Justice squeezed their way into the play-ins despite losing against Toronto Defiant (1-3) on the final day of the qualifiers, marking their third consecutive loss and eighth over a nine-game stretch. Interestingly, the only win over their last nine games came against New York Excelsior (3-1) a month ago.
On one side, we have a team that has struggled with the current meta, and on the other side, a team that is 1-8 since June but are 2-0 in the head-to-head against the Excelsior. This doesn't make picking a winner any easier; however, at +200 with Overwatch betting sites, Excelior to win with at least two maps to spare looks like a solid value play.
Even though the Excelsior don't have a clear idea of how they want to play, they're still in a much better spot than the Justice, who might have a strong head-to-head record, but form-wise, they're not in a much better spot than New York Excelsior.
New York Excelsior -1.5 maps
---
SAN FRANCISCO SHOCK vs LONDON SPITFIRE OWL BETTING & MATCH DETAILS

Best Odds:
Shock -250 at BetOnline | Spitfire +175 at BetOnline
When:
September 9, 2023 | 12:00 PDT
Watch Live:
YouTube (https://www.youtube.com/overwatchleague)
It's very tough to feel optimistic about London Spitfire and their chances to make it to the OWL 2023 Playoffs, mainly due to their concerning results leading into the play-in stage. The Spitfire have won five of their last six games but choked in a very winnable game against Houston Outlaws (2-3).
Choking has become a theme for London, who have otherwise played well this season but could've accomplished much more. The Spitfire have the talent to make it through the play-ins, but they have some things to figure out.
San Fransisco Shock drew a lot of attention with their incredible performance against Atlanta Reign (2-3) on Sunday, and even though the game didn't mean much, the Shock stepped up and delivered.
That performance alone is enough to consider San Fransisco Shock as the better team, but if we zoom out and compare the teams based on what they've shown this season, the Spitfire have a higher ceiling. It should be a competitive series, but as long as the Spitfire don't slip again, they should have an excellent chance to take down the Shock.