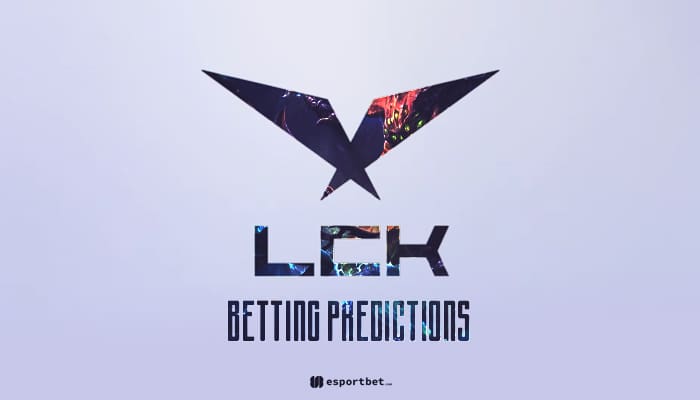 by in
ESB returns with free League of Legends Champions Korea (LCK) 2023 Summer betting tips for the third matchday of Week 1 on Friday, June 9. Here are our selections for KT Rolster vs Gen.G and T1 vs Hanwha Life Esports, with LoL betting odds courtesy of BetOnline.
---
KT ROLSTER vs GEN.G LoL BETTING & MATCH DETAILS

Best Odds:
KT +137 at BetOnline | Gen.G -188.68 at BetOnline
When:
June 9, 2023 | 15:00 CST
Watch Live:
Lolesports, Twitch
KT Rolster ended last split with a third-place finish in the regular season and a semifinal appearance in the LCK 2023 Spring Playoffs. However, it's not like that was a massive shock. KT Rolster field a very strong roster which can easily compete for top spots, yet they're still weaker than Gen.G and T1, who are in a class of their own.
Gen.G are one of the strongest teams in the LCK and understandably priced as favourites for this match, but we have to take into account that they might be suffering from the Mid-Season Invitational hangover. This should be less noticeable than in the LoL Pro League (LPL) since the Korean teams have had more time to re-acclimatise, but it should still play a factor.
Gen.G achieved more than KT Rolster last season, but they weren't much stronger if we look at the team's performances throughout the entire split. Gen.G found momentum in the playoffs and won the LCK crown, but remove the late-split resurgence and we're left with a team that was only slightly better than KT.
KT Rolster look like an excellent bet at the offered LoL betting odds and are even worth a shot to cover the +1.5 map handicap. But we'll keep it simple and take them on the moneyline.
---
HANWHA LIFE ESPORTS vs T1 LoL BETTING & MATCH DETAILS

Best Odds:
HLE +137 at BetOnline | T1 -188.68 at BetOnline
When:
June 9, 2023 | 17:30 CST
Watch Live:
Lolesports, Twitch
Hanwha Life Esports are a very frustrating team to follow because they're one-dimensional and very easy to figure out. And yet, despite their predictable playstyle, HLE might achieve a lot this split – due to the hyper carry bot lane meta.
Due to their powerful bot side, Hanwha Life Esports look dangerous, yet their longevity and ability to finish the season well will heavily rely on how the meta develops. However, the current meta suits HLE, so it's fair to expect they'll thrive until something changes.
T1 are the outright favourites to win LCK 2023 Summer, and rightly so. This is an outstanding team, a level above most other Korean squads, with elite talent and the ability to adapt to any meta. However, the same concern we have with Gen.G is also present here – MSI fatigue.
T1 are still much better and less volatile than Hanwha Life Esports, but at -357.14 with the top LCK betting sites, they are too short for an early-split match. HLE to win at least one map at -138.89 is a solid pick at a good price.
Hanwha Life Esports +1.5 maps