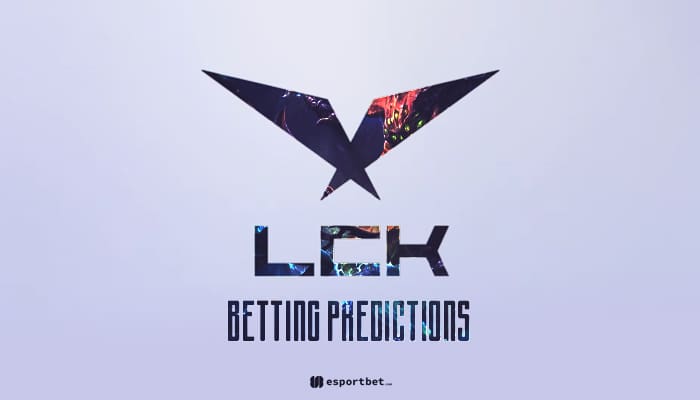 by in
The League of Legends Champions Korea (LCK) has rolled into the final three weeks of its spring split. Below you will find ESB's best bets for the series between Hanhwa Life Esports vs Dplus KIA and Nongshim RedForce vs DRX, with odds courtesy of the best esports betting sites.
---
HANWHA LIFE ESPORTS vs DPLUS KIA LoL BETTING & MATCH DETAILS

Best Odds:
HLE +162 at BetOnline | DK -227.27 at BetOnline
When:
March 4, 2023 | 15:00 KST
Watch Live:
Lolesports, Twitch
The first series of the day will pit fourth-placed Hanwha Life Esports against second-placed Dplus KIA, with the winner taking sole possession of second place.
Since losing to Dplus KIA in week four, Hanwha Life Esports has won their last five series against Nongshim RedForce (twice), BRION, and Kwangdong Freecs, with all but one series win coming by a 2-0 score. Even if HLE wins this series against Dplus KIA, they will need to maintain their high level of play, as their remaining matches will be against all of the current top six.
Their final two series against SANDBOX Gaming and Gen.G are pivotal matches that could have serious ramifications for the playoff picture, so HLE must win the majority of their remaining series to remain in the top four.
Dplus KIA will be confident going into this series against Hanwha Life Esports after dominating them in week four, winning with a massive kill difference of 20-4 across the two maps. Dplus, on the other hand, will need to be ready for a reenergized and much better HLE this time around, as they bring winning form into this series and will have learned a lot since the last time they met.
Dplus have one of the easiest schedules of any of the top six teams, with only three series against other top six teams to play in their final five games. If Dplus wins their series against HLE, they should be very close to securing a top two spot if they also win their series against BRION and Nonshim RedForce.
We anticipate a much closer series between Dplus KIA and Hanwha Life Esports, so we will be taking the overs in the total maps market.
---
NONGSHIM REDFORCE vs DRX LoL BETTING & MATCH DETAILS

Best Odds:
NS +125 at BetOnline | DRX -175.44 at BetOnline
When:
March 4, 2023 | 17:30 KST
Watch Live:
Lolesports, Twitch
The bottom two teams in the LCK will clash in the second series on Saturday, with last-placed Nongshim RedForce taking on second-to-last-placed DRX.
Nongshim RedForce have had a forgettable LCK Spring split, with only one win out of 13 series played. Since winning their only series against DRX in week two back in January, NS has lost their last nine. Nongshim has only a few positives to take from this split, as they have been beaten 2-0 in nine of their 13 games so far. Although Nongshim RedForce defeated DRX the last time these two organisations met, DRX appears to be in much better shape than Nongshim RedForce.
In week six, DRX won their second series of the LCK Spring split, defeating BRION 2-1, before falling to Dplus KIA 0-2 in their most recent series. Since losing to Nongshim RedForce in week two, DRX has won more series than their opponent, implying that they are in better shape for this second meeting. This new DRX roster is starting to gel after playing together for a few months, and they have been difficult to beat in many of their matches against top-ranked teams. They enter this series as deserving favourites, looking for their third victory of the split against another struggling roster.
Nongshim RedForce and DRX are set to play another three-map thriller, similar to their first meeting in week two, so we'll take the overs in the total maps market.