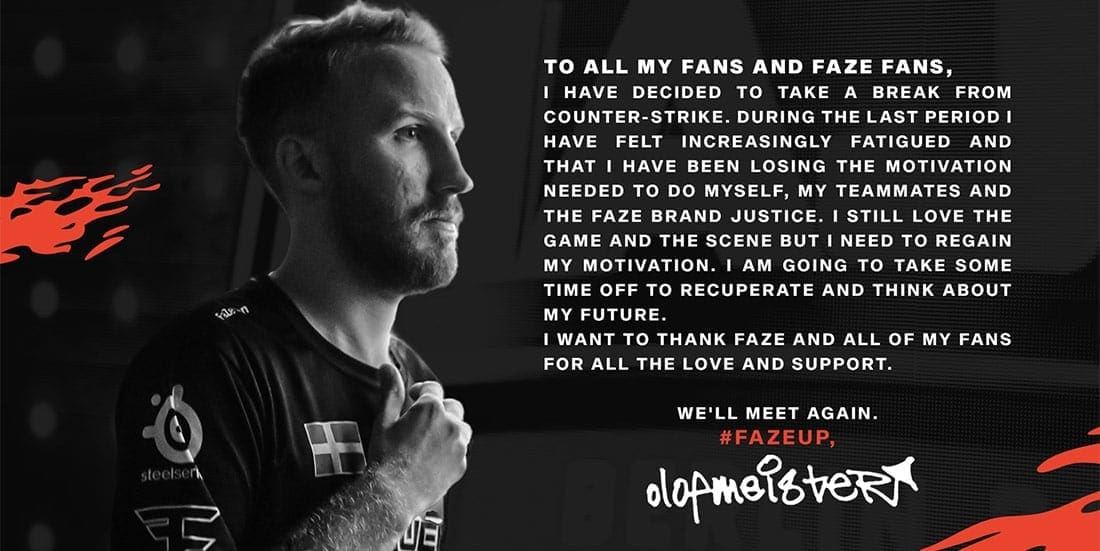 by in
Olof "olofmeister" Kajbjer has stepped down from FaZe Clan's active CS:GO lineup due to fatigue, the American esports organisation announced on Sunday.
The two-time CS:GO Major champion revealed that he had lost the desire to continue playing at the highest level and needed some time off to recharge his batteries and rediscover his love of competitive esports.
"I have decided to take a break from Counter-Strike. During the last period, I have felt increasingly fatigued and that I have been losing motivation needed to do myself, my teammates and the FaZe brand justice," said olofmeister.
"I still love the game and the scene but I need to regain my motivation. I am going to take some time off to recuperate and think about my future."
The announcement comes shortly after FaZe concluded their venture through ESL One: Road to Rio – Europe, where they finished third behind G2 Esports and Astralis. Olofmeister put up below-average showings throughout the tournament, which was an extension of his struggles through ESL Pro League Season 11: Europe.
Across the last 52 maps played, the 28-year-old Swedish veteran averaged a poor 0.90 rating. That is a far cry from his 1.04 average since joining FaZe in August 2017.
This marks Olofmeister's second departure from FaZe's active roster. He took a personal leave of absence in April 2018 and remained inactive for over three months, missing out on five LAN events. FaZe's roster uncertainties during that period led to the departure of their star in-game leader, Finn "karrigan" Andersen, who left for Team Envy and later joined mousesports.
While it is still unclear who will take over for olofmeister, there have been reports suggesting FaZe are in talks with Aurimas "Bymas" Pipiras. The 16-year-old Lithuanian pro is a relative unknown whose career-best achievements to date are gold medals at Baltic Masters Season 3 and ESL Italia Championship: Spring 2020, but his efforts have caught the attention of Nikola "NiKo" Kovač.
"There's this guy Bymas from FPL who really surprised me," said FaZe Clan's IGL.
"I watched him a couple of times and I think he's pretty good and a pretty versatile player. He's not going to be in the Top 20 next year, but I believe he's going to be a big thing. I believe he has the potential to make it to the top and do some good things."