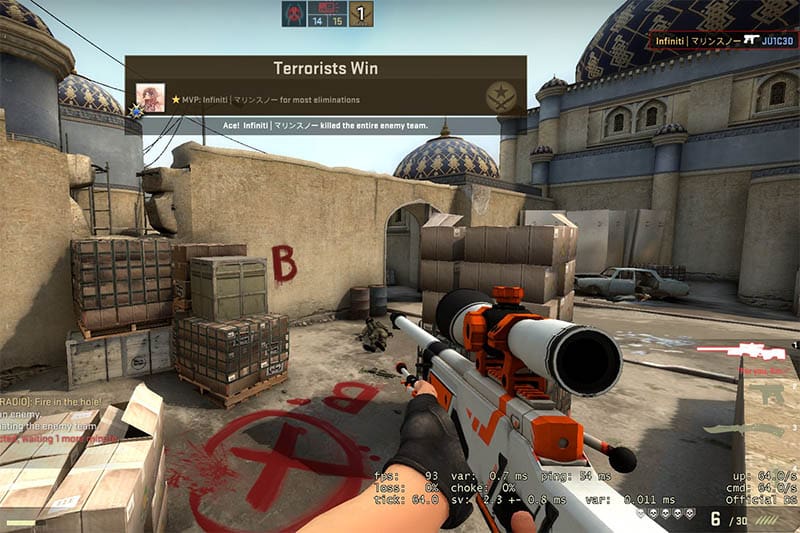 by in
Counter-Strike broke its concurrent player count by over 300,000 new players on May 7, just hours before the start of the BLAST Paris Major.
The first-person shooter game previously had a record of 1,507,212 players six weeks ago. The new figure recorded on Sunday totalled 1,818,773, an astonishing 40% increase from the number of players recorded this time last year.
Counter-Strike remains the title with the highest player counts, even during downtime, with Dota 2's total of 677,129 in second place. The game, which has peak limits of around two million concurrent players, also recorded 900,000 average players daily.
Counter-Strike's sudden boost in player count can be linked to several factors, such as the anticipated Counter-Strike 2, Paris Major sticker capsules, the return of the Major as well as the viewer pass, and the much sought-after Anubis case.
While each of these events would have garnered its share of attention, all of them happening at the same time helped CS:GO reach incredible new heights.
Following Counter-Strike's "revival" after the pandemic, the game has amassed even more players. Interest in CS:GO tournaments is also at an all-time high, with several hundred thousand fans attending and streaming live CS:GO tournaments.
The 2021 PGL Stockholm Major was the first major held offline since the COVID-19 pandemic and recorded a viewer count of more than 2.7 million. The PGL Antwerp came in second at 2.2 million viewers, while the Rio Major reached 1.4 million viewers, both significantly lower than the PGL Stockholm Major.
With the recent surge in players, the BLAST Paris Major could garner enough views to become the most-watched major in the history of CS:GO. The event is also the last Major before the launch of Counter-Strike 2, which will likely contribute to the Major's viewer count.
CS:GO is expected to record over two million concurrent players before the end of the BLAST Paris Major. Despite this, the game still has a long way to go to beat the all-time concurrent record of 3.2 million held by PUBG.
The BLAST Paris Major will boast a prise pool of $1,250,000 and kick off on May 8 with the Challengers stage. The stage will adopt a 16-team Swiss System format and run until May 11.
The Legends Stage will be from May 13 until May 16, shortly followed by the Champions Stage. The last major of the year will come to a close on May 16.