Betway's apps are regarded as some of the best available when betting on esports in 2021, with downloads available for both Android and iOS smartphones. The Betway app is available in countries where there is legal sports betting with this bookmaker having licenses from the UK, Malta and other countries. New customers to the Betway app can also claim some great bonus and welcome offers.
---
Betway esports betting app introduction
Betway's online eSports betting is a good place to start when looking to begin wagering on pro video games. With competitive gaming becoming more popular, eSports has become one of the rapid growing betting markets worldwide and betway is at the forefront of this movement.
At Betway, not only do they offer you the odds to bet on every game, they also offer the most competitive odds, a wide selection of betting markets and fantastic esports betting promotions and bonus. Whether you want to place a normal bet on a Starcraft game or a number of tournament bets on the Dota 2, Betway offers you the ability to do all this at home or remotely.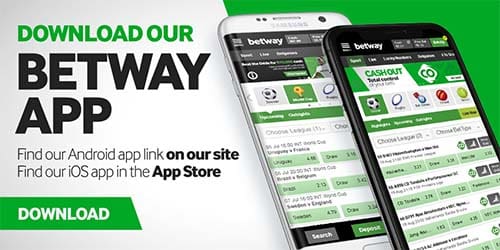 Being part of our extensive online sports betting platform, Betway eSports betting is seen as a group all on its own. In actual fact, there are many of punters who are loyal eSports bettors who have no interest in conventional sports betting like Football.
Betway understand that everyone is different and while eSports is key competitive sport, it does bring together a completely different type of bettor. If as a kid you enjoy playing video games and can't wait to grab the latest LOL action, then eSports betting is the perfect platform to increase your love of the sport.
---
Betway app review 2021
Betway is right up there in our top esports betting sites rankings, but Betway have a mobile sports betting app that can compete any of its competitors in both functionality and appearance.
The Betway mobile app is accessible to download on both Android and IOS devices for users with operating system 4.1 and up and iPhone for users with iOS 8.1 and up.
Upon setting up the betway app, you'll be directed to the default sports home screen showing live events granting access to immediately get involved in the action. The header contains quick-links to In-Play, Casino, Live Casino and Vegas while the footer includes links to Promotions, My Bets, Banking, Roulette and Blackjack (once you have signed in).
One of my favourite features is the ability to search for a particular event, league or team using the search bar which can be seen in the side-menu where you can also access 'My account' and a full catalog of sports.
Flip between screens effortlessly, place bet on many markets available and enjoy live streaming of key sporting games directly within the Betway sports app.

Featured casinos
---
Downloading the betway Android app
Follow these steps to successfully download the betway Android app:
Step 1: New members interested in using the app can download it directly from Betway websites, steer to the Betway homepage using the mobile device you have set aside for your future sports betting activities.
Step 2: Select the icon located at the top left of the page for accessing the main menu, scroll down to mobile app and select the app committed to the Android software environment to start the installation procedure.
Step 3: If a security warning comes up, open your phone settings, go to the "Security" and select "Unknown Sources" option and restart the installation procedure which will download & install automatically.
Step 4: Upon finishing if you have already registered as a member log into your existing account using your pre-existing username and password. It is important to continue forward using your current details instead of trying to open another account since Betway will instantly lock both accounts and prevent you from playing or accessing any of the money in the account balances of either account until you've settled the matter.
---
How to install Betway mobile app for iOS devices
Step 1: existing members and newly signing members wanting to download and install the Betway app specially dedicated to any of Apple's supported iOS-based mobile smart devices must navigate to the Betway homepage using their iPhone.
Step 2: find the mobile app download available through the main menu to find a direct link to Betway's dedicated iOS app in the App Store, choose the "Get" button, confirm the installation, and wait for the download and install to finish.
Step 3: Once installation completes, existing members must log in to Betway using their previous membership information while new members can begin the online registration process directly from within the iOS app. Never try to open a second account at Betway to use on your iPhone, Betway will immediately block you from accessing either account as well as all funds available in the account.
Betway app esports games to bet on
Betway gives some of the best-betting options in regards to esports games. With betway you will find the most famous and trending esports leagues and tournaments, across multiple games.
Not only does Betway gives a comprehensive list of games, but it also offers many of tournaments which includes ESL Pro League, ESEA NA, BLAST Pro Series, ESL Latin American, IEM Leagues. I briefly checked out the app while writing and I found out the following leagues and tournaments: ESL Pro League, ESEA North America and Europe, BLAST Pro Series, ESL Latin America League, Intel Grand SLam and many more.
Some of the popular esports games you can bet on via the betway app include:
CSGO
League of Legends

StarCraft 2
PUBG
Overwatch
World of Warcraft
Rocket League
World of Warcraft
Dota 2
Call of Duty
Other fantastic betting options include Hearthstone and King of Glory. Both are successful but are too niche to enjoy the same popularity as other esports listed above. Hearthstone is lacking from having a high learning curve, while King of Glory is a mobile game, which instantly disqualifies it from being a major esports in the eyes of some viewers.
---
Betway app bonuses and promotions
With the Betway app, betting on eSports is interesting, safe and super-easy. ESports bettors can enjoy exclusive sign up bonuses and special offers that relate only to eSports. For first time depositors, betway gives a welcome deposit bonus of 100%. What this means is that betway will double whatever amount you initially deposit up to a certain cash limit.
To add to this, betway will also give you a 35 Euros free bet when you place your first bet. Easily place a single bet of 10 euros or more at odds of 1.75 or greater and if you bet loses, Betway will give you back 100% of your bet up to a maximum of 30 Euros. Hence, you can look forward to weekly and daily betting promotions on all the latest competitions.
---
My verdict on the Betway esports app
Generally, this Betway esports review found that this particular bookmaker is one of your best choice when gambling on esports. Not only is Betway a wonderful bookmaker website in general, but it also has a vast knowledge of the esports industry. This is shown by the multiple promotions regarding esports betting and their sponsorship of a team. Frankly, there is very little not to like about the Betway esports app. Every aspect of their app is good or excellent. The promotions are numerous and you can take advantage of some, multiple times. Therefore, Betway has my full recommendation.