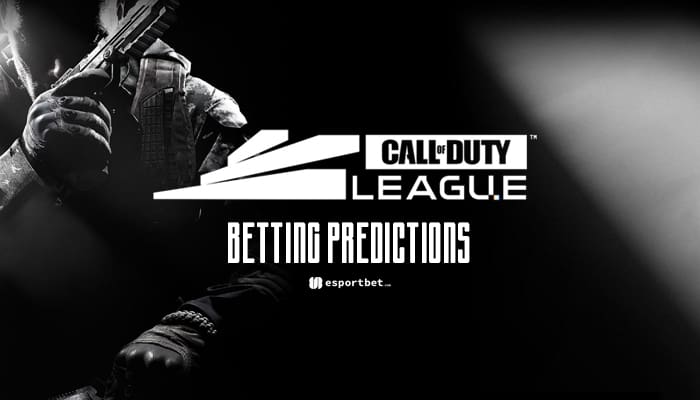 by in
Esportbet brings you free Call of Duty League (CDL) betting predictions for three CDL Major 5 Qualifiers bouts on Saturday, May 20. Check out our selections for Las Vegas Legion vs Seattle Surge, Florida Mutineers vs OpTic Texas, and Los Angeles Guerrillas vs Toronto Ultra, with odds courtesy of BetOnline.
---
LAS VEGAS LEGION vs SEATTLE SURGE CDL BETTING & MATCH DETAIL

Best Odds:
Legion -120.48 at BetOnline | Surge -120.48 at BetOnline
When:
May 20, 2023 | 15:00 EDT
Watch Live:
Twitch, YouTube
Seattle Surge are 1-2 ahead of the final week of CDL Major 5 Qualifiers, with defeats against Toronto Ultra (0-3) and OpTic Texas (0-3) and a solid 3-1 victory over Boston Breach. Those results make it tough to say where Seattle Surge stand, and while they can have good games, their Search & Destroy against elite teams isn't good enough for us to have high hopes for Seattle to end the season high.
Las Vegas Legion are 2-2 with wins against the New York Subliners (3-2) and Minnesota RØKKR (3-2) and two defeats against OpTic Texas (2-3) and Atlanta FaZe (0-3). Those results don't look bad on paper, but the Las Vegas Legion still need to show a lot more before we can start talking about a deep CDL Championship 2023 run.
Seattle Surge and Las Vegas Legion are tough to set apart, mainly because they have produced mixed results over the first two weeks of CDL Major 5 Qualifiers. But the Legion seem to be a bit more efficient in Search & Destroy, and their respawns are on point – good enough to defeat the Surge.
---
FLORIDA MUTINEERS vs OPTIC TEXAS CDL BETTING & MATCH DETAIL

Best Odds:
Mutineers +300 at BetOnline | OpTic -454.55 at BetOnline
When:
May 20, 2023 | 16:30 EDT
Watch Live:
Twitch, YouTube
Florida Mutineers got stomped by Boston Breach (0-3) in the first match of Week 2 but then produced a nice upset against Los Angeles Thieves (3-1). Still, that was the Mutineers' only notable accomplishment over the last month.
Their Search & Destroy is still very concerning, and while the Mutineers are solid on respawns, they are missing pieces to be considered a competitive team. So even though the Mutineers aren't terrible, expecting them to defeat OpTic Texas might be too much to ask.
With their clean 3-0 sweep of Atlanta FaZe in Week 1 of CDL Major 5 Qualifiers, OpTic Texas earned the tag of the best team in the league, and it's very tough to argue with that. They did drop two maps against Las Vegas Legion (2-3) on day one of the qualifiers but have since looked unstoppable, with wins against FaZe (3-0), Seattle Surge (3-0), and Toronto Ultra (3-1).
There's not much to analyse here. OpTic are levels above Florida Mutineers, who should crumble on Saturday, as many other teams have against OpTic Texas.
---
LOS ANGELES GUERRILLAS vs TORONTO ULTRA CDL BETTING & MATCH DETAIL

Best Odds:
Guerrillas +800 at BetOnline | Ultra -2500 at BetOnline
When:
May 20, 2023 | 18:00 EDT
Watch Live:
Twitch, YouTube
Los Angeles Guerrillas enter Week 3 of Call of Duty League Major 5 Qualifiers with a 1-3 record. They overpowered London Royal Ravens (3-1) on Friday and came one map short of beating Florida Mutineers (2-3) in Week 1, but they got rammed by Atlanta FaZe (0-3) and New York Subliners, who defeated them 3-0 on Sunday.
The Guerrillas are not in the best spot and it's tough to feel overly optimistic about their future. Unless something changes, this squad only has two more matches ahead of it, and after that, we can expect a major roster overhaul ahead of the next season.
Toronto Ultra lost their only CDL Major 5 Qualifiers Week 2 match against OpTic Texas (1-3), but despite the final result, Toronto battled well. They came out short, but it was against the current hottest team in the league, so we wouldn't criticise Toronto Ultra too much.
The Ultra are playing much better this split and have already proven themselves in Week 1 against Seattle Surge (0-3) and Los Angeles Thieves (3-1). They still have some work to do before we start talking about a potential CDL title run; however, Toronto Ultra shouldn't struggle to defeat lesser teams like Los Angeles Guerrillas.
---