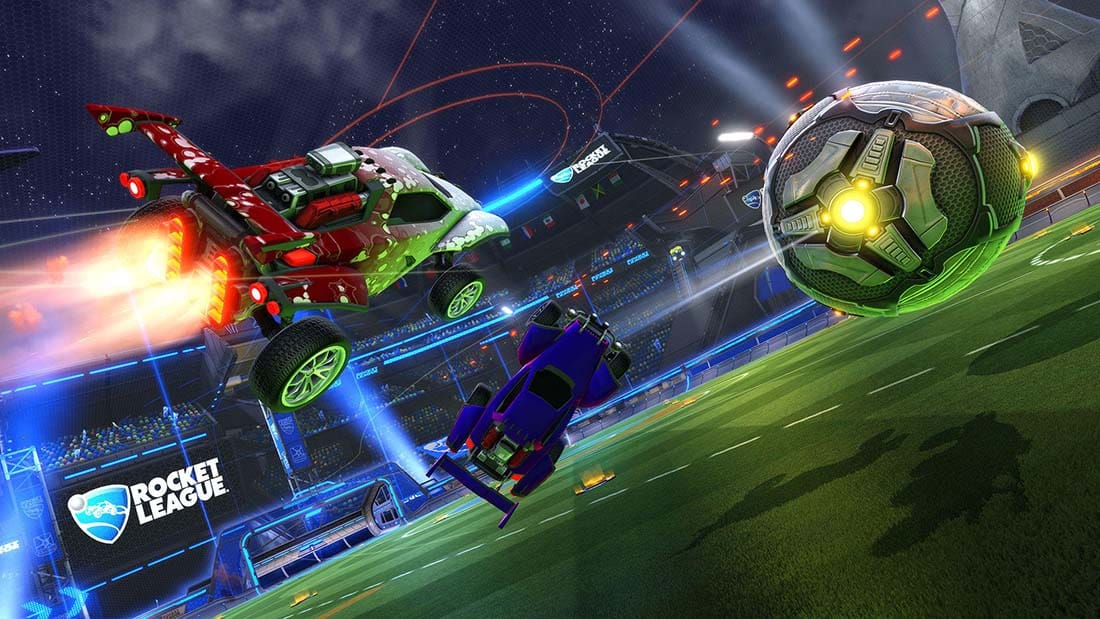 Rocket League is the perfect esport to watch, regardless of gaming knowledge. It's easy to understand, it's fast-paced and you don't need deep technical knowledge to appreciate the intense competition on display or explain what's happening to your friends – and there's plenty of entertaining tournaments available to watch on the Web.
Developer Psyonix and a handful of third-party esports tournament organizers host Rocket League competitions throughout the year and live-stream the esports action for free via Twitch and YouTube. There's even TV stations airing Rocket League, as one of the first esports to properly infiltrate the mainstream market due to its widespread appeal.
This guide will help fans and curious newcomers find the best sources to watch Rocket League esports events.
How to watch Rocket League esports online
Like most esports, the best way to watch Rocket League pro gaming tournaments is online through live-streaming websites like MLG.tv, Twitch.tv and YouTube.
These sites are specially tailored to video gaming broadcasts and are easy to access and share. Most importantly, they're free, which means fans and curious newcomers can watch the best Rocket League competitions without having to pay anything.
Live-streaming as a medium isn't exclusive to esports, but its success in the last few years definitely owes a lot to competitive gaming. Essentially, you're watching real-time coverage of an esports event provided by the organizer and uploaded to the Internet without cost of entry.
The livestream of the tournament also acts as a normal video once the event is over, meaning you can just access it later if you can't catch it while it's running.
Rocket League is unique from other esports, however, in that it has also been featured in several traditional television broadcasts. American TV networks ESPN, NBC and TBS all ran one-off Rocket League tournaments on their channels last year, which gathered significant viewership numbers and captured a large chunk of the mainstream audience who know nothing about esports.
With its simplicity and accessibility, we expect it to gain further momentum on traditional media this year as these stations and their competitors begin to invest more in their tournaments.
Enough with the history – the following sites the best live-streaming sources to watch Rocket League Championship Series and other tournament events in 2018.
Watch Rocket League esports on Twitch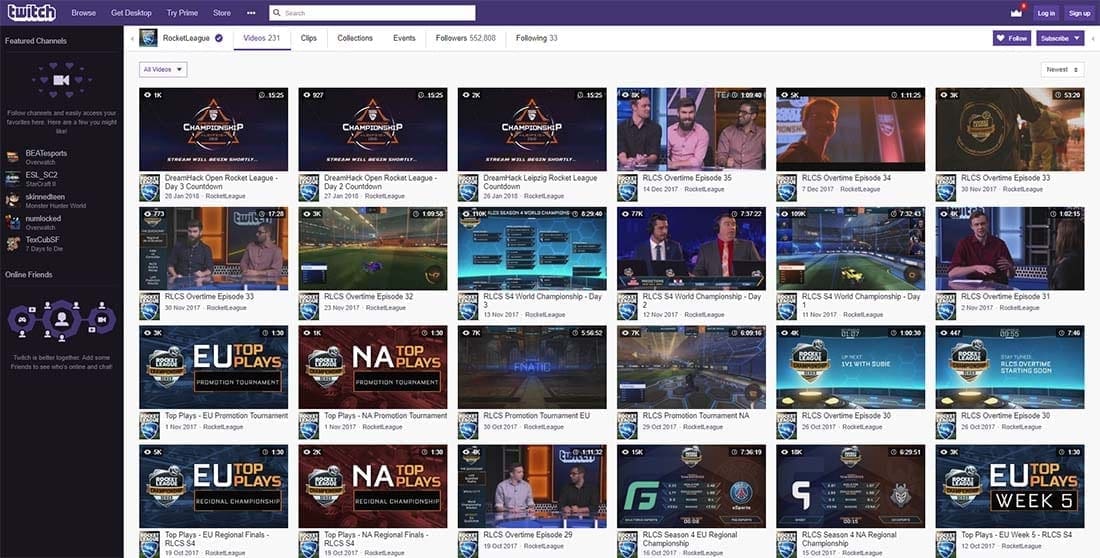 Rocket League creators Psyonix partnered up with Twitch for semi-exclusive broadcasting rights and as a result the majority of live-streamed Rocket League Championship Series matches are only available to watch on their official Twitch.tv channel, with videos uploaded later to YouTube.
Twitch actually manages the broadcasting and production suite of RLCS, but we're not mad because the quality of every live-stream and its spectator interface is top-notch – especially for a game that isn't as dominant in concurrent viewership counts as Dota 2 or League of Legends.
The official Rocket League channel has over 500,000 subscribers and around 230 videos of past RLCS competitions freely available to watch at your convenience on computer, laptop, smartphone or tablet – you just need an active data connection (obviously).
There's also some neat in-house produced videos called 'RLCS Overtime' which break-down every game and discuss power rankings after every match – and it honestly made us more hyped about the competitive scene than we initially were.
High-definition streams, community chat and tons of events – it's by far the best option to watch Rocket League esports and start properly following the competitive scene.
Rocket League esports – Where to watch on Twitch
Watch Rocket League esports on YouTube
Psyonix currently runs an official Rocket League esports channel on YouTube where video footage of past events are uploaded for easy, accessible watching across desktop and mobile.
While it's not the place to go to watch live-streams of the latest tournament event as it happens, it's definitely an option to catch up on past matches, particular because the playlist feature makes it easier than Twitch to differentiate between the EU and NA leagues, and the finals series.
With tons of professional player interviews, teaser trailers, commentary and other content in addition to the tournament series broadcasts, it's the easiest option for fans to tune in.
Rocket League esports – Where to watch on YouTube
How many people watch Rocket League esports events?
Rocket League may not be at the viewership levels of CS:GO, League of Legends or PlayerUnknown's Battlegrounds just yet, but its mainstream popularity should not be underestimated.
In the latest NewZoo numbers for most watched esports games on Twitch, Rocket League ranked #9 with 600,000 hours of esports streams watched and a total of 2.3 million hours of Rocket League-related video content consumed.
The Rocket League Championship Series also experienced record-breaking concurrent numbers for the 2017 season, attracting over 200,000 viewers watching the main event at the same time.
Meanwhile, American television network TBS's foray into broadcasting Rocket League esports tournaments paid dividends late last year after the peniultimate episode of their in-house produced The ELEAGUE Cup: Rocket League was the #1 highest-rated esports TV program of 2017, according to Nielsen.
Where can I bet on Rocket League esports tournaments?

Best Rocket League esports betting sites
If you're interested in placing a bet on your favourite professional Rocket League teams and players and want to watch the action as it unfolds, you'll be glad to know more and more esports betting sites are offering betting markets on RLCS and other Rocket League tournaments.
We have reviewed the best international online sportsbooks with esports betting markets for Rocket League and many other popular competitive titles for your the best sportsbooks for your convenience. You can check out our in-depth reviews, as well as the sites themselves by clicking on any of the provided links in the table above. The table will only display the latest and best options legally catering to users from your country interested in safe and licensed esports betting.