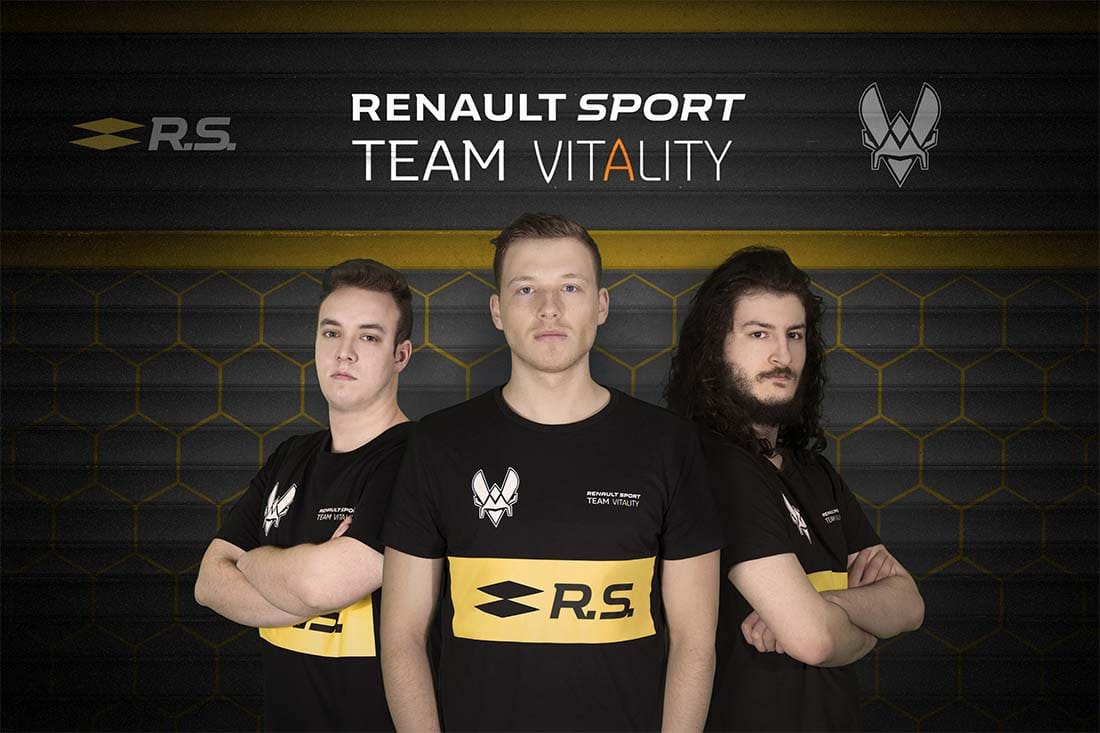 by in
Car manufacturer Renault and Renault Sports Racing have joined forces with Europe's best performed team, the French-based Team Vitality, to form Renault Sport Team Vitality.
The team will begin competing this year in motorsport-based esport competitions such as Rocket League Championship Series Europe and potentially the Formula 1 eSports Series, with the team in negotiations with F1.
Renault officials said the chance to enter the esports market which is estimated at 385 million at the end of 2017 was too good to pass up.
"This partnership is a tremendous opportunity for the Renault brand to be exposed to new and younger audiences," Renault's Vice-President Global Brand Strategy and Marketing Communications Bastien Schupp said.
"The combination of Vitality's eSports vision and expertise with our successful history in motorsport is a great partnership. As a discipline, eSports have a promising, far-reaching future and we're looking forward to connecting people from Renault Sport Racing to these young gamers and being a part of it."
It is also a huge win for Team Vitality, with team members set to be provided access to Renault's Formula 1 factory in Enstone, England, to train with drivers and technical staff.
Team members will also have an opportunity to meet experts who are accustomed to working in the demanding environment of F1 paddocks.
In exchange, Vitality will bring to the table its expertise as a multiple European and World champion in a variety of categories, to assist the new squad's professional players on an everyday basis.
"Vitality's DNA is to be seen as a French front-runner that is competitive in the international arena," Team Vitality's founder and chairman Fabien Devide said.
"Our partnership with Renault is a natural match, not only because we share the same values and colours but also because we all want to make it to the very top of the European and international scenes.
"At Vitality, we stand to learn a great deal from Renault Sport Racing and how it prepares for Formula 1 races. At the end of the day, many of its methods are the same as those we employ in eSports, namely data and performance tracking, physiotherapy, fitness training and mental training." 
 
In entering eSports, Renault joins major brands like Adidas, Omen by HP, Volvic and Canal+ as an official partner of Team Vitality, with branding visible on players' team clothing at League of Legend and Fifa tournaments.
"The ties that exist between motorsport and gaming are obvious. Both call for mental strength and physical fitness in a highly competitive environment" General Manager, Renault Sport Racing, Cyril Abiteboul said.
"Last year's exciting launch by FOM of the Formula 1 eSports Series has accelerated the convergence of these two worlds and created opportunities for collaboration.
"Our drivers, and especially those who form part of the Renault Sport Academy programme, and Vitality's own champions will be able to trade best practices. In this area, as in F1, our objective is to build a team for the long term that is both respected and feared by its opponents."
What kind of foothold does motorsports have in eSports?
Rocket League is a game that has taken the eSports world by storm, with multiple leagues springing up across the globe in a short space of time. The game is basically FIFA cross Destruction Derby and it's very very fun.
The launch of the Formula 1 eSports Series has also proven a hit since launching in 2017, with it luring in a new breed of tech savvy rev heads.
For a long time games like Colin McRae Rally and Gran Turismo have been staples of console and PC gaming across the world and the opportunity to play against each other in a competitive environment has added another element to it.
Coupled with the booming growth of eSports (it's estimated to be worth USD $900 million) it promises to be a win for motorsports as it strives to reach new audiences.
Platforms like Twitch are streaming the competitions live to motorsports fans who can very young, ingraining the culture of the sport in their DNA, before they know what has hit them.
Expect the motorsports-esports space to grow and grow in 2018 and beyond.